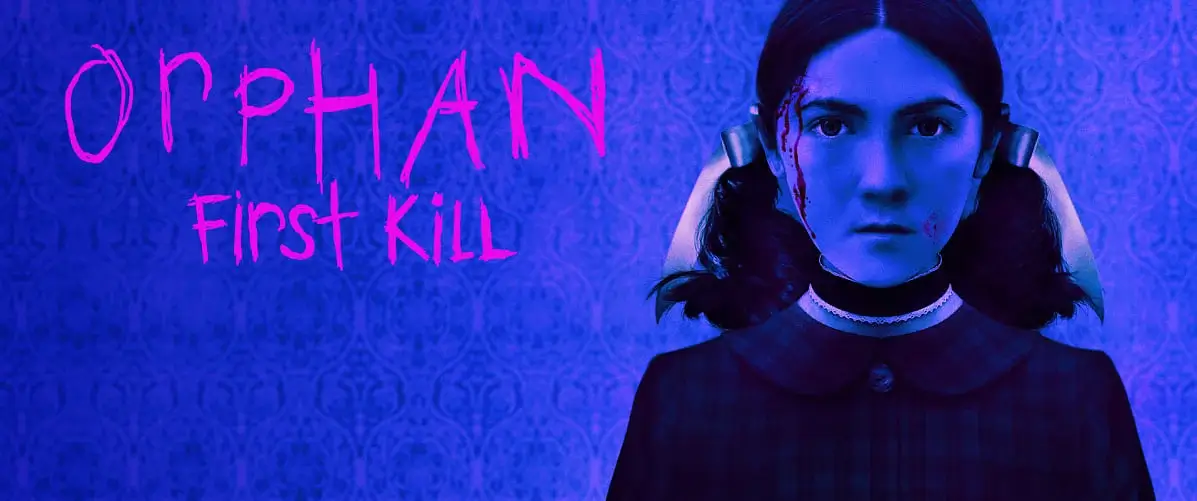 Orphan: First Kill 4K 2022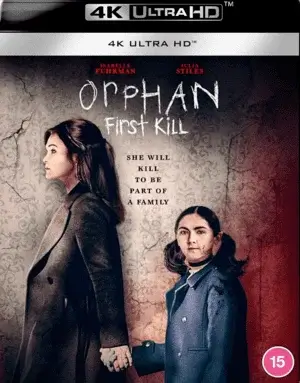 Orphan: First Kill 4K 2022
Producer:
William Brent Bell
Cast:
Isabelle Fuhrman, Julia Stiles, Rossif Sutherland, Hiro Kanagawa, Matthew Finlan, Samantha Walkes, David Lawrence Brown, Lauren Cochrane, Gwendolyn Collins, Kristen Sawatzky, Jeff Strome, Andrea del Campo, Alec Carlos, Alicia Johnston, Liam Stewart-Kanigan, Jade Michael, Sarah Luby, Maxwell Nelson.
IMDB 5.9
File Size: 61.97 GB
Film Description
2007. After escaping from an Estonian psychiatric hospital, a 31-year-old woman, Lina, who looks 9 years old because of her illness, finds a girl who looks like herself among the missing children ads. She turns out to be from a wealthy American family, and the miraculously found "Esther" returns to her happy "parents" and "big brother.

4k movies reviews
The events of the film take place two years before the original film.

There's always been something wrong with Esther, says the movie's tagline. But, where did it all begin? Where did this little evil loving goody-goody originate.

After escaping from the Saarne Institute, Lynn is forced to pretend to be the once-missing daughter of a powerful family. The Albright family lost their daughter four years ago. Having made up for the loss in her new parents, Lynn thinks she's got the simpletons wrapped around her finger. However, not everyone mourns the loss of their real daughter. The family nest has its own skeletons in the closet that no one wants to reveal. Only Tricia Albright and her loved ones are unaware that they themselves are trapped by a little evil.

Actors: Twelve-year break made not only James Cameron, busy filming the sequel to Pandora, but also the creators of the horror film 'Dark Child'. It would seem that what else can be invented from scratch. Over the years, it has become fashionable for horror-makers to create a prequel to a famous part of the story. Technology has evolved to the point where you can rejuvenate the look of actors/actresses who are not with 'us' and once played famous midgets and hobbits (a perfect example in the form of Elijah Wood returning to 'Unexpected Journey' anchoring the chain with 'The Fellowship of the Ring'). Off topic, I'm afraid.

Fortunately, Isabelle Fuhrman's appearance has not been altered over time. Although I was afraid that her height of a twenty-six-year-old woman - through digital processing - would look unnatural. I didn't focus on that, but immersed myself more in the sequel. This time we learn about Esther's love of alcohol (the moment when she tries to find a bathroom on a private plane, I liked it). Despite the presence of maniacs in the 'silent abyss', there is hope in Lynn that one innocent sheep will fall under her spell of love. Of course, the drawings on the wall and the crush, as in Sarsgard's hero, will remain. For those unfamiliar with the first film, I will warn you that this is 'not a sequel' (though it feels like a sequel). This prequel tells the story of a girl - not a girl - suffering from a rare production of growth hormones. On the surface, she remains a girl. Glad this movie won't have Max and Danny (or any of the other younger kids) as forced co-stars. As an ally, the writers inserted the only mouse to back up the heroine. Thought she'd do something with it or give it to Mammy in bed as a gift. No, it's just a venting friend. The actress was terrific, as she played her role the first time around. Although it was uncomfortable (in the beginning) to see her scanned image, and only detailed (from the angle of the top of her head) was she played by real girls.

Julia Stiles plays as a mother should beautifully. Then that screen of good-naturedness falls away and a strong-willed and cold-blooded character takes its place. 'You're all pretenders!' - I wanted to say in the movie theater. On the other hand, Trisha Albright could not lose her husband, and she wanted to protect her son. With Lynn's appearance, all bad things could boomerang back.

Everything else: Jaume Collet-Serra's picture created a furor in its time, making the film almost a cult movie. This part is as enjoyable and watchable as the first. You won't lose anything if you didn't watch the first part. William Brent Bell is a lover of repetition. Let's just say the original 'The Doll' and its sequel (which he directed) are exactly shifting details from one picture to the next. The story arc remains, only the characters alternate. Except for the antagonists. The main mystery is where in all of America can a daughter be called twice by the name Esther? The tricky situation could have been a mistake had it not been a prequel. Some details have been perfectly preserved: a tube of canvases (like Sarsgard's character), playing the piano, and finding out where Esther got such a desire to paint in the ultraviolet. Collet-Serra's psychological thriller remains a massive project, if only because of DiCaprio in the producers. The three returning from the former project are Ethan Ervin, Alex Mays, and David Leslie Johnson-McGoldrick. They also wrote a good script for the sequel. The rest are new recruits for whom the project was their debut. Helping to strengthen this whole team is the matured Isabelle Fuhrman, who acted as associate producer of the tape.

Impressions: you lose nothing and gain nothing after watching the film. I think it's a good repetition of a familiar story. Neither the screenwriters nor especially the director ruined the original. They showed it in a new light for those who have not seen it before. And for those who naively think that the story will be about a demonic child. For that case, viewers of 'Omen' have.

Info Blu-ray
Video
Codec: HEVC / H.265 (86.3 Mb/s)
Resolution: Native 4K (2160p)
HDR: HDR10
Aspect ratio: 1.85:1
Original aspect ratio: 1.85:1

Audio
English: DTS-HD Master Audio 5.1 (48kHz, 16-bit)
English: Dolby Digital 5.1
English: LPCM 2.0 (48kHz, 16-bit)

Subtitles
English SDH, English.
File size: 61.97 GB
Is Link Dead? Let us know and we'll replace the link.
Report
We now have
Telegram, get notified of new releases 4K movies!
Watch the movie trailer Orphan: First Kill 4K 2022
Related 4K movies