Babylon 4K 2022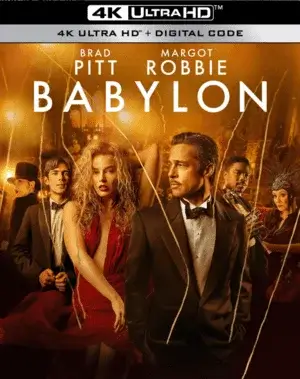 Babylon 4K 2022
Producer:
Damien Chazelle
Cast:
Brad Pitt, Margot Robbie, Jean Smart, Olivia Wilde, J.C. Currais, Diego Calva, Jimmy Ortega, Marcos A. Ferraez, Shane Powers, Phoebe Tonkin, Troy Metcalf, Jovan Adepo, Hansford Prince, Telvin Griffin, Cutty Cuthbert, Albert Hammond Jr., Flea, Bregje Heinen.
IMDB 7.3
File Size: 86.76 GB
Film Description
Hollywood, 1926. At a raucous party at a producer's mansion, an aspiring actress, Nellie Laroy, and a catering guy, Manny Torres, meet. The event is not only fun, but also good for both: Nelly gets an invitation to a shoot, and Manny takes home a drunken silent film star Jack Conrad, who asks the guy to work for him as an assistant. So both get on a movie set and start making a career in film: Nellie as an actor and Manny as an assistant producer. In the meantime, progress continues, and sound films are gaining popularity.

4k movies reviews
Damien Chazelle's new work has already been condemned as a historical failure. I don't agree with that, because you have to love cinema to make a film like that. But I also agree, because you also have to love movies to watch "Babylon" with pleasure.

Now let's get to the bottom of this.

At the beginning of the story, we are introduced to three main characters: the Mexican Manny dreaming of a movie set, the self-important star Nellie LaRoy, and the aging screen hero Jack Conrad. There are also a few not insignificant minor characters that are needed to shade out the plot twists and turns associated with the main trio.

On the one hand, we are shown the dirty and debauched side of Hollywood, where they snort cocaine by the kilograms, their naked bodies mate in the most elaborate poses, and they change their wives more often than their handkerchiefs. On the other hand, we are shown magic in its purest form, when the outright madness during the filming somehow turns into a masterpiece on the screen. And on the third, we deal with a free adaptation of the famous cartoon "Movie, Movie, Movie" in which the same nervous director yells in a frenzy when he has to shoot the eleventh take.

The stories of all three of them come and go, tossing everyone to the top and plunging them to the bottom. It seems to be three hours of inspired vaudeville about the world of cinema, which not every viewer can endure, because the genres here are intertwined and jump at a speed much faster than any film.

But if you add one element to the overall concept, everything falls into place. The fact is that the film here is also a character. And it has its own relationship with each of the characters, which develops literally according to all the laws of drama.

Manny's story is in three acts: 1. An unknown boy declares his dream and gets a chance to fulfill it, which he takes full advantage of. Thus was the introduction of a Mexican and a cinematographer. 2. A successful producer decides who should stay and who should leave the new sound cinema. Here the cinematography received Manny with open arms and plunged headlong into the affair. 3. The expected outcome when the movie world was completely exhausted for Manny. You could say the Mexican and the movie parted as friends.

Nellie's story in three acts: 1. An unknown girl declares her dream and gets a chance to fulfill it, which she takes full advantage of. 2. A sense of proportion fails the girl, which promptly ruins her career, although there was a chance to really take off. 3. The expected outcome, when the way to the movies for Nellie was forever closed.

Jack's story in three acts: 1. Audience favorite, movie star and womanizer looking for a new form of interaction with the audience. 2. The arrival of sound cinema, that new form, completely destroys Jack's career, tossing him out on the coast like a merciless ocean wave. 3. The expected end, when Jack was left only to star in third-rate films, which had nothing to do with art.

Each of this trio was tested by the cinema, and only Manny fully coped with the test, though he suffered great losses.

The final episode with the cutting of the films from the very first one to the newest ones like "The Matrix" and "Avatar" is not an ode to the technological progress. These shots were deliberately cut together with splashes of paint dissolved in water in order to make a simple point: there are people behind every film, behind every milestone of amazing art. Moreover, the people are completely different - some cope with the trials, and some are left behind forever, having had their share of fame.

What began as an almost teenage rebellion, "Babylon" had grown serious by the last third, like a child who has begun to recognize himself and the consequences of his actions. We literally watched the development of filmmaking as a single individual - sometimes foolish, sometimes selfish, who suffers from other people, but who remains consistently beautiful in his magnetism.

With this work, Damien Chazelle declared his love for cinema. And everyone who was able to finish "Babylon" with a smile also confessed their love for cinema. Because this movie is about filmmakers for filmmakers, and you have to be a creator at heart to feel all the facets of the story.

The average viewer found the film boring, and that is a completely expected reaction. The narrative is uneven, there are no really large-scale and truly iconic scenes, but there is a final shot with a man laughing through tears, the most accurate expression of what filmmaking is all about.

Info Blu-ray
Video
Codec: HEVC / H.265 (56.1 Mb/s)
Resolution: Native 4K (2160p)
HDR: Dolby Vision, HDR10
Aspect ratio: 2.39:1
Original aspect ratio: 2.39:1

Audio
English: Dolby TrueHD with Dolby Atmos 7.1 (48kHz, 24-bit)
English: DTS-HD Master Audio 7.1 (48kHz, 24-bit)
English: Dolby Digital 5.1
Spanish (Latino): Dolby Digital 5.1
French: Dolby Digital 5.1

Subtitles
English, English SDH, French, Spanish, Danish, Mandarin (Simplified), Mandarin (Traditional), Korean, Norwegian, Finnish, Swedish, Thai.
File size: 86.76 GB
Is Link Dead? Let us know and we'll replace the link.
Report
We now have
Telegram, get notified of new releases 4K movies!
Watch the movie trailer Babylon 4K 2022
Related 4K movies