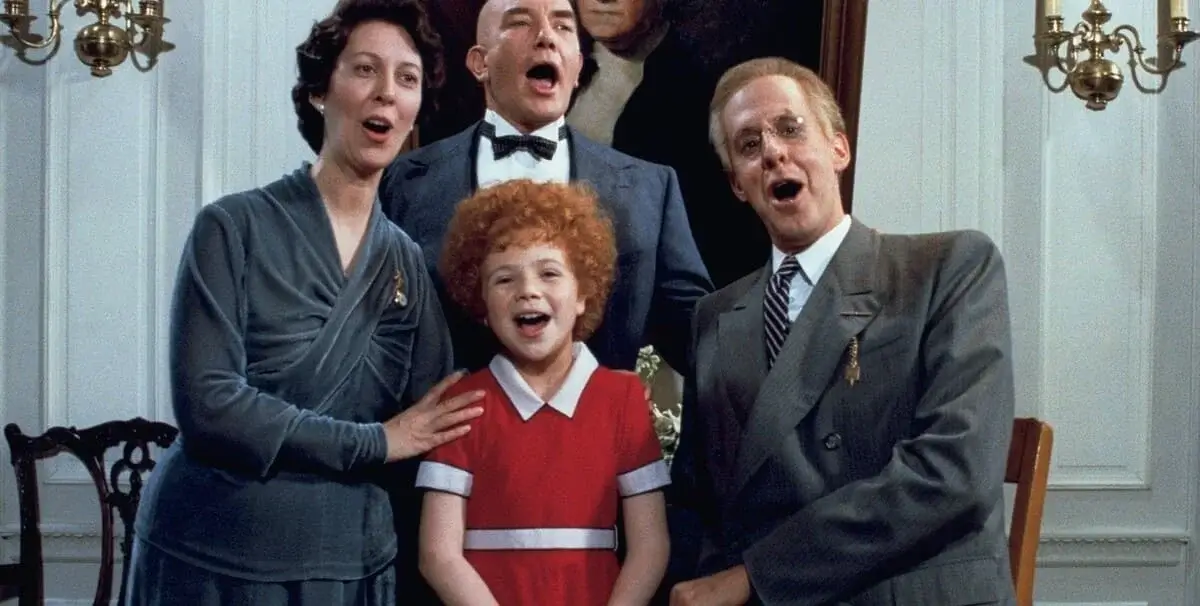 Annie 4K 1982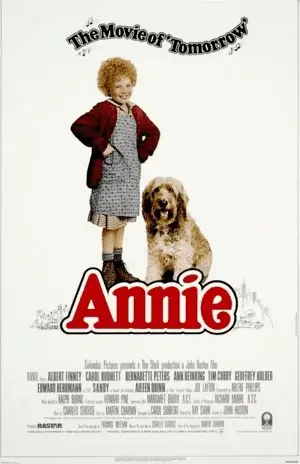 Annie 4K 1982
Cast:
Aileen Quinn, Albert Finney, Carol Burnett, Ann Reinking, Tim Curry, Bernadette Peters, Geoffrey Holder, Roger Minami, Toni Ann Gisondi, Rosanne Sorrentino, Lara Berk, April Lerman, Robin Ignico, Lucie Stewart, Edward Herrmann, Lois De Banzie, Peter Marshall, Loni Ackerman.
IMDB 6.6
File Size: 73.46 GB
Film Description
1930s. Fiery-haired orphan Annie is forced to live in a horrible orphanage run by the overbearing Agatha Hannigan. One day her seemingly hopeless situation changes dramatically when she gets the opportunity to spend some time at the mansion of wealthy military industrialist Oliver Warbucks. Annie instantly captivates everyone on the estate, and even the seemingly thick-skinned Papa Warbucks can't help but fall in love with such a lovely girl. Warbucks decides to find Annie's parents and offers a reward if they can be found and show proof that they are not crooks. Miss Hannigan, her evil brother Rooster, and an accomplice plan to pose as Annie's parents and collect the reward.

4k movies reviews
One of the things that characterize American cinema is the so-called "family musical," that is, a musical that can be seen in the company of parents and grandparents. Among the main characters is certainly a charming child, whose adventures, as a rule, and the film is dedicated. Since the happy ending is assumed by default, at first the life of the hero/heroine will be very unladylike - the starker the contrast, the happier the viewer.

John Huston, being a versatile director, didn't buck the trend and directed his adaptation of Harold Gray's 1924 comic book Little Orphan Annie, which had already been staged once on Broadway (Huston's first and only musical in a forty-year career - well, isn't that remarkable?). He cast debutante Eileen Quinn as the red-haired, restless Annie, who, unfortunately, repeated the fate of many children in the cinema - she ignominiously walked away from an acting career (perhaps the Golden Raspberry contributed to it). How can you not think of the role that Drew Barrymore might have gotten!

All the pros and cons of the genre are typical for "Annie": on the one hand - great choreography, good music, age-appropriate, a story appealing to the target audience; on the other - the banality of the plot, the crude negative characters, the primitive lyrics to a huge number of songs. Speaking about actors, I have no complaints about Albert Finney and Carol Burnett, but still, Bette Midler would have squeezed out the role of Miss Hannigan much more. Fans of the Broadway production have talked a lot about the inconsistency of the characters with the original and the rearrangement of accents, but, not having the opportunity to compare, I will not focus on that.

With mixed reviews from critics, ordinary audiences liked the picture, paying off at the box office with a small profit, and spawning several sequels: the Bollywood "King in Love," the television "Annie 2: The Royal Adventure" and the 1999 "Annie," created with the help of the Walt Disney Company. Recently there have been rumors that Will Smith is going to produce a remake starring his daughter Willow, with Jay-Z already writing new songs, but time is running out and Willow could soon qualify as Miss Hannigan, but by no means Annie.

As an unusual experiment for Houston, the film is quite interesting, but with an acute aversion to musicals, it runs the risk of disappointment. So one can recommend it to those who know what to expect.

Info Blu-ray
Video
Codec: HEVC / H.265 (68.1 Mb/s)
Resolution: Native 4K (2160p)
HDR: Dolby Vision, HDR10
Aspect ratio: 2.40:1
Original aspect ratio: 2.39:1

Audio
English: Dolby TrueHD with Dolby Atmos 7.1 (48kHz, 16-bit)
English: DTS-HD Master Audio 7.1 (48kHz, 24-bit)
English: DTS-HD Master Audio 2.0 (48kHz, 16-bit)
English: Dolby Digital 5.1
Italian: DTS-HD Master Audio 4.0
Korean: Dolby Digital 5.1 (640 kbps)
Polish: Dolby Digital 5.1 (640 kbps)
French: Dolby Digital 2.0 (192kbps)
German: Dolby Digital 2.0 (192 kbps)
Portuguese: Dolby Digital 2.0 (192 kbps)
Spanish: Dolby Digital 2.0 (192kbps)
Spanish: Dolby Digital 2.0 (192kbps)

Subtitles
English, English SDH, French, German, Italian, Portuguese, Spanish, Arabic, Bulgarian, Czech, Danish, Dutch, Finnish, Greek, Hebrew, Hungarian, Korean, Mandarin (Simplified), Mandarin (Traditional), Norwegian, Polish, Swedish, Thai, Turkish.
File size: 73.46 GB
4K-HD.CLUB
Download
from TakeFile
We now have
Telegram, get notified of new releases 4K movies!
Watch the movie trailer Annie 4K 1982
Related 4K movies
Do you enjoy downloading from TakeFile?