FAQ - PREMIUM SITE 4K DOWNLOAD MOVIE - 4K-HD.CLUB - BLU-RAY REMUX MOVIES IN 2160P HDR 10 BIT
How can I download movies?
Register on TakeFile.Link please pay for the subscription. Download and enjoy.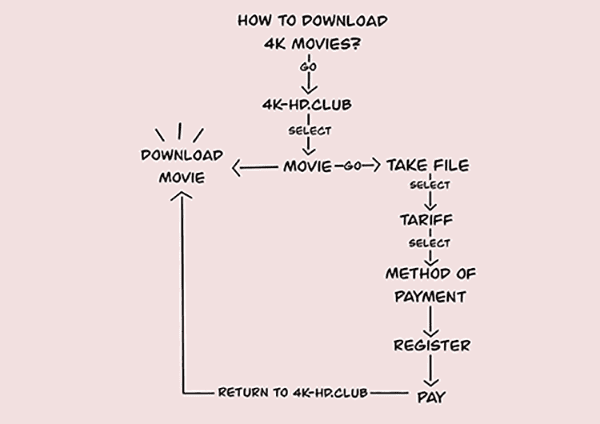 How many movies can I download?
Within a month you can download 1 TB of movies. ( You can increase your traffic up to 16 TB)
All your downloads will always be available at USER DOWNLOADS
They will not record traffic.
How can I increase my traffic?
Write to the
TakeFile support
team, tell them that you are a 4K-HD Club user, your traffic will be increased to 512 gb. Every 48 hours.
What is the quality of these 4K movies?
If the file is marked as "REMUX" then this is the file from the original blu-ray disc. The quality is 1: 1.
What program (video player) can I use to view 4k movies on my computer?
VLC 3.0 - makes movies with HEVC and 4K more reliable on your PC, you can easily watch all 4K UHD Blu-ray movies from our site.
Do You Have Dual Audio Movies?
The Most of Movies DTS 5.1, DTS-HD HR 7.1, Dolby Atmos
Should I Pay To Watch?
Yes, Just Go to Premiums offers and choose one of our Plans.
Is There A Fee For Joining And Downloading?
Yes, we offer 4 deferent packages
$19.99 For 1 Month
$29.99 For 2 Months
$39.99 For 3 Months
$99.99 For 12 Months
Can I Download Movies For Free?
Unfortunately, not.
Do You Charge For Downloading?
We charge for any Package one time (No auto Subscribe) You allow to download 2 Movies every 48 Hours.
Do You Offer Trial Or Free Test Account?
We don't offer a trial or free test account, Our price is the best on the market, and 100% satisfaction guarantee covers you. If you get an issue that we can't solve in your first 7 days, you can request a full refund
Does My Subscribe Start To Be Active Right After I Make A Payment?
The subscribe starting to be active from the moment you will receive your activation credentials in your e-mail.
I Am Not In Or From USA/CAN Or The UK. Can I Still Subscribe?
Yes. Our service is available worldwide to everyone. Subscribe
Does Your Movies Have Subtitles?
Yes, the most movies have English, French, Spanish Subtitles.
If The Subscription Ends, What Happens To My Downloads Movies?
You can save all Movies you download it already.
How Does It Work? 4k Movies
You need to use 4K TV/LCD to get 2160P.
Is There A Price For Each Movie?
No, you can download 2 Movies every 48 hours depends the long of chosen package.
Is There 1080P Or 720P Movies?
No, all our Movies are 2160P (4K).
I Want To Download 4k Movie?
Go to Premium offers and choose one of our Plans.
Is Your Website Offer Unlimited Download?
No, we offer 2 Movies every 48 hours, for any one of our premium plans offer. (write to TakeFile support, tell them you are a 4K-HD user and they will give you more traffic)
Do I Need High Speed Internet To Download From Your Website?
Yes
How Can I Know How Many Days Left In My Account?
Simply look on the main screen up to the right, there is you can see how many days left and the expiration date.
If I Reached The Download-Limit, How Can I Know How Long Left To Start Downloading Again?
Just enter any movie's page you will see counting down for the timing.
What Device (TV Box) Can I Use To View 4k Movies On My TV?
You can View the Movies through those devices
PDF Instructions here:
https://4k-hd.club/how-to-download-4k-movies.html