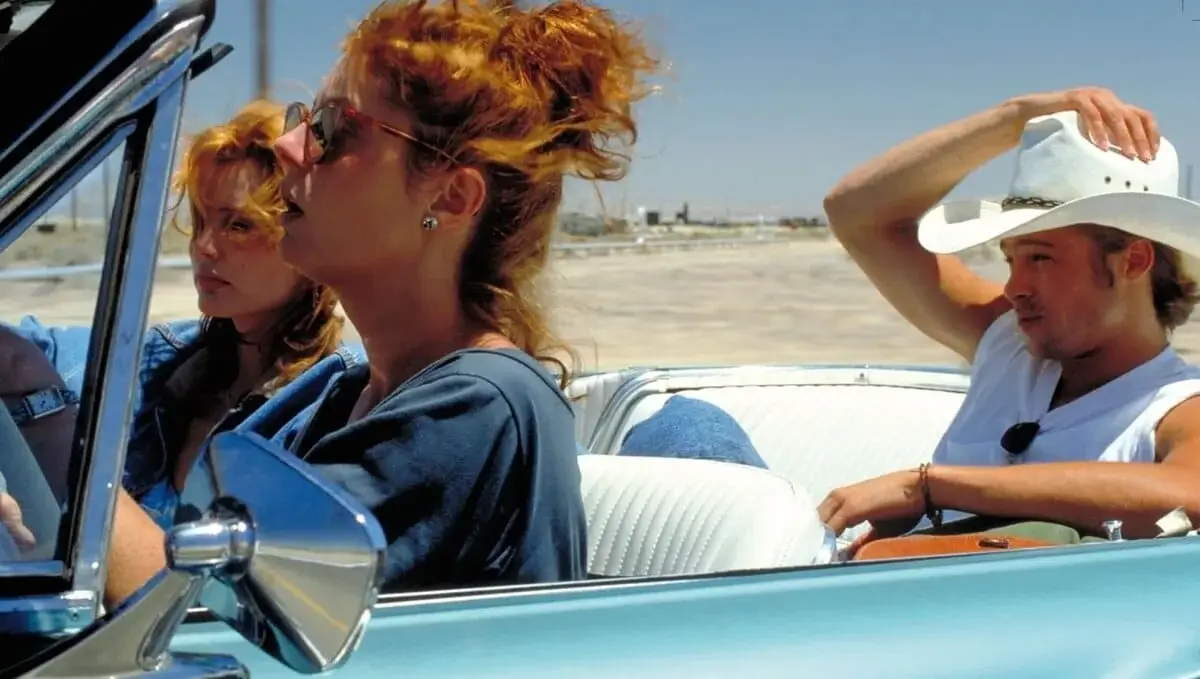 Thelma & Louise 4K 1991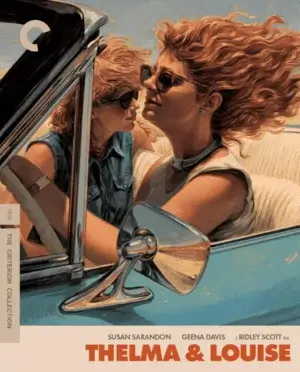 Thelma & Louise 4K 1991
Cast:
Susan Sarandon, Geena Davis, Harvey Keitel, Michael Madsen, Christopher McDonald, Stephen Tobolowsky, Brad Pitt, Timothy Carhart, Lucinda Jenney, Jason Beghe, Sonny Carl Davis, Shelly Desai, Ken Swofford, Carol Mansell, Stephen Polk, Rob Roy Fitzgerald, Jack Lindine, Michael Doman.
IMDB 7.5
File Size: 80.74 GB
Film Description
Every morning Louise has to go to the same fast-food restaurant as a waitress. She has a "boyfriend" - a musician, who often forgets about his beloved while touring roadside eateries. The energetic and formerly cheerful Thelma, married to Darryl, found that a woman's place is in the kitchen with the pots and pans, and a man's place is in the chair in front of the TV.

Of course, the women are not happy with such a life, and one day their patience runs out. They decide to get away from the "sick and tired" town and their hateful men. Unfortunately, on the way they have to commit a number of crimes, including murder. They are wanted all over America, and the girlfriends have only one thing to do - to get to Mexico by any means.

4k movies reviews
From the director of "Alien"?!
Ridley Scott has a mind of his own. Now he shoots a horror film ("Alien"), then ventures into cyberpunk ("Blade Runner"), or even invigorates the "peplum" genre ("Gladiator"). One thing is constant - the quality of the final product. And if you think that Scott knows how to shoot only "male" movies, you're wrong. And he proved it with "Thelma and Louise" in 1991.

Desperate Housewives.
Thelma Dickinson and Louise Sawyer are two cronies. They both go shopping, discuss Thelma's husband, go to work, and do other interesting things for women. One day they decide to go somewhere far away to take a break from their domestic cares. It's a done deal, and so our heroines hang out at a bar down the road. There, Thelma is attracted to a man. They dance, but he clearly wants more. In the parking lot, the pervert brazenly starts harassing the woman. Louise (who had thoughtfully brought a gun on the road), protecting her friend, unintentionally kills the rapist. And so began the adventures of ordinary housewives caught in a hopeless situation...
Would you say this is an ordinary feminist film? Not at all. "Thelma & Louise" is a film for all genders. And everyone can find something in it for themselves. The script (written by a woman) is surprisingly versatile and wise. It has both comedy and melodrama - nothing seems superfluous in it. Every touch, detail, and detail is in its place. At a passing glance, it may seem that the moral of the film is "all men are bastards," but this is far from it. "Thelma and Louise" has a very different meaning. It's simple, like all genius - "you have to live, not just exist." The friends, realizing that their lives will no longer be the same, begin to enjoy perhaps their last days of freedom. They try not to panic, have fun, and deep down hope that all will be well. Thelma and Louise are so different, but also very bright, real personalities, in whom you begin to believe from their first appearance on the screen. These women inspire respect, and you truly believe that they will get out of such an unpleasant story.
But there are also male heroes. The women have guys who love them. Who are willing to help them. Even Thelma's husband, Darryl, turns out to be not just another bumpkin, but a very loving husband. Not to mention Louise's friend (named Jim), who would go to the ends of the earth for her! But the most curious character of the tape was Hal Slocumb, a police investigator who follows the trail of the girlfriends. He is not just another stubborn cop, he understands these women, feels sorry for them, and even wants to catch them not for another record in his personal file, but to help both of them. The characters of almost all the characters in the film get their due development. There are no one-dimensional characters or illogical behavior of the characters in "Thelma and Louise." Everything is extremely realistic.

The actors are another virtue of the film. The Sarandon-Davies duo is simply brilliant, and the roles of best friends they play out like clockwork. You immediately get warm feelings for these women. Actresses perfectly played not the easiest heroines.

But the other actors do not lag behind. Michael Madsen, who has been in thrash, rejoices at the chance to play a normal role, Christopher MacDonald is excellent as Thelma's gruff and boorish but still good husband, and Harvey Keitel (as the police investigator) creates a convincing image of an intelligent and intelligent lawman.
Also glimpsed in the background is Brad Pitt in his first truly recognizable role. He does not play his role too professionally, but is very lively and believable. The other members of the cast are not as memorable as the aforementioned, but they play well and fit the film.

There are no cool chases or gunfights in the film (due to the genre), but it does not make the film any duller. "Thelma and Louise" is a conversational film and all its "salt" is in the dialogues. Well, they are very good. That's exactly how live people communicate - without pathos, simply and casually. Plus, the movie is full of funny phrases (like "Say you love her, women fall for this kind of nonsense") that make you smile, if not laugh. That said, the dynamic of the movie is pretty decent. Since the girlfriends have a car, they do not linger in one place, change locations, and with each change of location something happens. The tape is absolutely not tiresome. The directing is light, but very good. This is Ridley Scott, after all.

And then there's Hans Zimmer?!
What a versatile composer he is. He's equally good at pathos as he is at beautiful melodies. In "Thelma and Louise," the soundtrack consists mostly of the latter. The music is beautiful, touching, and very appropriate to the mood of the film. Zimmer doesn't pull any brooms!
As mentioned, the scenery changes quickly. There are mesmerizing panoramas and small towns and much more in the film. It all creates an ineffable atmosphere that is very difficult to explain. Looking at the night sky in the desert, listening to its sounds, you begin to understand the beauty of the world...
The camera work is brilliant. Every angle you can hang on the wall, everything is so well aligned. Did I mention the beautiful panoramas?

Ineffable
"Thelma and Louise" is an amazing movie. Beautiful and funny on the one hand, but wise and sad on the other. The authors have managed to combine the incongruous. The confident direction, a good script, the amazing performance of the actors and some amazing harmony make this film unforgettable. We have before us one of Ridley Scott's best films and some of the best roles by Geena Davis and Susan Sarandon. It leaves an imprint in the soul for a long time after watching it.

Info Blu-ray
Video
Codec: HEVC / H.265 (84.5 Mb/s
Resolution: Native 4K (2160p)
HDR: Dolby Vision, HDR10
Aspect ratio: 2.39:1
Original aspect ratio: 2.39:1

Audio
English: DTS-HD Master Audio 5.1 (48kHz, 24-bit)
English: Dolby Digital 5.1
English: Dolby Digital Mono

Subtitles
English SDH, English.
File size: 80.74 GB
Is Link Dead? Let us know and we'll replace the link.
Report
We now have
Telegram, get notified of new releases 4K movies!
Watch the movie trailer Thelma & Louise 4K 1991
Related 4K movies