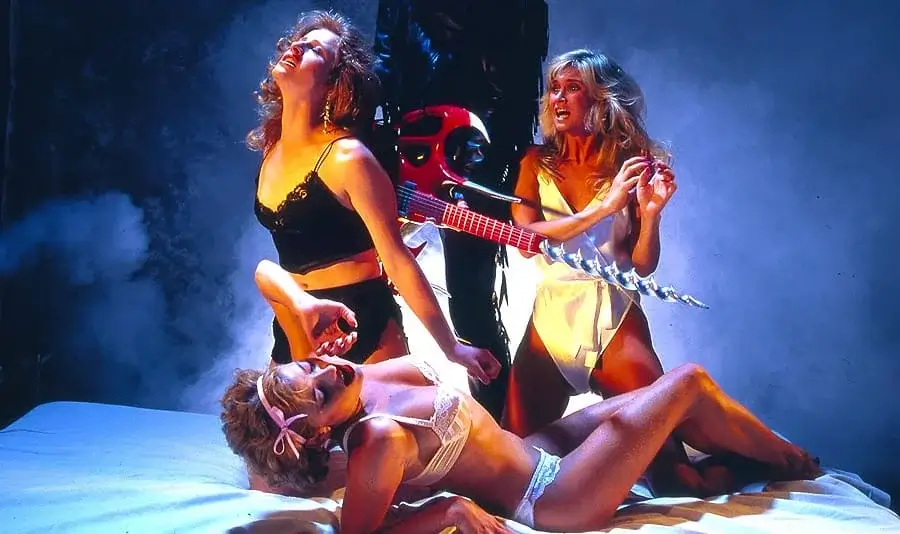 Slumber Party Massacre II 4K 1987
Slumber Party Massacre II 4K 1987
Cast:
Crystal Bernard, Jennifer Rhodes, Kimberly McArthur, Patrick Lowe, Juliette Cummins, Heidi Kozak Haddad, Cindy Eilbacher, Atanas Ilitch, Joel Hoffman, Scott Westmoreland, Michael DeLano, Hamilton Mitchell, Marshall LaPlante, Don Daniel.
IMDB 4.6
File Size: 40.35 GB
Film Description
One of the survivors of the first film, a girl named Courtney, suffers from nightmares and visions of horrific murder scenes that happened at that party. She dreams of a killer with a drill, a leather-clad rock musician with a drill bit on the finger of his red guitar. On a weekend trip with her boyfriend, a member of the school rock band, her nightmares become even more terrifying. Courtney's girlfriends think she's lost her mind, but they can't even imagine that her nightmares will soon come true when they discover that the killer with the drill is back...

4k movies reviews
Not much time has passed since the events of the first part. Courtney, one of the survivors of the massacre, suffers visions in which she is visited by a madman dressed as a rock musician. Despite her mother's misgivings, she goes to a party with her friends at a country house, hoping to celebrate her own birthday there. However, who thought her nightmares would come true and a killer would show up waving his deadly guitar with a drill on the end...

The second part, like the first one, is a standard slasher with young people in the leading role, with all (well, almost all) canons observed. Another thing is how it is filmed, and I was most afraid for this (taking into account that the movie was translated quite recently). As it turned out, it was wrong.

The first thing I want to praise this film for is its upbeat action. All filmed quite dynamically, there are no sagging moments, as well as boring dialogues. Excellent background music and cute female protagonists whose image corresponds to the genre draw immediate attention. When the maniac appears on stage, it becomes even more spectacular. We are not told who he is, where he comes from and why he actually attacks the girls, but instead we are presented with an image of a villain unlike anyone else - dressed in the fashion of a rock musician of the 50s, constantly dancing and quoting famous songs. This whole cast makes him pretty much a real madman.

What else is there? An ending that rips all kinds of patterns in this movie, after which coincidences about plot similarities fall flat.

All of the above allows me to call 'Slumber Party Massacre II' recommendable to watch, especially if you like this genre.

Info Blu-ray
Video
Codec: HEVC / H.265 (73.4 Mb/s)
Resolution: Native 4K (2160p)
HDR: Dolby Vision, HDR10
Aspect ratio: 1.85:1
Original aspect ratio: 1.85:1

Audio
English: DTS-HD Master Audio 2.0 (48kHz, 24-bit)
English: Dolby Digital 2.0
English: Dolby Digital 2.0

Subtitles
English, English SDH.




File size: 40.35 GB
Is Link Dead? Let us know and we'll replace the link.
Report
We now have
Telegram, get notified of new releases 4K movies!
Watch the movie trailer Slumber Party Massacre II 4K 1987
Related 4K movies
What genre of 4K movies do you prefer?