Rocky III 4K 1982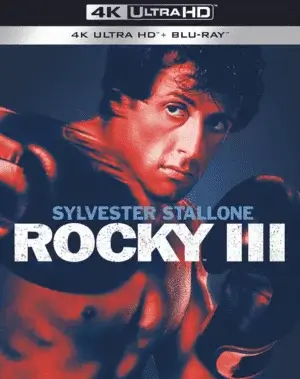 Rocky III 4K 1982
Producer:
Sylvester Stallone
Cast:
Sylvester Stallone, Talia Shire, Burt Young, Carl Weathers, Burgess Meredith, Tony Burton, Mr. T, Hulk Hogan, Ina Fried, Al Silvani, Wally Taylor, Jim Hill, Don Sherman, Dennis James, Jim Healy, Ray Gedeon, Gene Crane, Stu Nahan.
IMDB 6.8
File Size: 55.50 GB
Film Description
After defeating Apollo Creed, Rocky Balboa basks in the glory. He is surrounded by luxury and prestige. He easily takes out all challengers to his championship belt. The fees are high and the training is short, and as a result Rocky begins to lose his famous speed and accuracy. As a result, when a young, impenetrable, hurricane-like boxer named Clubber enters the ring, Rocky finds himself unable to withstand his crushing blows. The loss of his championship is morally devastating for Balboa. His former opponent, Apollo Creed, helps him regain his faith.
4k movies reviews
Filmed in the early '80s, "Rocky 3" has undergone significant changes. The arrival of the 80's could not but affect the picture, certain traditions and style that came to the cinema influenced the film, although Stallone said otherwise. The current Rocky is already the epitome of the 80's era.
A slightly different Rocky Balboa character, a slightly different movie. That's not to say it's bad, because Stallone's movie was very good again (albeit with its minuses and pluses, not touching the first parts). The third part itself came out very well, and Sly once again proved that, among other things, he is also a talented director and screenwriter, as the production is executed at the highest level, which many directors could envy, and the storyline continues to amaze with its sophistication.
"Three years ago you were great, you were solid, you were angry, you had a steel rod inside. But the worst thing that can happen to a boxer happened to you, you settled down."
-Micky.
Now Rocky is the new world champion, defending his title in bouts around the world and retaining it for three years. Real fame and popularity came to him: shootings in commercials, TV shows and glossy magazines, photos of Rocky almost everywhere, as well as paraphernalia with his image. He became an honorary citizen of Philadelphia, they even put a monument to him on the very square where he once trained when he was still unknown.
This Rocky is different from the second or even more so the first part. Now he has everything, he lives in wealth and luxury, by all indications Balboa has turned into that same Apollo Creed, able to competently organize the fight and promote it, while the boxing itself has retreated to the background. It was not for nothing that training made a show and a real circus out of the gym.
"For so many years I thought I was a winner, and then suddenly it turned out that I was weak and didn't deserve my title. They made a fictitious champion out of me. I was a champion as long as I believed in it, but I don't believe in myself anymore, you know. And when a fighter doesn't believe in himself, he's finished, okay... I'm afraid, okay, for the first time in my life I understand what fear is"
- Rocky.
The story of Rocky vs. Apollo repeats exactly the opposite. In the eyes of the Italian stallion, the very look of the tiger that made him the champion went out, so after the emergence of a new young and talented challenger, Clubber Lang (who never became the popular Mr. T), Rocky surrenders the title. Combined with the loss of his trainer and friend, this hits Balboa hard. Rocky is broken, he's afraid to lose for the first time in his life.
"You and I had the highest title in the world. You lost that fight for different reasons, you lost your momentum. I know your trainer was dying and it made your soul burst, but it was more than that. When you and I fought, you had the eyes of a hungry tiger. That was your advantage, and now it's gone, and if you want to win again, you've got to get it back, that tiger eye,"
Apollo Creed.
That's why after finding support in his former foe Apollo Creed and becoming good friends afterwards, Rocky begins all over again, he has to fight again and prove to himself, that he is still capable of something, but first he must return the very, lost "eye of the tiger".
Again, we would like to thank Bill Conti for preserving the terrific soundtrack, whose music is invariably heard in all parts of the movie epic, undergoing at the same time minor sound modifications, and adding one more world hit "Eye of the Tiger", embodying the whole movie, all the experiences and problems of Rocky.
Stallone has changed, Rocky has changed, but one thing has not changed - the third part was also a hit of its time, the audience accepted it very warmly. It is just not necessary to compare this and subsequent films with the first parts, they were and still are different.
Info Blu-ray
Video
Codec: HEVC / H.265 (71.9 Mb/s)
Resolution: Native 4K (2160p)
HDR: Dolby Vision, HDR10
Aspect ratio: 1.85:1
Original aspect ratio: 1.85:1
Audio
English: DTS-HD Master Audio 5.1
English: DTS-HD Master Audio 2.0 (48kHz, 24-bit)
English: Dolby Digital 5.1
French: Dolby Digital 5.1
German: Dolby Digital 5.1
Italian: Dolby Digital 5.1
Spanish (Latino): Dolby Digital 5.1
Spanish: Dolby Digital 5.1
Subtitles
English SDH, French, German, Italian, Spanish, Dutch.
File size: 55.50 GB
4K-HD.CLUB
Download
from TakeFile
We now have
Telegram, get notified of new releases 4K movies!
Watch the movie trailer Rocky III 4K 1982
Related 4K movies
Do you enjoy downloading from TakeFile?