Creed III 4K 2023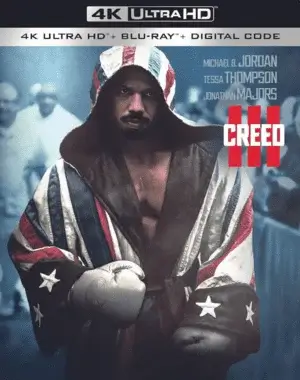 Creed III 4K 2023
Producer:
Michael B. Jordan
Cast:
Michael B. Jordan, Tessa Thompson, Jonathan Majors, Wood Harris, Phylicia Rashad, Mila Davis-Kent, Jose Benavidez, Selenis Leyva, Florian Munteanu, Thaddeus J. Mixson, Spence Moore II, Tony Bellew, Patrice Harris, Ann Najjar, Jacob 'Stitch' Duran, Terence Crawford, Bobby Hernandez, Yahya McClain.
IMDB 6.9
File Size: 77.49 GB
Film Description
Creed's childhood friend and former boxing prodigy, Damian "Lady" Anderson, is released after a long prison sentence and is burning to prove he deserves his chance in the ring. To settle the score, Donnie must put his future on the line, because Damian has nothing to lose.

4k movies reviews
Before we talk specifically about this film, let's remember what this franchise is so famous for. Why did the first film gain such a cult following that it grew into a franchise that still resonates with audiences? The answer is simple: versatility. The first film was as simple a film as possible about a man from the very bottom, who strove for heights and achieved them, overcoming all obstacles. Even though the plot is as simple as possible and we all know what the ending will be, we still watch and savor every moment, because the story is full of human experience. The humanity made the first film so iconic, and the same humanity is the main virtue of the best parts of this franchise (Rocky 2, Rocky Balboa, the first Creed), but even the not-so-best parts (Rocky 3 and Creed 2) find something dramatic to give the viewer. Namely, a simple story steeped in the right measure of pathos that is universal enough to sink into their hearts.

Now back to the third Creed. Was it able to create a story understandable to every viewer and, in that regard, a worthy successor to the Rocky/Creed films? It all begins with the protagonist, Adonis, having his old friend Damien Robinson, nicknamed 'Dama', return after 18 years. At one time Dama had great hopes in boxing and he himself expected to reach the heights of almost Ali. Despite the fact that now he is too old for such a sport, older than his friend Adonis, who has already finished his professional career, Damien is still obsessed with the idea of becoming the world champion and is ready for anything for that. And Creed himself helps him to do it, because he feels guilty and wants to at least make it up to him.

In fact, this very guilt becomes the main engine of the plot. After all, in the opinion of both heroes, it is because of it that Dama missed his time, and Adonis, in a sense, took his place. Trying to apologize somehow, he pushes Dama into the ring with all his might to resume his career, but at some point things get out of hand and here are yesterday's friends ready to tear each other apart. I think we should settle on this, I can't tell you the ending of the movie, but let's be honest, we all know what it's going to be approximately. Everybody knows very well what the culmination of the story is and how the conflict is going to be resolved. But in this case, it doesn't matter at all, what really matters is the relationship between the characters. It is the most understandable situation for someone, when someone takes the place of the other, and you can understand both of them. And it is implemented in exactly the right way. With the right balance between clichéd and dramatic moments, so that the viewer is fully immersed in the moment. Plus, Creed 3 works well in conjunction with the rest of the Rocky films. Take even the first part, when the main character being a nobody had unselfish motives, here such a character immediately imagines too much of himself and stumbles on it. The Rocky and Creed movies are good not only for the simple stories, but also for the ability to shuffle different characters, putting them in a different position. And that's great, because just like in life, there are all kinds of situations.

And although the drama in such films comes first, the boxing itself also plays an important role. With a good drama, you don't even have to think about the staging of fights, because if we are glued to the characters, then this detail is not so important anymore, just good fights are enough. But the film manages to surprise even here. Boxing fights are shown here with maximum dignity. You can feel every punch thanks to the right mo and good camerawork and editing. You literally feel like you're in the ring, and when you watch something like this in IMAX, your breath at some point begins to be cut off. Jordan as a director showed that he is capable of quality production, not forgetting his own visual finds. My favorite scene of the film is the one where all the spectators in the stands disappear, the lights dim and even the music fades at one point and we see only the two characters, just them and every punch they learn from each other. This moderately pathetic scene alone justifies the boxing duels in the film.

In any case, Creed 3 showed that the franchise is still capable of giving viewers the kind of emotion they expect from movies like this. Yes, we can pick on some separate moments and say that the extra 10 minutes could have been cut to end the movie on a high note, but in this case it doesn't matter if the movie brings a hurricane of emotions. It is unlikely to be a model in its genre, but it will definitely appeal to all those who care about Rocky and Creed movies. There is simple, but perfectly acted drama, excellent boxing fights with their own visual tricks, and, as always, the theme of different people in different life circumstances interaction. All this is enough to make Creed 3 have its own place among admirers of such movies.

Info Blu-ray
Video
Codec: HEVC / H.265 (76.4 Mb/s)
Resolution: Native 4K (2160p)
HDR: Dolby Vision, HDR10
Aspect ratio: 2.39:1
Original aspect ratio: 2.39:1

Audio
English: Dolby TrueHD with Dolby Atmos 7.1 (48kHz, 24-bit)
English: DTS-HD Master Audio 7.1 (48kHz, 24-bit)
English: Dolby Digital 5.1
French: Dolby Digital 5.1
Spanish (Latino): Dolby Digital 5.1
German: DTS-HD Master Audio 5.1 (48kHz, 24-bit)
German: Dolby Digital 2.0
Italian: Dolby TrueHD with Dolby Atmos 7.1 (48kHz, 24-bit)
Italian: Dolby Digital 5.1

Subtitles
English SDH, French, German, Italian, Spanish.
File size: 77.49 GB
Is Link Dead? Let us know and we'll replace the link.
Report
We now have
Telegram, get notified of new releases 4K movies!
Watch the movie trailer Creed III 4K 2023
Related 4K movies