Beau Is Afraid 4K 2023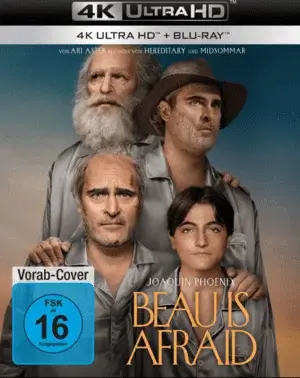 Beau Is Afraid 4K 2023
Cast:
Joaquin Phoenix, Patti LuPone, Amy Ryan, Nathan Lane, Kylie Rogers, Denis Ménochet, Parker Posey, Zoe Lister-Jones, Armen Nahapetian, Julia Antonelli, Stephen McKinley Henderson, Richard Kind, Hayley Squires, Julian Richings, Bill Hader, Alicia Rosario, James Cvetkovski, Catherine Bérubé.
IMDB 6.8
File Size: 79.58 GB
Film Description
Bo is old and afraid of everything, so he tries not to leave the house. The world is full of dangers, and the streets are full of crazy people who are just waiting for a chance to break into your apartment and do more damage. On the anniversary of his father's death, Bo is going to visit his mother, but someone steals his suitcase and the keys to his apartment right out of the door. This egregious incident sets off a chain of events that forces Bo to embark on a bizarre journey that transcends time and space.

4k movies reviews
Bo is afraid. What is Bo afraid of? Everything. Bo is afraid of life.

This movie is designed for people who can read the cultural codes that the director generously scattered across the canvas. As I watched this monstrously stretched, incoherent, megalomaniacally pompous creation, I felt like a complete fool, backward and uneducated. From what I understood (and I understood a little), I tried to sketch out a few versions of what I saw. I am well aware that all of them may turn out to be infinitely far from the truth, but....

1. Over the course of three hours, we see a trip caused by misuse of a drug. The doctor prescribes the drug to Bo, and emphasizes to him the fact that it is to be consumed 'only with water'. Bo violates the prescription, and...the result is on the screen.

2. Bo is an incel. Uncle lived to see gray pubic hair, but remained a bell boy who never once dinged or dinged. What does abstinence do to a grown, sexually mature man? Look at this TV newsman, the bearded, hairy, bespectacled virgin. He looks just like Bo. So the hallucinations are caused by spermotoxicosis.

3. In one of his early interviews, Astaire expressed a desire to make a 'Freudian Odyssey'. Odyssey means, it would explain a lot. Borges explained to us that there are only four plots in world literature. One of them is the homecoming. The movie is a road-movie, Bo needs to get from point A to point B, and along the way figure out the nature of his many fears. In this case, sweet-voiced couple Amy Ryan and Nathan Lane are the sirens trying to charm Odysseus - Bo, in order to? What?

4. At first, Bo evokes pity, many of his fears (xenophobia, fear of leaving his dwelling) are familiar to anyone living in a major city. Then, he becomes irritating in his victimhood, his passivity, his willingness to accept any bullying without complaint. The analogy that came to my mind is the book of Job the long-suffering. The torment sent down to Job was a test of his faith. Who is testing Bo and why? His tough, and cruel mother, but, does she fit the role of the Old Testament God?

5. Critics speak of Freudianism. I beg to disagree. More like Jungianism than Freudianism. Yes, more will be written about the Oedipus complex, but that's not what I noticed. There is a scene in the movie during which Bo is sailing in a motorboat. The water surface soothes and lulls the hero. In Jungian terms, water is a symbol of the unconscious. And this is the key to understanding many episodes (attics, Bo's dreams, his fear of insects). Where does Bo's boat go? To the cave. The cave is a symbol of the mother's womb. Bo wants to go back to the place where he was happy, warm, nourished, and peaceful. He's so afraid of life, he'd rather not be born. But, the cave has several interpretations, it is not only a womb, but also a grave. Notice the poster for the movie. Bo is depicted at four ages, from boyhood to senility.

Astaire made a monstrous movie. A jumble of absurd situations, some of which make you laugh (the bums invading Bo's apartment) and some of which make you puzzled (the forest theater), countless unreadable characters, terrible timing, brilliant Phoenix (I noticed long ago that he is brilliant in those scenes where he has no lines and you have to 'play with his face') - fat, ridiculous, naked. As I watched this movie, I realized that Beau is me, is any of you and me. Some of my fears are so aptly captured by the director, as if we know each other. Which means they're typical. Astaire has turned the abstract into the concrete and that means he is close to genius, or to madness.

It's impossible to watch this movie, it's impossible to get away from it. To see it or not to see it, you choose for yourself.

Info Blu-ray
Video
Codec: HEVC / H.265 (59.7 Mb/s)
Resolution: Native 4K (2160p)
HDR: Dolby Vision, HDR10
Aspect ratio: 1.85:1
Original aspect ratio: 1.85:1

Audio
English: DTS-HD Master Audio 7.1 (48kHz, 24-bit)

Subtitles
English SDH, Danish, German, Finnish, French, Norwegian, Portuguese, Russian, Spanish, Swedish.
File size: 79.58 GB
Is Link Dead? Let us know and we'll replace the link.
Report
We now have
Telegram, get notified of new releases 4K movies!
Watch the movie trailer Beau Is Afraid 4K 2023
Related 4K movies