The Lighthouse 4K 2019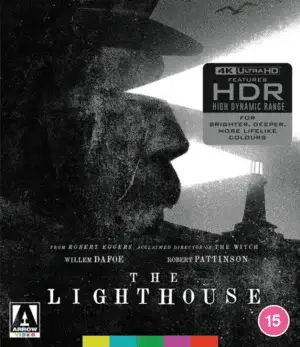 Film Description
The 1890s, somewhere off the coast of New England. A young man, Ephraim Winslow, arrives on a remote island to work as the new assistant to the lighthouse keeper, Thomas Wake, a lame, bearded drinker. He treats his subordinate as his personal slave and forbids him to go up to the lighthouse itself and operate the lights. Ephraim is not let go of his own past, so that at first he refuses to drink, and soon all sorts of devilry begins to happen on the rocky island, whether he is imagining it or not.

4k movies reviews
Fans of movies about the adventures of men wearing underpants over their clothes should pass. You won't be able to sip popcorn and soda while watching this movie. There is no sugary-sweet pathos, and no heartburn-inducing speeches about saving the world. Most likely, you'll be sick by the twentieth minute, and you'll get an incurable psychological trauma. This film is for film critics and those whose heads are egg-shaped. It is a complex, multi-layered narrative, packed with meanings and cultural codes. Watching the film awakened in me a burning sense of shame for my ignorance, I did not understand much, but even that I understood enough to conclude - this movie is not for me.

Two ugly-haired men are secluded on an island in order to do a four-week watch as lighthouse keepers. It's a nice setup, isn't it? I was afraid I was going to see a sequel to the funny story of the two cowboys camped out. One was a dirty, intolerant straight guy, and the other was a sophisticated rainbow fan. After spending the night outdoors, the straight guy appreciated all the delights of pure male love, and defected to the right side. Anyway, I was afraid I was going to see the 'Humpbacked Lighthouse'. Fortunately (or maybe unfortunately) that didn't happen. Everything that happens in this movie can be interpreted in different ways. You may interpret it as a simple story of madness between two men who find themselves in each other's company. Or one may try to interpret the symbols scattered generously over the canvas of this film.

Symbol One. Lighthouse.

What associations does a lighthouse evoke? A lighthouse is light. Old fart Thomas furiously defends his right of access to the lighthouse from the encroachment of young Ifraim. In his moments of greatest agitation, Thomas expressively recalls Neptune, and the other Greek gods. Ring any bells? What was the name of that hero who stole fire from the gods and gave it to men? Are we looking at a paraphrase of an ancient myth? In favor of this version is the fact that Ifraim sees a mermaid (what's the big deal? A lonely, isolated, sexually mature man on an island sees naked girls with fish tails? Maybe he likes sprats, and his sexual hunger is conflated with his need for food.)

The lighthouse can be associated with the Omphalus, or, in our words, with the center of the world. The huge stone lying on one of the ancient Greek fields was identified with the cult of Apollo, the patron of sciences and arts, as well as a personification of the sun. So again we are dealing with light.

And finally (my favorite!), the lighthouse is the phallus. The men race against each other for two hours, with the winner getting the right to copulate with a giant car headlight (by the way, the name also goes back to antiquity - the Faros Lighthouse). In general, the film opens up a lot of room for interpretation, knowledgeable people will correct me if I'm somewhere - wrong.

This feast of the spirit is filmed in a monochrome manner, and with an abundance of naturalistic scenes. Characters are uninhibitedly exercising their natural urges, and throughout the film, something leaks, gurgles, or drags around the screen for a disgustingly long time. Defoe looks like a drunken merchant, or an ecstatic seizure of an old believer - the beard smoothly turns into sideburns, which, in turn, flow into a chic mane. At times, he is simply terrifying. Crazy eyes, debris of giant teeth bared in a crazy scream, deliberate emission of gases, muddy pseudo-philosophical speeches...At moments, the operator skillfully shoots him from below, and with the right lighting, his face becomes just - like an icon. On top of that, he's chrome. Hephaestus, the god of fire, was chrome, and he was also a creepy freak. So again, a myth? But, if Defoe is a god, is the gassing just an emanation of a divine essence? Brrr!

Patinson has grown a bosun's mustache, has grown thin (self-satisfaction sessions are taking their toll) and his eyes are full of frank madness. By the way, have you noticed how willingly Western filmmakers exploit the theme of mental illness? These days, in order to be on trend, you have to have at least a mild form of schizophrenia. Are you mentally healthy? Shame on you! Here's the deal. You can consider this movie a story of conflict between Fathers and Children, a story of conflict between Gods and Heroes, you can consider it anything, anyway you don't understand anything. People in the know say that after seeing this masterpiece at Cannes, the audience gave it a standing ovation. It seems to me that it was an applause of relief. Like the stomping of the feet of an over-beer-drinking passenger stuck in an elevator.

Info Blu-ray
Video
Codec: HEVC / H.265 (80.2 Mb/s)
Resolution: Native 4K (2160p)
HDR: Dolby Vision, HDR10
Aspect ratio: 1.19:1
Original aspect ratio: 1.2:1

Audio
English: DTS-HD Master Audio 5.1 (48kHz, 24-bit)
English: Dolby Digital 5.1
English: Dolby Digital 2.0

Subtitles
English, English SDH, Spanish.
File size: 65.15 GB
4K-HD.CLUB
Download
from TakeFile
We now have
Telegram, get notified of new releases 4K movies!
Watch the movie trailer The Lighthouse 4K 2019
Related 4K movies