The Super Mario Bros. Movie 4K 2023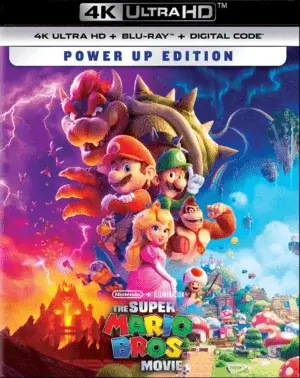 The Super Mario Bros. Movie 4K 2023
Producer:
Aaron Horvath, Michael Jelenic, Pierre Leduc
Cast:
Chris Pratt, Anya Taylor-Joy, Charlie Day, Jack Black, Kevin Michael Richardson, Khary Payton, Charles Martinet, Sebastian Maniscalco, Rino Romano, John DiMaggio, Jessica DiCicco, Keegan-Michael Key, Eric Bauza, Fred Armisen, Seth Rogen, Juliet Jelenic, Scott Menville, Carlos Alazraqui.
IMDB 7.2
File Size: 58.03 GB
Film Description
The plumber brothers Mario and Luigi open a portal to an underground city from which they must rescue the captive Princess Peach and fight their nemesis Bowser.

4k movies reviews
Mario's story began back in 1985. At that time no one could imagine that the brainchild of Japanese developer Shigeru Miyamoto would acquire a cult status in the world of video games. Given the high ratings from the press and players, huge sales and worldwide recognition, the question about the adventures of the mustachioed plumber was a matter of time. In answer to the question, "Did Illumination succeed in making a quality adaptation of Mario in animated format?", I will say, "Yes," but first things first.

The story of the cartoon begins in Brooklyn, where we are shown the typical, gray everyday lives of two brothers, Mario and Luigi. No one believes in them and they are haunted by failures, but our heroes do not give up, because: "Together we have nothing to fear. After some time, Mario and Luigi find themselves in the Mushroom Kingdom, where each of them (separately) will have to experience a fascinating adventure in a magical world.

To avoid spoilers, I'll highlight the strengths and weaknesses of the cartoon:

+

1) A bright, rich and colorful world. While watching it, I was immersed in the atmosphere of the Mushroom Kingdom, which lives by its own rules and laws. It is inhabited by talking mushrooms; a charming princess; wayward monkeys; turtles; ghosts and many other representatives of the local fauna. The pictures are pleasing to the eye.

2) The music is superb. In addition to well-known compositions by AC/DC; Electric Light Orchestra and Bonnie Tyler, the movie features enchanting, harmonious tunes typical of Nintendo projects as well as classic themes from Mario games.

3) Unity of opposites and good orchestration. The characters are different, with their own personalities and characters, and are interesting and enjoyable to watch. Personally, I was pleased with the dynamic between Mario and Donkey Kong: they both have similar behavioral traits, yet are different from each other.

4) Great dynamics and action. The cartoon doesn't stand still, there is almost always something going on: someone running; jumping; fighting; driving at high speed, etc. At the same time, the cartoon does not forget to make pauses, giving the audience the opportunity to fully experience certain moments.

5) A large number of references for fans of games of the Mario universe. There are references to Super Mario: Odyssey; Super Mario 3D World; Mario Kart; Luigi's Mansion; Donkey Kong and others. It's a paradise for Nintendo fans.

-

It's not even a flaw, but rather the simplicity of the story. Don't expect Pixar; DreamWorks or Netflix's Klaus-level philosophy from Super Mario Brothers. It's a good, family-friendly movie, capable of giving you a lot of pleasant impressions and emotions, and you're unlikely to find deep themes to think about in it, but Mario doesn't need that.

To summarize the above, I would safely recommend watching Super Mario Brothers if you want to have a great time and be transported into a fairy tale for the next hour and a half.

Info Blu-ray
Video
Codec: HEVC / H.265 (86.3 Mb/s)
Resolution: Upscaled 4K (2160p)
HDR: Dolby Vision, HDR10
Aspect ratio: 2.39:1
Original aspect ratio: 2.39:1

Audio
English: Dolby TrueHD with Dolby Atmos 7.1 (48kHz, 24-bit)
English: Dolby Digital 5.1

Subtitles
English SDH, Danish, French (Canadian), Hindi, Korean, Portuguese (Brazilian), Spanish (Latin American), Swedish, Ukrainian.
File size: 58.03 GB
Is Link Dead? Let us know and we'll replace the link.
Report
We now have
Telegram, get notified of new releases 4K movies!
Watch the movie trailer The Super Mario Bros. Movie 4K 2023
Related 4K movies