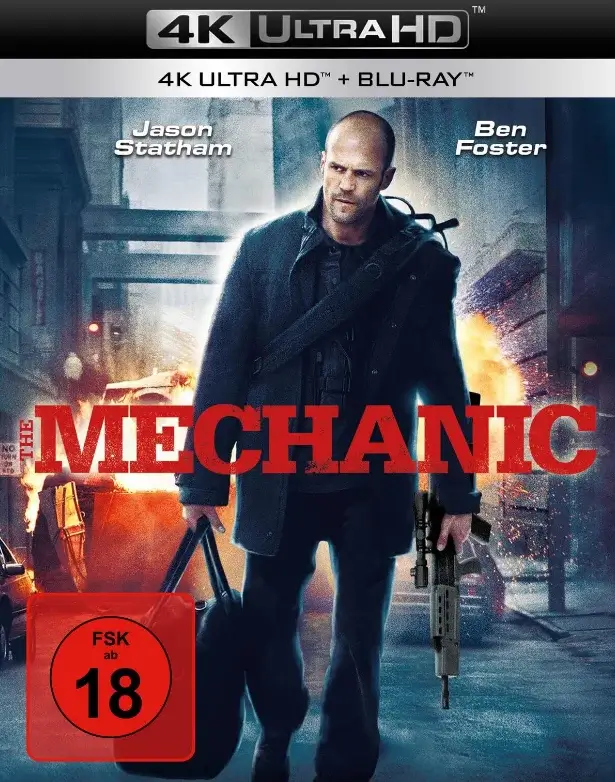 The Mechanic 4K 2011
Cast:
Jason Statham, Ben Foster, Donald Sutherland, Tony Goldwyn, Jeff Chase, Mini Anden, James Logan, Eddie J. Fernandez, Joshua Bridgewater, John McConnell, Christa Campbell, Joel Davis, Mark Nutter, Ardy Brent Carlson, Lara Grice, Lance E. Nichols, JD Evermore, Ada Michelle Loridans.
IMDB 6.5
File Size: 60.77 GB
Film Description
"The Mechanic" (2011) in 4K is a high-octane action thriller that immerses you in the world of an elite hitman, Arthur Bishop, brilliantly portrayed by Jason Statham. Bishop is a meticulous professional who specializes in making his hits look like accidents, leaving no trace of foul play. When he takes on a talented apprentice, Steve McKenna, played by Ben Foster, the story takes a thrilling turn.
This film offers a visually stunning experience in 4K, with breathtaking action sequences, intense shootouts, and dramatic tension, all enhanced by the heightened resolution and clarity. The explosive stunts and action choreography come to life on the screen, making it a must-watch for action enthusiasts.
As the plot unfolds, "The Mechanic" delves into themes of trust, betrayal, and the moral ambiguity of a hitman's profession. It keeps you on the edge of your seat, combining adrenaline-pumping sequences with a gripping narrative.
With its compelling characters, heart-pounding action, and the upgrade to 4K quality, "The Mechanic" becomes an even more immersive and thrilling cinematic experience, perfect for fans of action-packed films.
Info Blu-ray
Video
Codec: HEVC / H.265 (79.3 Mb/s)
Resolution: Native 4K (2160p)
HDR: Dolby Vision, HDR10
Aspect ratio: 2.40:1
Original aspect ratio: 2.39:1
Audio
#English: DTS-HD Master Audio 5.1
#German: DTS-HD Master Audio 5.1
#Czech: DTS-HD Master Audio 5.1
#Japanese: DTS-HD Master Audio 5.1
Subtitles
English (English SDH), Arabic, Chinese (Mandarin Traditional), Catalan, Danish, Dutch, Finnish, French (Canadian), French (Parisian), German, Norwegian, Polish, Portuguese (Brazilian), Spanish (Latin American), Spanish (Castilian), Swedish
File size: 60.77 GB
Is Link Dead? Let us know and we'll replace the link.
Report
We now have
Telegram, get notified of new releases 4K movies!
Watch the movie trailer The Mechanic 4K 2011
Related 4K movies
What genre of 4K movies do you prefer?