Hitman: Agent 47 4K 2015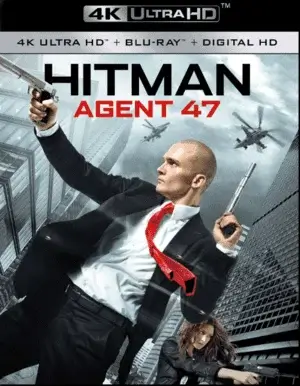 Hitman: Agent 47 4K 2015
Producer:
Aleksander Bach
Cast:
Rupert Friend, Hannah Ware, Zachary Quinto, Ciarán Hinds, Angelababy, Dan Bakkedahl, Charlene Beck, Michael Bornhütter, Melissa Broughton, Nils Brunkhorst, Michaela Caspar, Alvin Chan, Michael Corcoran, Manuel Depta, Andrew DiBartolomeo, Georg Ebinal, Jörg Ellmer, Waye Leon Goh.
IMDB 5.7
File Size: 36.46 GB
Film Description
The story is about an elite genetically engineered assassin who teams up with a woman to help her find her father and uncover the secret of her origins.

4k movies reviews
After Xavier Janssen's obscure and unmemorable 2007 hitman, I was skeptical and wary of the new adaptation. Though the trailer beckoned and tugged. And as a result, I am not, I repeat, not at all disappointed that I visited the theater today. This is exactly the Hitman it should be. In my subjective opinion, this is an extremely successful film adaptation of the game series of the same name. Even more kudos to Alexander Bach for the fact that this is his debut. It is probably the fact that Bach is not a seasoned matronly director that allowed him to be daring in his work.

I could never imagine Rupert Friend as an elite genetically enhanced hitman. Previously, I remembered him mostly as the calm and romantic characters in 'Pride and Prejudice' and 'Young Victoria'. But, how the hell it suits him to be the embodiment of cold reason and pure strength. He is classy, and the whole picture is very atmospheric thanks to him. A good duet made him Hannah Ware, who, unlike Olga Kurylenko, in addition to beauty also has a talent for acting.

No complaints about the special effects, although it was noticeable in some places that the computer graphics were 'too obvious'. This can only be explained by a scanty by Hollywood standards budget. But in any case it is not a disadvantage for the film. By the way, the video sequence at times is perceived really as a spectacular and effervescent computer game. You can make out references to 'The Matrix', 'John Wick', 'Equilibrium' (if you try very hard) and 'James Bond'. But Hitman still stands apart, it has its own niche.

I do not quite understand those viewers who focus their attention on the advertising of a famous automobile brand. In this aspect, I can advise you to look at all the current blockbusters, because in any of them the viewer's eye is screwed on the advertising of cars or gadgets. There's nothing you can do about it. And as an eyesore it is not perceived as a normal and standard attribute of modern films. And I don't take these "another worthless screen adaptation" stones to seriously, because the film is quite decent, watchable and presents a straight action, diluted with rare conversations in silence. Of course, there are clichéd phrases and expected plot twists, but this does not affect the overall impression.

First of all I liked the film's expression, style and killer (in the literal sense) charisma of the main character, the quality of pictures and editing. And the music lineup is absolutely fantastic, I'll add it to my playlist for sure. So, as they say, to taste and color... but I like it.

Info Blu-ray
Video
Codec: HEVC / H.265 (45.0 Mb/s)
Resolution: 4K (2160p)
HDR: HDR10
Aspect ratio: 2.39:1
Original aspect ratio: 2.39:1

Audio
English: DTS-HD Master Audio 7.1 (48kHz, 24-bit)
English: Dolby Digital 5.1
Spanish (Latino): Dolby Digital 5.1 (640 kbps)
French: DTS 5.1
German: DTS 5.1
Italian: DTS 5.1

Subtitles
English SDH, French, German, Italian, Spanish, Danish, Dutch, Finnish, Norwegian, Swedish.
File size: 36.46 GB
4K-HD.CLUB
Download
from TakeFile
We now have
Telegram, get notified of new releases 4K movies!
Watch the movie trailer Hitman: Agent 47 4K 2015
Related 4K movies
Do you enjoy downloading from TakeFile?