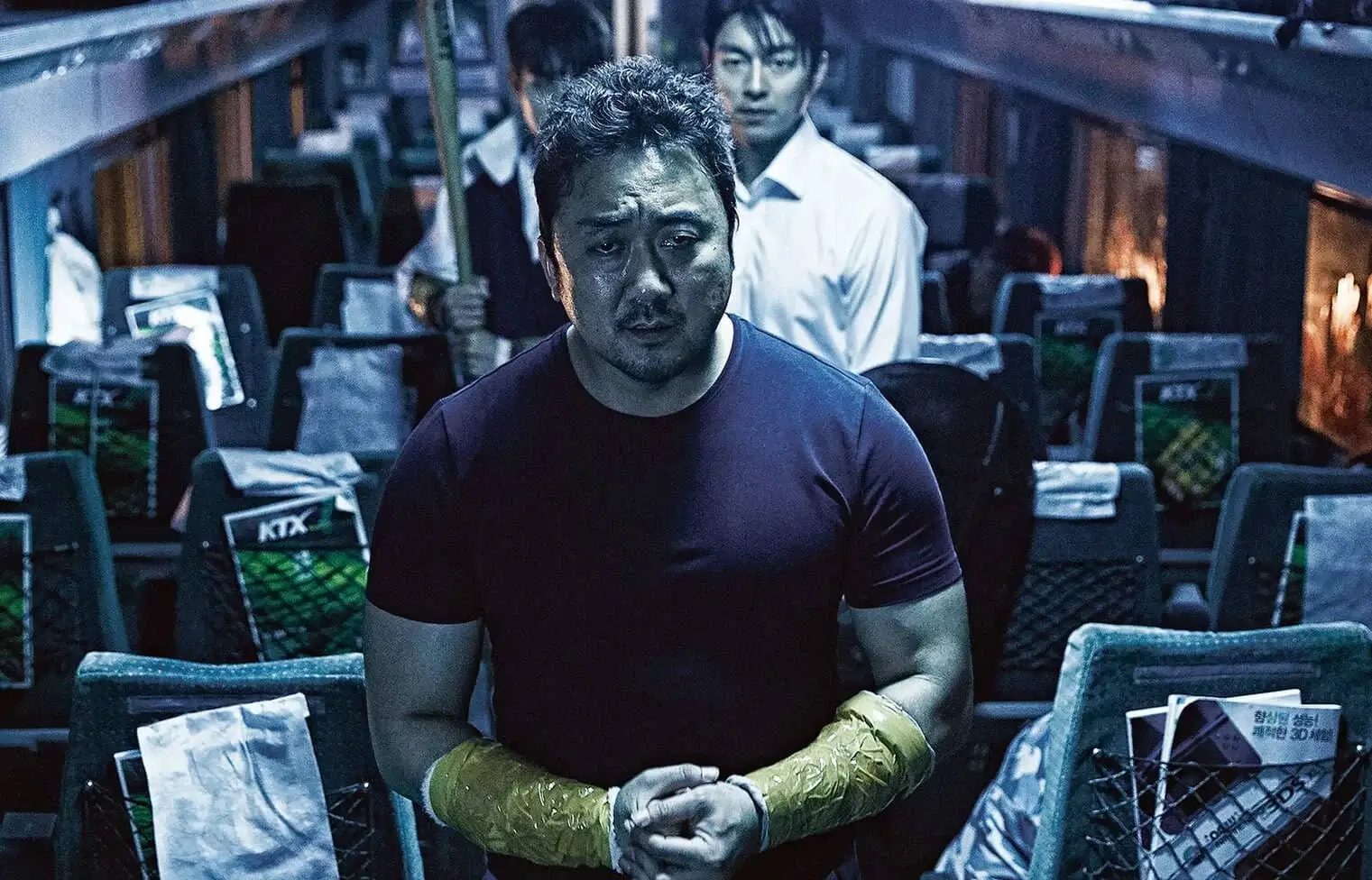 Train to Busan 4K 2016 KOREAN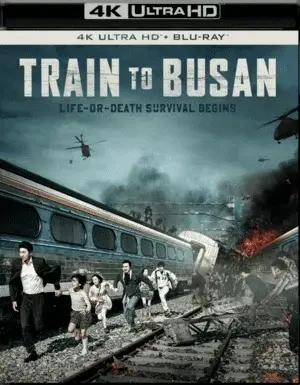 Train to Busan 4K 2016 KOREAN
Cast:
Gong Yoo, Jung Yu-mi, Ma Dong-seok, Su-an Kim, Kim Eui-sung, Choi Woo-sik, Sohee, Soo-jung Ye, Park Myung-shin, Gwi-hwa Choi, Jung Suk-yong, Jang Hyuk-jin, Seong-soo Han, Do-im Woo, Hye-Yeong Moon, Jae-rok Kim, Chang-hwan Kim, Joo-sil Lee.
IMDB 7.6
File Size: 53.02 GB
Film Description
It's little Su-an's birthday. The girl lives with her father in Seoul and really wants to go to her mother in Busan. On the way, the unexpected happens and a mysterious virus strikes the country. Passengers on the train to Busan, the only city that has repelled the virus attacks, will have to fight for survival. 442 kilometers into the journey. Welcome aboard and remember, in this race, it's not enough to survive to stay human.

4k movies reviews
It seems that with "Train to Busan" the Korean cinema through the efforts of director Yeon Sang-Ho decided to avenge all the long and endless streams of hopelessly monotonous and categorically idiotic shit-movies about various aggressive undead, popularly referred to as zombies. And we have to admit that the revenge was successful, because if not the best film in the history of the genre, then it is definitely one of them.

Quite calm plot that delights spectators with stylish and juicy pictures tells us about sad everyday problems of a hard-working daddy who was too busy at work to be on time for his daughter's birthday party and got into the very place epically eulogized by Mr. Mikhalkov, giving his daughter another Nintendo Wii presented the day before to a sad and indignant little girl. The couple, upon discovering that his daughter is no Eric Cartman and the top-of-the-line console did not bring the holiday back to the house, sets off on a long trip to Mommy, with whom Daddy has been divorced for some time due to his own relentless workaholism.

The joint trip to Mommy, however, did not bode well when a numerous rescue escort swept in front of the main characters at breakneck speed, which with its fleeting appearance drew a sort of line between a life of peace and a life of survival, if you will. After placing the first couple of characters on the train, the director leisurely introduces the viewer to the other actors in the coming feast of blood and inhumanity. Without reinventing the wheel, director and screenwriter Yeon Sang-Ho throws a standard set of characters into the epicenter of events, including a young couple expecting a new addition to the family, some young baseball team, a couple of pensioners and a homeless man, though the latter never introduced himself and therefore could actually be a hipster hero.

Naturally, "Train to Busan" would not have been a success if it had been a two-hour story about passengers sleeping, cursing and eating grilled chicken in foil, so by chance and the conductor's dumbness an unknown person gets on the train, who starts biting and scratching furiously. Biting and scratching have no effect, and therefore all the bitten begin to go wild, attacking others, in general, muttering, giving themselves nothing more than a zombie.

Of course, if everything was happening in Russia, no one would have noticed the embarrassment, because no zombies are able to resist drunken demobilists, drunken shift workers and drunken guest workers, and in general it is not known what is more evil, but since the events take place in civilized South Korea, the train is plunged into panic. And along with total panic, those very human qualities, praised by poets, writers and other dissatisfied with life, come out, and that is why for a small handful of survivors not only the primitive infected, but also quite healthy fellow soldiers, who at any opportunity will be ready to give you a friendly lift, accompanying the poor man to the ravenous mouths of zombies, appear to be a threat. However, cowardice and human cowardice are played moderately and harmoniously, completely submitting to the film's atmosphere of despair, which is exacerbated with each new mile covered by the doomed train.

In search of salvation the characters scurry around the train, stations, repeatedly aggravating the already deplorable situation, for the amusement of the audience, surviving and exterminating the devil, which is reminiscent of another film by another Korean director, "Through the Snow", But if there it was the rabid and dissatisfied proletarians armed with axes and chocolate bars made of cockroaches who survived, here we have the citizens of the world, who are confronted by many times superior forces of the infected, and who, unlike the proletarians, have something to lose. And therefore, not having in stock cannon fodder, but in fact being it, the survivors are forced to fight not so much by force, but by mind. How else can you fight against zombies? - You ask. Probably not - I'll answer. But before in the movies against zombies for some reason fought stupidity. Here the breakthrough is simply cosmic. However, it is necessary to look, for without foul language and a hundredth part of occurring magnificence it is impossible to describe.

Gradually and inevitably approaching the finale, the film's over-the-top suspense jumps all sorts of oafish sensors, when the imminent denouement covers the abyss of frightening suspense, and the film does not even think of giving any hint of respite for the two hours of time that fly by in an instant, after which not only everyone is able to pick up intelligible comments. Such a tough tension should be grateful not only to the brilliantly scripted and superb direction, which embodied all the ideas in the film, but also to the attention to detail, whether it be a half-comic video about a skater and a zombie landing, or the evolution of the main character, who long and hard convinced his daughter that everyone is for himself, but too late realized the price and cynicism of his words.

And even though the cast of characters in the film is pretty standard, you can't really call the characters clichés, because this time each one really has a story to tell, but that story is told through the lens of their actions, not through a story in the halting place where someone remembers his childhood trauma. You know, before the final battle with evil, whoever dies next is bound to tell a story about a favorite dog, a favorite toy, a favorite beer. The Train to Busan has no place for this kind of outrage; the actors here play real people, and they play them beautifully. However, even the non-humans they play great, because the choreography of the infected is at least a separate reason to watch the movie, and at the same time, proof that some domestic actors (EM Studios) are not even able to play zombies. It is largely because of the acting that "Train to Busan" is not just a gripping thriller, but moreover, a poignant drama about fate, loss and choice.

Info Blu-ray
Video
Codec: HEVC / H.265 (52.0 Mb/s)
Resolution: Upscaled 4K (2160p)
HDR: Dolby Vision, HDR10
Aspect ratio: 1.85:1
Original aspect ratio: 1.85:1

Audio
Korean: Dolby TrueHD with Dolby Atmos 7.1 (48kHz, 24-bit)
Korean: DTS-HD Master Audio 7.1 (48kHz, 24-bit)
Korean: Dolby Digital 5.1
English: DTS-HD Master Audio 5.1 (48kHz, 24-bit)
English: Dolby Digital 5.1

Subtitles
English SDH.




File size: 53.02 GB
Is Link Dead? Let us know and we'll replace the link.
Report
We now have
Telegram, get notified of new releases 4K movies!
Watch the movie trailer Train to Busan 4K 2016 KOREAN
Related 4K movies
What genre of 4K movies do you prefer?