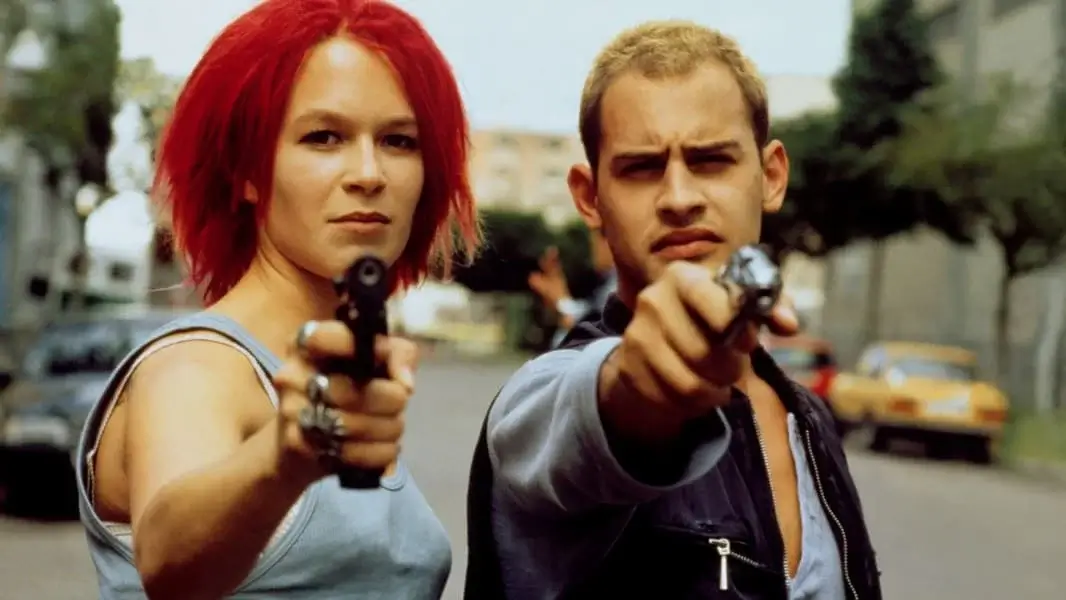 Run Lola Run 4K 1998 GERMAN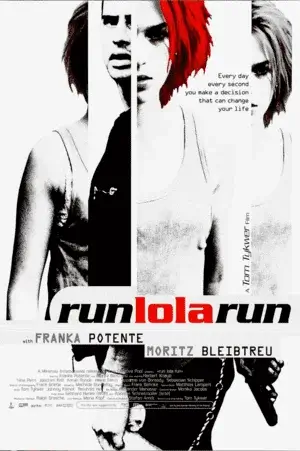 Run Lola Run 4K 1998 GERMAN
Cast:
Franka Potente, Moritz Bleibtreu, Herbert Knaup, Nina Petri, Armin Rohde, Joachim Król, Ludger Pistor, Suzanne von Borsody, Sebastian Schipper, Julia Lindig, Lars Rudolph, Heino Ferch, Wolfgang Becker, Marc Bischoff, Monica Bleibtreu, Volkhart Buff, Beate Finckh, J.P. Johannsen.
IMDB 7.7
File Size: 43.14 GB
Film Description
Lola and Manny live in Berlin and are madly in love with each other. And when Manny, the little delivery boy for the big bandit, loses his boss's bag of money, only Lola can save him. But in order to get the not-so-small sum of one hundred thousand marks, the girl has only 20 minutes. Every second can mean the difference between life and death.

4k movies reviews
The phone rings. A girl with bright red hair picks up the phone. Her boyfriend on the other end of the line begs for help: he's screwed up big time, and if he doesn't get a hundred thousand marks in twenty minutes, he's dead. She's Lola, he's Manny. We don't know anything about them. And does it really matter what came before? It doesn't matter what happens afterwards. The main thing is "the ball is round, the game lasts ninety minutes."

And so Lola ran... And along with her, the director ran and did not know himself what was around the next corner and where the road would lead him. On the way there are various people whose lives are swept away like a series of amateur photographs taken with a cheap camera.

After twenty minutes, the irreparable happens. The director doesn't like the ending, he rewinds the film, gives the viewer a little five-minute break in peace with the main characters and sends Lola on a new run. And neither she, nor he, much less the viewer, knows what will happen in twenty minutes...

It is impossible to say for sure whether Tom Tykwer made his film as an experiment or not, but the fact remains that "Run, Lola, Run" is an eighty-minute video clip. It is a video clip, not a film made in the style of music videos. A crazy number of montage, the continuous progressive trance, the use of all kinds of cameras and tapes gave the picture a unique look.

Despite the film's lightness, Tom Tykwer did not forget to bring something big to the picture. In a peculiar and relaxed manner the author reminded us that our whole life is just a succession of many probabilities. Every second, every turn, every encounter, every action can change our life in an incredible way. No one knows what will happen twenty minutes from now. Life cannot be predicted, much less orchestrated...

Info Blu-ray
Video
Codec: HEVC / H.265 (68.6 Mb/s)
Resolution: Native 4K (2160p)
HDR: Dolby Vision, HDR10
Original aspect ratio: 1.85:1

Audio
German: DTS-HD Master Audio 5.1 (48kHz, 16-bit)
German: Dolby Digital 5.1
German: Dolby Digital 2.0
English: DTS-HD Master Audio 5.1 (48kHz, 16-bit)
English: Dolby Digital 5.1
English: Dolby Digital 2.0
Spanish: DTS-HD Master Audio 5.1 (48kHz, 16-bit)

Subtitles
English, English SDH, Spanish.
File size: 43.14 GB
4K-HD.CLUB
Download
from TakeFile
We now have
Telegram, get notified of new releases 4K movies!
Watch the movie trailer Run Lola Run 4K 1998 GERMAN
Related 4K movies
Do you enjoy downloading from TakeFile?