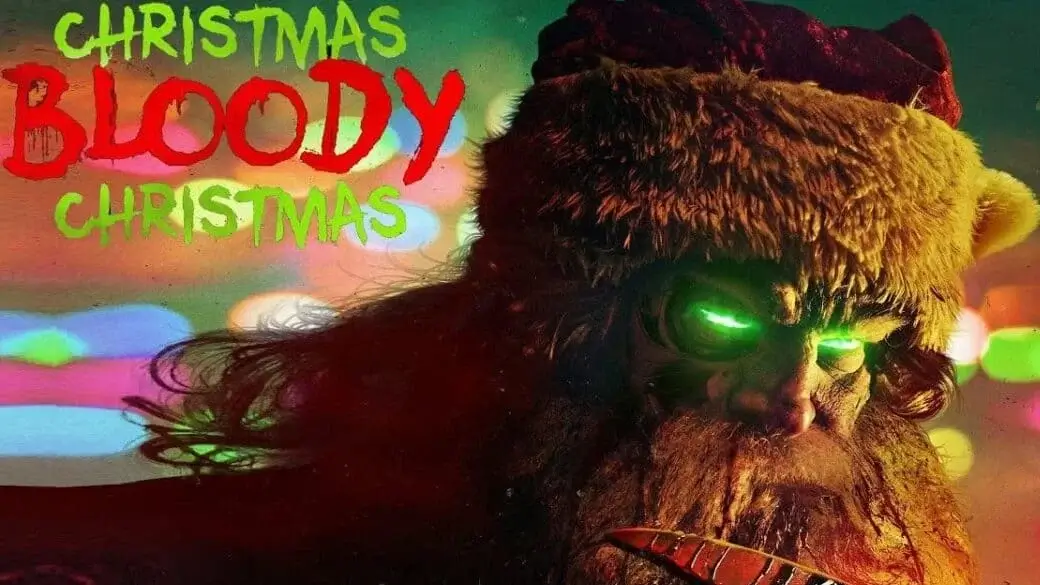 Christmas Bloody Christmas 4K 2022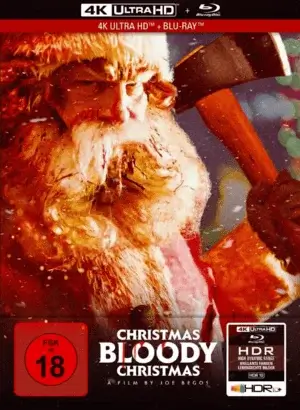 Christmas Bloody Christmas 4K 2022
Cast:
Riley Dandy, Sam Delich, Jonah Ray, Dora Madison, Jeff Daniel Phillips, Abraham Benrubi, Jeremy Gardner, Graham Skipper, Kansas Bowling, Joe Begos, Josh Ethier, Elliott Gilbert, Adam Dietrich, Matt Mercer.
IMDB 5.1
File Size: 51.38 GB
Film Description
Tori, the owner of a small-town rock music store, does not like Christmas. While the girl in the company of her employee Robbie gets systematically drunk, the robotic Santa from her friends' toy store gets out of hand, picks up an axe and begins to reduce the number of humans.

4k movies reviews
A Christmas horror from Joe Begos, a very curious young director who does not chase fashion trends, whose creative preferences are clearly not in our time period, but in the 80s, 90s of the last century, and it is very much felt in his films. His latest films can be described by the banal phrase - cheap but angry, and 'Veterans of Foreign Wars' is an obvious salute to the era of videotape, with the cast coming straight from there.

And at first it seems that 'Bloody Christmas' will continue the director's set way, especially since the concept is more than suitable. Introductory shots with a commercial for 'Channel 83' (the real name of the studio where Begos has shot all his films), remind of a grotesque commercial from 'RoboCop', and we are literally described in two words the culprit of further action - Robo-Santa+, with a cursory mention of military developments. In fact, this is the end of the plot description, as it is as straight as a school ruler. But this has never been a problem for such films - the main thing is the action and the atmosphere.

But it is in these aspects that the picture starts to stall unexpectedly. The beginning is incredibly long. The movie has below-average running time, and for the first half-hour there is absolutely nothing going on except for the protracted verbal foreplay of the main characters. And though their dialogues look lively enough, with numerous jokes, references to rock-music and even cinematography, it is perceived all the same as a time lengthening.

But when the very character appears, for whose sake we are all gathered here, it becomes livelier and you get the feeling that the director won't let us down, as he has repeatedly proved with his past works - bloody carnage is in his element. And at first it seems so, Santa with a fire axe is brutal and ruthless, but the more atrocities he creates, the more noticeable it is that Begos does not use his full texture, everything is filmed mostly from a distance, or even from a corner. Such a villain should be filmed close-up, thanks to a suitable actor. Abraham Benroubi is a charismatic two-meter-long fellow, but the director and the cameraman practically nullify his charisma. Remember the New Year's Eve thriller 'Santa Killer' with wrestler Goldberg? There this aspect of the film was just fine.

Though it is necessary to give proper credit, the carnage itself is technically well done and bloody, all the same, the practical effects in this genre are more appropriate than the computer ones ('The Terrifying 2' is the direct proof). And there is no mercy with the characters, even children, even those who are not taken for granted, and nobody gets off easy. Our Robo-Santa, like a tank, simply rushes forward and leaves a bloody trail behind him. The appropriateness of the characters is basically at an acceptable level, with the exception of one obnoxious policeman.

The ending, when our Santa appears already in an iron form, strongly reminds of the showdown between Sarah Connor and the T-800 from the first terminator. And the scene with the attack on the police station, too, refers to the same Terminator. By the way, there is absolutely no humor in the movie, everything is shot in a serious way.

In my opinion, the movie lacked dynamism and focus, for one could squeeze much more out of such a villain. And so we have an average representative of the genre, which, of course, is not bad either, but before watching it I had hopes that Joe Begos and his team of like-minded people would jump higher.

Info Blu-ray
Video
Codec: HEVC / H.265 (75.7 Mb/s)
Resolution: 4K (2160p)
HDR: HDR10+
Aspect ratio: 2.39:1
Original aspect ratio: 2.39:1

Audio
English: DTS-HD Master Audio 5.1
English: Dolby Digital 5.1
German: DTS-HD Master Audio 5.1

Subtitles
English SDH, German.




File size: 51.38 GB
Is Link Dead? Let us know and we'll replace the link.
Report
We now have
Telegram, get notified of new releases 4K movies!
Watch the movie trailer Christmas Bloody Christmas 4K 2022
Related 4K movies
What genre of 4K movies do you prefer?