Rudy 4K 1993 Directors Cut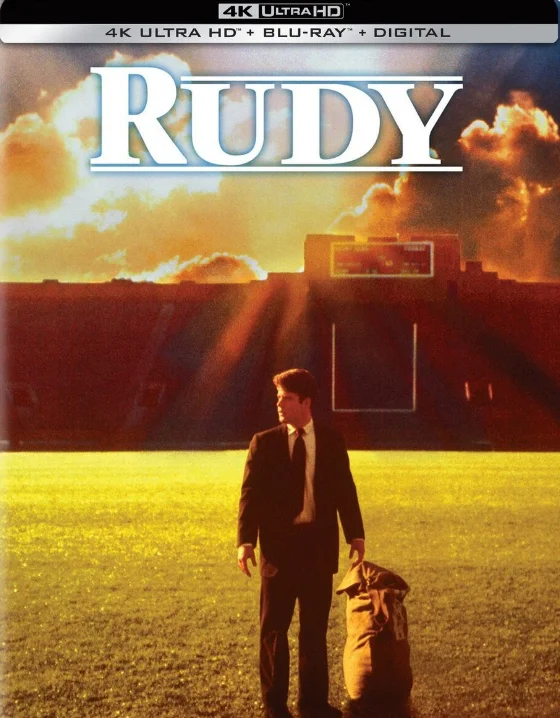 Rudy 4K 1993 Directors Cut
Cast:
Sean Astin, Jon Favreau, Ned Beatty, Greta Lind, Scott Benjaminson, Mary Ann Thebus, Charles S. Dutton, Lili Taylor, Christopher Reed, Deborah Wittenberg, Christopher Erwin, Kevin Duda, Robert Benirschke, Luke Massery, Robert J. Steinmiller Jr., Jake Armstrong, John Duda, Joseph Sikora
IMDB 7.5
File Size: 58.74 GB
Film Description
"Rudy," a heartwarming sports drama, unfolds the inspiring journey of Rudy Ruettiger. Determined to play football for the University of Notre Dame despite numerous obstacles, Rudy faces rejection, family challenges, and academic struggles. Driven by unwavering passion, he overcomes adversity to achieve his dream. The film explores themes of perseverance, friendship, and the pursuit of one's goals against all odds. With powerful performances and a moving narrative, "Rudy" stands as a testament to the indomitable human spirit and the triumph of the underdog.
Info Blu-ray
Video
Codec: HEVC / H.265 (61.0 Mb/s)
Resolution: Native 4K (2160p)
HDR: Dolby Vision, HDR10
Aspect ratio: 1.85:1
Original aspect ratio: 1.85:1
Audio
#English: Dolby TrueHD with Dolby Atmos 7.1 (48kHz, 24-bit)
Subtitles
English SDH, Spanish, French
File size: 58.74 GB
Is Link Dead? Let us know and we'll replace the link.
Report
We now have
Telegram, get notified of new releases 4K movies!
Watch the movie trailer Rudy 4K 1993 Directors Cut
Related 4K movies
What genre of 4K movies do you prefer?