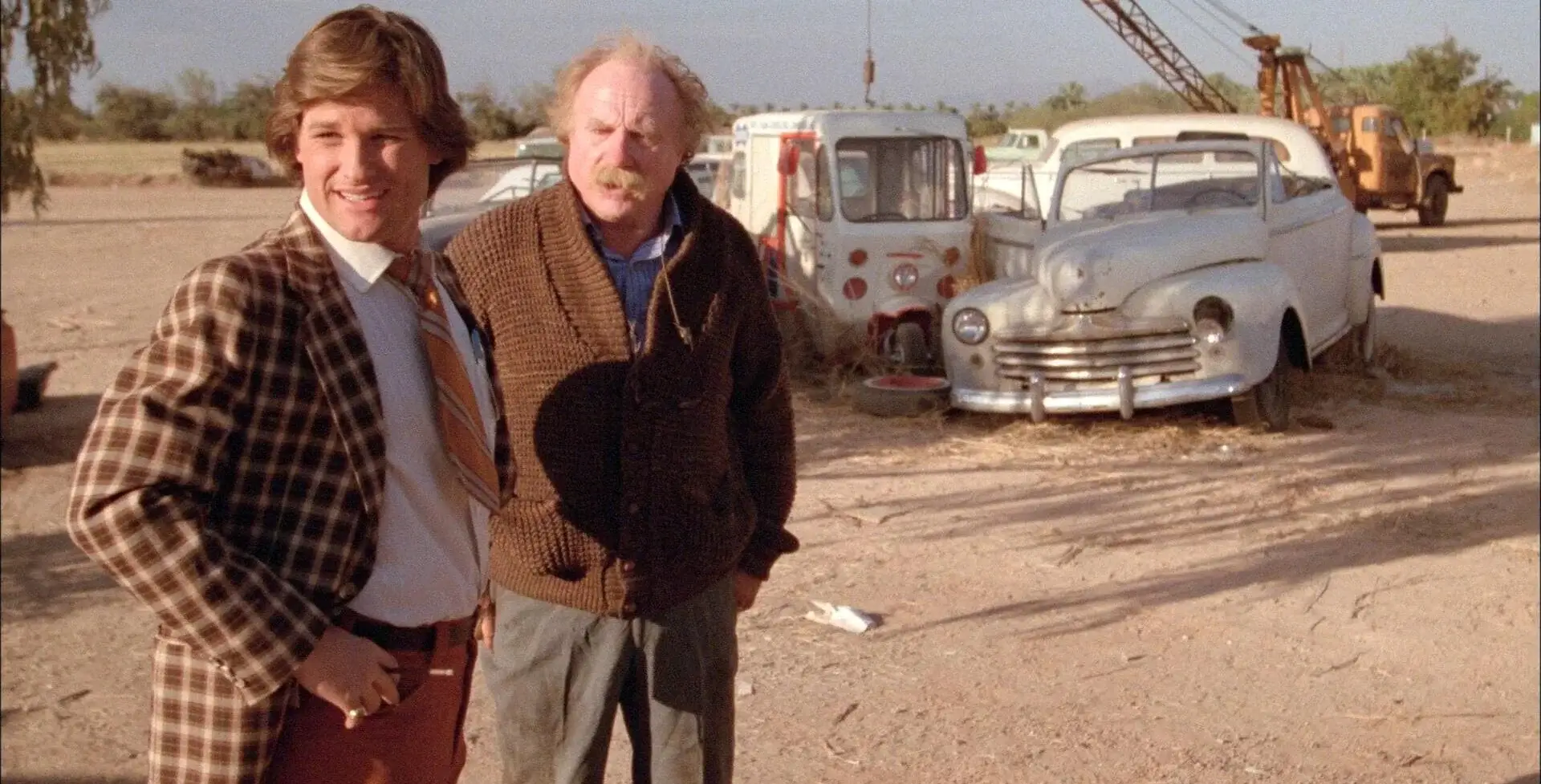 Used Cars 4K 1980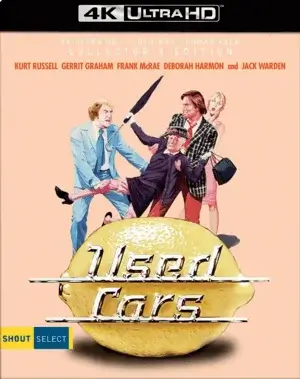 Used Cars 4K 1980
Producer:
Robert Zemeckis
Cast:
Kurt Russell, Jack Warden, Gerrit Graham, Frank McRae, Deborah Harmon, Joe Flaherty, David L. Lander, Michael McKean, Michael Talbott, Harry Northup, Alfonso Arau, Al Lewis, Woodrow Parfrey, Andrew Duncan, Dub Taylor, Claude Earl Jones, Beans Morocco, Cheryl Rixon.
IMDB 6.7
File Size: 74.03 GB
Film Description
Used car salesman Rudy Russo, who works in old man Luke Fuchs's store, shamelessly poaches customers from a competitor - Roy Fuchs, Luke's brother. One day Roy's patience comes to an end, and he decides to get rid of his annoying neighbor and improve his financial situation.

But also Rudy, who dreams of winning a state senate seat, is also concerned with finding a large sum of money for his election campaign. However, fate deals him a crushing blow from a completely unexpected direction...

4k movies reviews
The feature film 'Used Cars' is an old comedy by the wonderful director Robert Zemeckis. It's impossible not to love Zemeckis' films. Before, when I wasn't interested in movies and didn't remember the names of directors, one of the first ones I recognized and remembered 'that great movie was directed by him too' was Zemeckis. It turned out that I discovered that several of the films I liked were directed by the same man! I remember it now, as I'm writing, and I realize that really that moment is the moment when you really start to love and be interested in film, you pay attention to the names, you remember and you already know that this is such a director and he made such films.

I hadn't heard about our comedy, hadn't seen it, and I wanted to watch it after reading Robert's conversation with Quentin Tarantino, (in the book dedicated to Tarantino). The conversation was interesting, and these people were talking for a reason. The thing is that 1994 (the year I was born!) gave the world two great movies: of course 'Pulp Fiction' and 'Forrest Gump'. And here are two people, two of the best directors, chatting about movies. Quentin was very complimentary about 'Forrest', but said that he had always said that 'Used Cars' was one of his favorite movies (the best comedy of the last 20 years!).

That's how I decided to rate Tarantino's recommendation, a movie whose lines he and his video rental friends knew by heart. Plus it's Zemeckis, all of whose films I've seen I like, so it's a must-see.

As for movies. Here it is more difficult to say. The thought that did not leave me - after all, the film is old, although I try to watch old (1980) movies without bias. But it's one thing to watch an old drama, and a little different to watch an old comedy. It's hard to smile now at the naive (albeit kind, though in some moments black) jokes. It's been a long time since I've watched old comedies, and it got me thinking. There are of course comedy classics, funny movies (but I mean the time no later than 80's, 90's classics are more new), but they are few. This comedy is not outstanding, but I watched it to the end. Nowadays it's hard to watch the absurd action, the grotesquery, where almost every scene is reduced to grotesque, without tears. But I think in the good 80's it would have been fun to watch a movie like that, but not now after 30 or more years. In general the movie is not funny, the plot seems to be good, although it is illogical in places. No, really, you just have to relate to this kind of movie, which is what I did. (saw a very young Kurt Russell).

I saw the movie and I watched it, I could have not watched it and I would not have lost anything. But here are the thoughts, remembered a lot. And what should definitely be noted, the old comedies - they are good, there is no vulgarity and toilet hilarity, the main component of today's comedies, (not a single mention of shit in the whole movie, imagine). It turns out I ended up disappointed in the film, but not in Zemeckis, and certainly not in Tarantino. I know Quentin's tastes don't surprise me much (he likes different movies), but Robert was just starting out, and rightly so. Movies like 'Back to the Future' and 'Forrest Gump' are timeless.

Info Blu-ray
Video
Codec: HEVC / H.265 (88.0 Mb/s)
Resolution: Native 4K (2160p)
HDR: Dolby Vision, HDR10
Aspect ratio: 1.85:1
Original aspect ratio: 1.85:1

Audio
English: DTS-HD Master Audio 5.1 (48kHz, 24-bit)
English: DTS-HD Master Audio 2.0 (48kHz, 24-bit)
English: Dolby Digital 5.1
English: Dolby Digital 2.0

Subtitles
English SDH.




File size: 74.03 GB
Is Link Dead? Let us know and we'll replace the link.
Report
We now have
Telegram, get notified of new releases 4K movies!
Watch the movie trailer Used Cars 4K 1980
Related 4K movies
What genre of 4K movies do you prefer?