The Maltese Falcon 4K 1941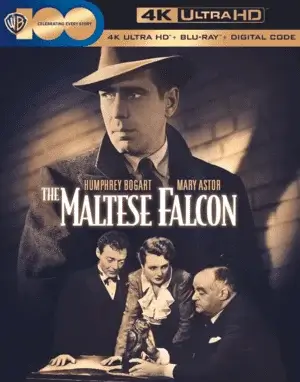 The Maltese Falcon 4K 1941
Cast:
Humphrey Bogart, Mary Astor, Gladys George, Peter Lorre, Barton MacLane, Lee Patrick, Sydney Greenstreet, Ward Bond, Jerome Cowan, Elisha Cook Jr., James Burke, Murray Alper, John Hamilton, Charles Drake, Chester Gan, Creighton Hale, Robert Homans, William Hopper.
IMDB 8.0
File Size: 55.11 GB
Film Description
Private detective Sam Spade begins a deadly hunt for the mysteriously disappeared priceless statue of the "Maltese Falcon.
4k movies reviews
It is a classic in the best sense of the word. Even if it is based on the novel by Dashiell Hammett, the ancestor of the violent detective, in which there are no gentle weak women to save from the villains and the noble knights. In fact, gentle weak ladies turn out to be hardened criminals, cunning manipulators, and the noble knights are ruthless men ready to trample even their own feelings. Because they know that nothing is everlasting on earth.
All this is beautifully portrayed and filmed in the film `The Maltese Falcon. Humphrey Bogart is the best fit for the role of Sam Spade with a `wolfish smile `, a smart, very tough and incredibly tough detective. On him alone holds the whole movie. The way he plays. Even in defeat, he can not help but cause admiration.
The plot is banal - a charming young woman comes to the private detective agency and asks to find her sister. Later it turns out that this is all fiction, she actually needs to follow her partner, who ditched her by taking a Maltese falcon figurine.
Brigid O'Shaughnessy is good-looking and pays a lot of cash. That is enough for Sam Spade to work with her. However, he is annoyed by her pretense of trying to play the victim, pretending to be an innocent sheep. Gradually we see how the innocent sheep turns into a real predator.
The plot is not bad at all. Oh, no. It's even good. But it does require utmost attention and concentration, because it's like a matryoshka doll--you open one and there's another. And at the end there's one tiny little matryoshka - the Truth. And that truth is terrible. The masks fall off Brigid's face, one by one, just as the story matryoshka appear one by one.
The pursuit of the Maltese Falcon, a golden figure encrusted with precious stones, proved fruitless and futile, in which many lives were destroyed. And all because of greed. Brigid craves money, fat Gatman craves money, Keiro craves money, and even Sam craves money, too.
But even the thirst for money won't make him give up his principles. Not even love. Because he is a realist and stands with two feet on the ground. And the reality is that a murderer's love is not a love to be trusted. And yet at the end he utters one phrase that makes this movie a masterpiece.
`What is the figurine made of? - Policeman Tom asks, spinning the fake lead falcon figurine that so many people have died for.

``It's made of the same material that dreams are made of. - replies Sam.
Info Blu-ray
Video
Codec: HEVC / H.265 (75.0 Mb/s)
Resolution: Native 4K (2160p)
HDR: HDR10
Aspect ratio: 1.37:1
Original aspect ratio: 1.37:1
Audio
English: DTS-HD Master Audio 2.0 Mono
English: Dolby Digital 2.0
English: Dolby Digital Mono
German: Dolby Digital Mono
Italian: Dolby Digital Mono
Spanish: Dolby Digital Mono
Spanish (Latino): Dolby Digital Mono
Subtitles
English SDH, French, Spanish, German, Italian, Dutch.
File size: 55.11 GB
4K-HD.CLUB
Download
from TakeFile
We now have
Telegram, get notified of new releases 4K movies!
Watch the movie trailer The Maltese Falcon 4K 1941
Related 4K movies