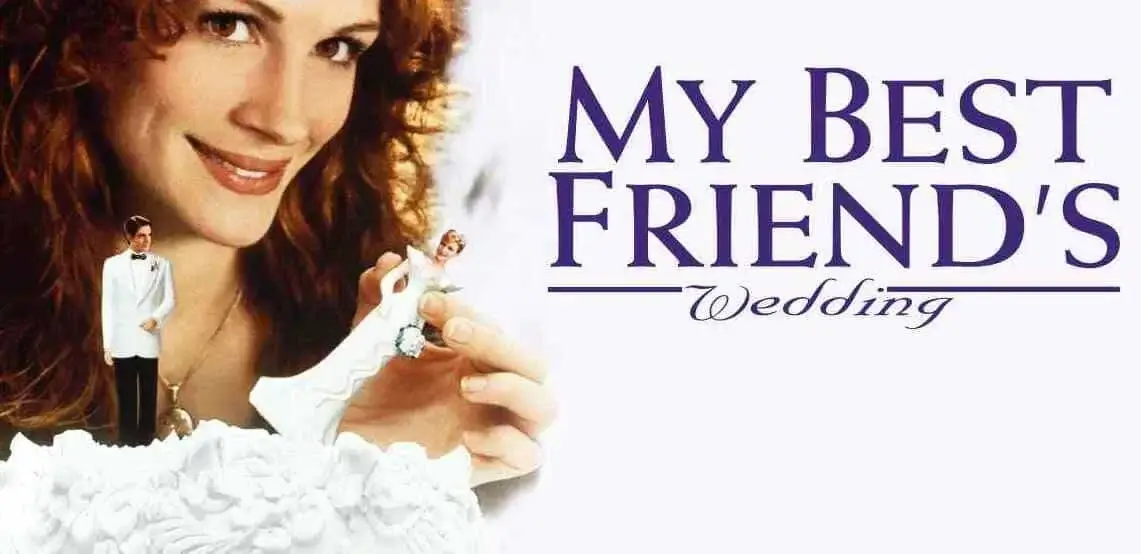 My Best Friend's Wedding 4K 1997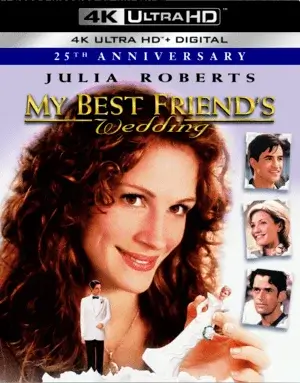 My Best Friend's Wedding 4K 1997
Cast:
Julia Roberts, Dermot Mulroney, Cameron Diaz, Rupert Everett, Philip Bosco, M. Emmet Walsh, Rachel Griffiths, Carrie Preston, Susan Sullivan, Christopher Masterson, Raci Alexander, Jennifer Garrett, Kelleia Sheerin, Bree Turner, Cassie Creasy, Lucina Paquet, Aida Baggio, Shirley Kelly.
IMDB 6.3
File Size: 53.99 GB
Film Description
Nine years ago, Julianne Potter and Michael O'Neill made an agreement: if they didn't fall in love before the age of 28, they would marry each other. Best friends since their college days, they had almost forgotten about their youthful pact.

And now, at 28 years old, Michael has brought up the subject of marriage again, but...to someone else. Julianne never knew what it was she really wanted until she felt that "something" was leaving her life.

And now she has only four days and her own savvy to get Michael back for herself.

4k movies reviews
I'm not much of a Julia Roberts fan, and I can list on the fingers of my hand the movies where I like her, "The Wedding" is just one of those. I am absolutely convinced that this movie is one of the best romantic comedies. You can watch it in any mood, it doesn't bore you, it doesn't irritate you and it makes you feel so light and warm inside.

The cast is impeccable, everyone is in their place and it's hard to imagine a role being played by someone else. The unmatched in its purity and naivety heroine Cameron Diaz, intelligent and elegant Rupert Everett, selfish, a bit bitchy, but still kind Julia Roberts at heart.

The film has a kind of special atmosphere, as if you were present at a party, perhaps that is what makes you rewatch it again and again. It has no disadvantages, you cannot pick on it, but the pluses are the endless list. These are such small, seemingly insignificant details, but it is they that create the full picture:

- is Cameron Diaz's laughter when Roberts' character announces that Mike is marrying her after all;
- it's Julianne's reasoning about "swamp nastiness"
- the singing at the karaoke bar
- Juliana's reaction to Michael's wedding (falling off the bed)
- The story of Juliana and George's acquaintance
- The "helium" voices of the singing boys
And many, many more.

This movie doesn't get boring, and it can't, just like a work of art can't get boring, and that's exactly what "My Best Friend's Wedding" is in its genre.

Info Blu-ray
Video
Codec: HEVC / H.265 (55.1 Mb/s)
Resolution: Native 4K (2160p)
HDR: Dolby Vision, HDR10
Original aspect ratio: 2.39:1

Audio
English: Dolby TrueHD with Dolby Atmos 7.1 (48kHz, 24-bit)
English: DTS-HD Master Audio 7.1 (48kHz, 24-bit)
English: Dolby Digital 5.1
Spanish (Latino): DTS-HD Master Audio 5.1 (48kHz, 24-bit)
French: DTS-HD Master Audio 5.1 (48kHz, 24-bit)

Subtitles
English SDH, French, Spanish.




File size: 53.99 GB
Is Link Dead? Let us know and we'll replace the link.
Report
We now have
Telegram, get notified of new releases 4K movies!
Watch the movie trailer My Best Friend's Wedding 4K 1997
Related 4K movies
What genre of 4K movies do you prefer?