Shotgun Wedding 4K 2022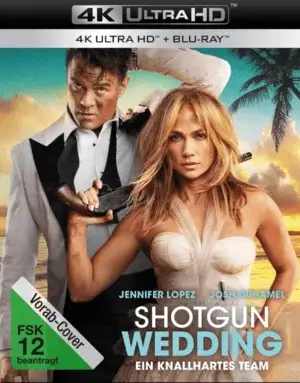 Shotgun Wedding 4K 2022
Cast:
Jennifer Lopez, Josh Duhamel, Lenny Kravitz, Jennifer Coolidge, Sonia Braga, Cheech Marin, Steve Coulter, D'Arcy Carden, Callie Hernandez, Desmin Borges, Selena Tan, Alberto Isaac, Melissa Hunter, Pancho Cardena, Alex Mallari Jr., Tharoth Sam, Worapojd Thautanon, Zachary Wood.
IMDB 5.4
File Size: 65.61 GB
Film Description
Darcy and Tom are preparing for a lavish wedding on an island. They are slightly annoyed by the groom's mother and the bride's ex. But soon the couple realizes that these were just little things: right at the ceremony, pirates burst in and take the guests hostage. It's up to Darcy and Tom to save everyone.

4k movies reviews
I started out watching it with low expectations as a light movie for the evening, and it turned out, surprisingly, not so bad. The movie is quite in the tradition of such wedding-themed comedies, where Americans are still laughing at themselves and their wedding stereotypes. The exception is the very idea of putting the wedding in a story with pirates, and also the model of the relationship of the main characters, who have essentially switched places. The wedding roles themselves are changed. The groom himself is engaged in preparations, worried about every detail and discusses with his beloved her exes. The bride, in turn, is strong and brave, thinking more about sex than about the wedding preparations, not wanting to be a princess at the wedding, and generally indifferent to a lavish wedding. This kind of shapeshifting looks at least funny, but at most directly hints at modern society, where women and men, sometimes, really switch roles.

Be that as it may, what we have before us is pure comedy. Some of the characters' actions look absurd, but even this does not embarrass, considering that you never know how you will behave when taken hostage by pirates. Black humor slips in and out, and quite appropriate and non-violent. The actors were quite up to the task, not at all embarrassed to laugh at their comic-heroic characters.

A few more words about the subpoena. There isn't one. Yes, comrades, that's how it is these days. There are, of course, many characters of different nationalities in the film. But this is appropriate, given that the scene itself is an exotic Asian island, and the main couple is an a priori future international family. So the viewer is initially plunged into the 'international' atmosphere, and throughout the film the racial question is not raised in any way. Plus, this movie is about traditional relationships at all levels, from the parents of the newlyweds to the invariable (at these kinds of movie weddings) one-night stands.

There is also room for serious motives. The characters throughout the film essentially struggle with their fears, at the same time learning the central family truth - 'for better or for worse'. As a result, for the beautiful location, the 'traditional' love and cheerfully sung family values, we want to give a positive mark.

Info Blu-ray
Video
Codec: HEVC / H.265 (79.6 Mb/s)
Resolution: Native 4K (2160p)
HDR: Dolby Vision, HDR10
Aspect ratio: 2.40:1
Original aspect ratio: 2.39:1

Audio
English: Dolby TrueHD with Dolby Atmos 7.1 (48kHz, 24-bit)
English: DTS-HD Master Audio 7.1
English: Dolby Digital 5.1
German: Dolby TrueHD with Dolby Atmos 7.1 (48kHz, 24-bit)
German: Dolby Digital 5.1

Subtitles
English SDH, German.
File size: 65.61 GB
Is Link Dead? Let us know and we'll replace the link.
Report
We now have
Telegram, get notified of new releases 4K movies!
Watch the movie trailer Shotgun Wedding 4K 2022
Related 4K movies