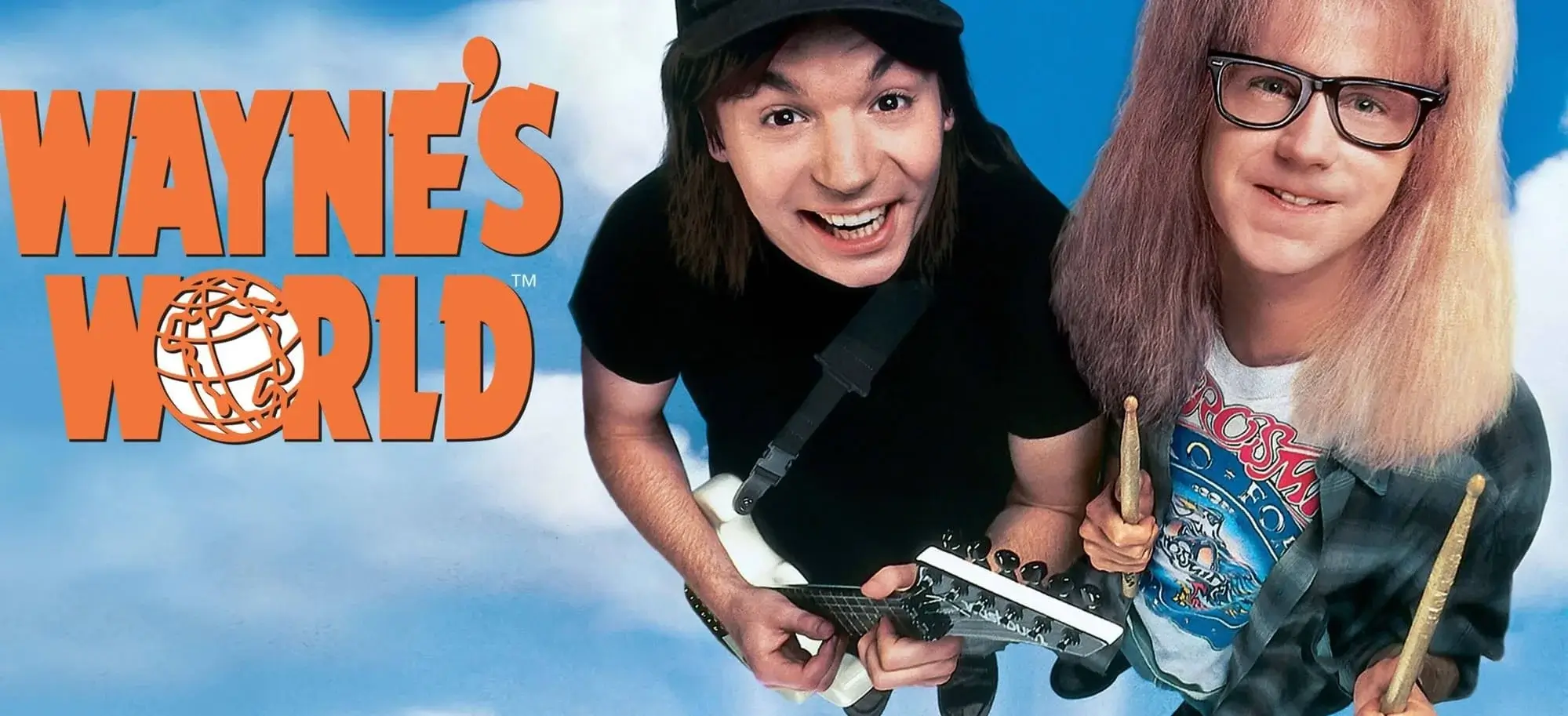 Wayne's World 4K 1992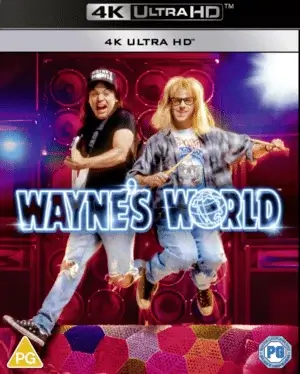 Wayne's World 4K 1992
Producer:
Penelope Spheeris
Cast:
Mike Myers, Dana Carvey, Rob Lowe, Tia Carrere, Brian Doyle-Murray, Lara Flynn Boyle, Michael DeLuise, Dan Bell, Lee Tergesen, Kurt Fuller, Sean Sullivan, Colleen Camp, Donna Dixon, Frederick Coffin, Mike Hagerty, Chris Farley, Meat Loaf, Charles Noland.
IMDB 7.0
File Size: 55.15 GB
Film Description
Garf and Wayne are the young badasses who write and host the youth television program Wayne's World. A successful businessman, who happened to see this semi-amateur show on local cable TV, realized that he could make money on it. He signs them to a rip-off contract, but the guys can't go along with pure commerce.
Things turn into a conflict, and here the businessman has his eye on the beautiful rock singer Cassandra, for whom Wayne is very fond. The guys take the initiative.
4k movies reviews
Young and Merry
- Are they fools?

- Yes, they're fools.
("Sponge Bob.")
Like many of the most popular comedians of the '80s and '90s, Mike Myers, a humor and parody maniac armed with articulate plasticity, a goofy face and wit (not to be confused with Michael Myers, the gut-cutting maniac, wearing a hockey mask and carrying a knife!), came out of the TV show 'Saturday Night Live'. Mike appeared on Saturday Night Live in 1989, when the stars from SNL - Dan Aykroyd, Bill Murray, Steve Martin, Chevy Chase, John Belushi and others - were already shining brightly in the sky, but Myers was not embarrassed by it - he knew what comedy was and how to break through in it. Back in the early '80s, he was a star on television in his native Toronto and knocked down a storm of humor on all levels, from subtle irony to vulgar slurs about Jews, blacks and gypsies.
Contrary to popular belief, the character of Wayne Campbell, an amateur broadcaster, a wit and a joker, a hustler and a bully, who does not bend to the authority of people or to the authority of the almighty dollar, was not born on SNL, but in the Canadian comedy show Urban Limits. The audience loved the character - Wayne didn't divide the world into 'his, studio' and 'other people's, off-screen' like most TV hosts do. He was just as much fun a guy as those who watch him on TV, simple, without excessive ambition, without stardom, with jokes and jokes that would go down well with any company, a regular guy from the next door, always available and straightforward, his own everywhere and always. When the character migrated to American television and got a solid financial support channel NBC, he still remained the same goofy simpleton, for which he was loved by American audiences. Loved so much that Myers decided to take him to the big screens. Sure, the character was successful, but that much.
I know that producers always do market research before they release a film, lest, God forbid, it should be a complete failure, and the success of 'Wayne's World' was most likely a matter of precise planning, but it is like the weather forecast - you can predict the tsunami, but never the height. The tsunami that came to America in the form of Wayne's World struck everyone, and, above all, its makers.
There's nothing so special about this movie. Two fun-loving weirdos mess around, listen to music, fall in love, hang out. Basically, a traditional youth comedy. There were plenty of those in the 80's. And there were even more in the '90s. But there was something in 'Wayne's World' that was elusive to a normal camera. Maybe some originality. After all, the characters in the film are original and very vivid. And, which until that moment I don't personally recall in the youth comedy genre, the first time the main characters were such piffle. Wayne and Garth aren't obsessed with anything in particular, unlike the heroes of a bunch of teenagers, they aren't obsessed with sex, drugs and entertainment. They're all right with everything! It's incredibly rare. They're not really losers and they're not really cool. Girls are quite attracted to them, but they don't turn their love affairs into a sex drive. They like to hang out, but there's nothing of the stoned, stoned junkies like the characters in 'Where's My Car, Dude'. They're not fans of drinking and profanity. They do stupid things, but those stupid things aren't farces, they're human stupidities. They can fully enjoy life without turning it into a series of psychopathic outbursts. They are normal cheerful guys who don't let themselves be hurt, and help others, and know how to have fun, but they don't forget about their problems either.
And also this film had an atmosphere that distinguishes it from today's young adult films. That kind of atmosphere sometimes manifested itself in genre films of the 1980s and has completely disappeared now. It was an atmosphere of natural, not contrived, not artificial, real HOLY LIFE! It's fun with Wayne! Wayne is fun! Wayne is cheerful and helpful. Wayne is an optimist and a do-gooder. He's a hippie by nature and has a goofy t-shirt tucked into his jeans, he doesn't have the perfect body and has a goofy laugh, but he radiates positivity. This movie is infectious with positivity. Pure and joyful. There isn't a single vulgar joke in it! And yet the film was wildly popular, a counter to those who think that a youth comedy without toilet humor is not. Well, 'Wayne's World' and its cult status is a long way from being a modern teen movie, but the humor is different.
Probably it is because the film was shot by a woman, or maybe it is because Meyers who had written the script did not want to spoil his unblemished comic reputation and made the film on the wave of the purely positive, which is possible without booze, whores and drugs. Everywhere Wayne goes, we can clearly feel the positive energy emanating from him. It's impossible to play it off, it's because the guys were really poking fun and having fun on set.
By the way, there are a huge number of parodies and allusions in the film, not only to the TV series, but also to James Bond and even 'Terminator 2'. By the way, the moment with Robert Patrick is a masterpiece! Already for this episode you can easily give him a ten! And in fact, there is also Alice Cooper in the film, and he is associated with a funny episode. And the 3 different film endings are for different genres. And how many episodes slipped from here to Jim Carrey in 'Ventura' and 'The Mask'!
In contrast to the plot of the film, the film became a gold mine for Myers and all its creators and brought a stunning income, and Myers also international fame. True, Myers, not prone to star disease, starred in a couple of very good films, including a sequel to "Wayne's World", and for 4 years, went into the shadows, coming up with a new cult character, "Austin Powers," but that's another story.
Myers and Dana Carvey won the award for best duet. As such, however, I didn't notice a duet. Mike Myers takes first fiddle in this nonchalant hilarity, dragging the film into the realm of his traditional buffoonery, and that buffoonery is relatable from the first frames. Oh yeah! Myers is smart about his on-screen partners, from Hurley, to Graham, to Tia Carrere, who's a walking sexpot in her own right. She's probably the only 'sex scene' in the movie.
When you watch this movie, you smile all the time, it's got the charm of youth, the patsy's ardor, the party atmosphere without the dirt, there's positivity. It's as if the film is about that time in everyone's life when even money doesn't matter much, giving way to love, fun and music.
Info Blu-ray
Video
Codec: HEVC / H.265 (72.6 Mb/s)
Resolution: Native 4K (2160p)
HDR: Dolby Vision, HDR10
Aspect ratio: 1.85:1
Original aspect ratio: 1.85:1
Audio
English: Dolby TrueHD with Dolby Atmos 7.1 (48kHz, 24-bit)
English: DTS-HD Master Audio 7.1 (48kHz, 24-bit)
English: Dolby Digital 5.1
English: Dolby Digital 2.0
French: Dolby Digital 2.0
German: Dolby Digital 2.0
Italian: Dolby Digital 2.0
Spanish: Dolby Digital 2.0
Spanish: Dolby Digital 2.0 Mono
Japanese: Dolby Digital 2.0
Subtitles
English, English SDH, French, German, Italian, Japanese, Spanish.
File size: 55.15 GB
4K-HD.CLUB
Download
from TakeFile
We now have
Telegram, get notified of new releases 4K movies!
Watch the movie trailer Wayne's World 4K 1992
Related 4K movies