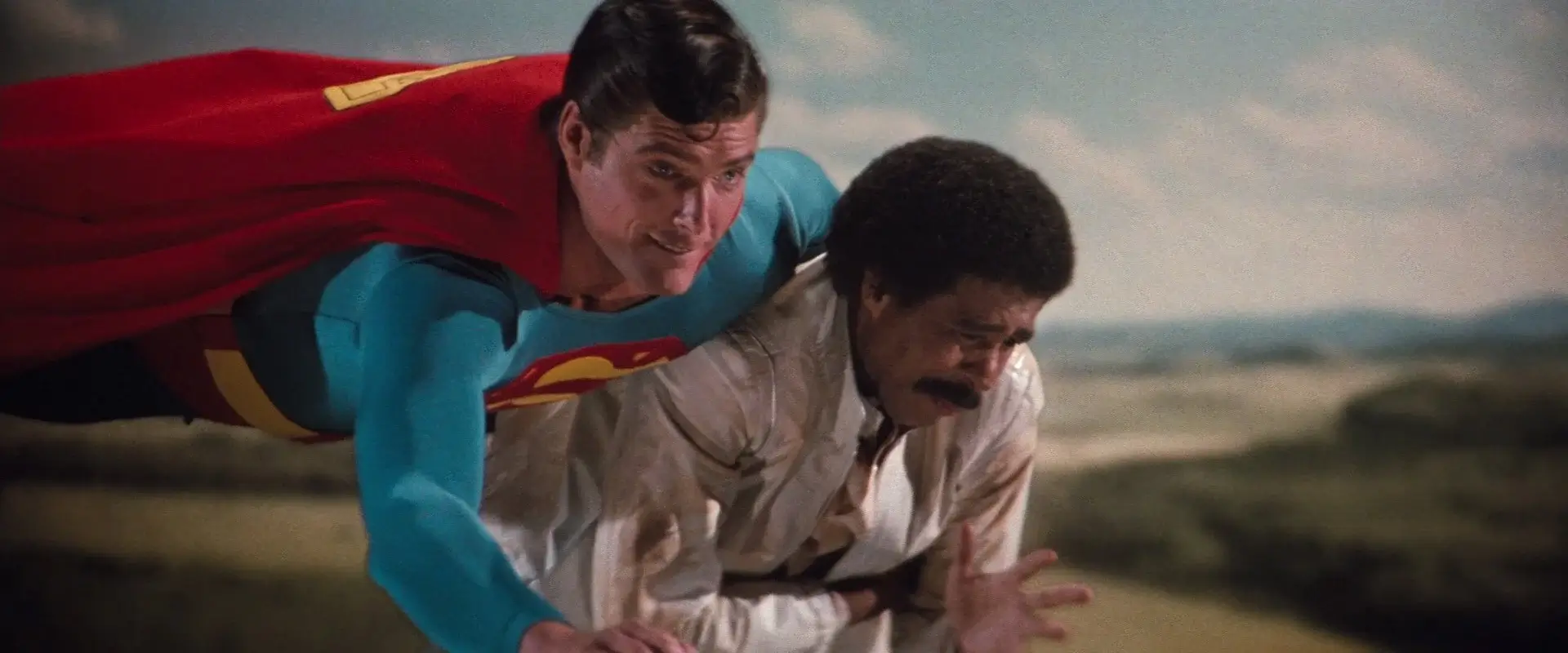 Superman III 4K 1983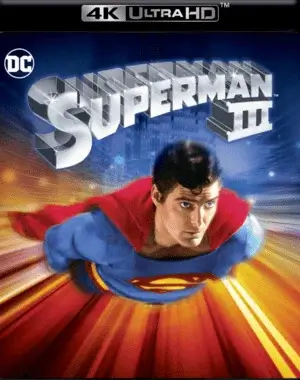 Superman III 4K 1983
Cast:
Christopher Reeve, Richard Pryor, Margot Kidder, Jackie Cooper, Marc McClure, Annette O'Toole, Annie Ross, Pamela Stephenson, Robert Vaughn, Gavan O'Herlihy, Nancy Roberts, Graham Stark, Henry Woolf, Gordon Rollings, Peter Wear, Justin Case, Bob Todd, Terry Camilleri.
IMDB 5.0
File Size: 57.81 GB
Film Description
The computer operator gives the villain a chance to take over Superman...

4k movies reviews
So nowadays it's common to whine that movies are worse now than they used to be, that the place of really good movies has been taken by big-budget star-striped hackwork... Maybe. It's just worth knowing that shitty movies have been made before. The obvious example of that is 'Superman 3'.

In general, sequel-making is a strange thing. Some people treat sequels not just as a way to make money, but some directors have the conscience and hard work to make good sequels - the Back to the Future and Jurassic Park trilogies are a prime example of this. And some people's lips shake at the sight of paper Lincolns and Franklins - and shoot all sorts of shoddy work. As an example, almost all multiseries horror cycles, the completely insane third Robocop and the fourth Batman... Does anyone have the patience to make a complete list? Anybody at all?

Superman got in the same spot. After two great installments, the third one came out and the whole cycle was instantly blown to smithereens by Kryptonian. The fact is that the first two tapes were a perfect example of a comic book adaptation - a lot of pathos, heroism and special effects and a bit of romance. Of all this, only the pathos has probably gone to the third part - and everything else has taken the place of (see title).

Pryor. Richard Pryor. His mere inclusion in the film reeks of idiocy. A dark-skinned comedian known for his harsh quips and swear words - into a superhero movie, part of whose audience is children. As a result, Pryor is forced to say completely innocuous and childish jokes, make faces, etc. He also, in the course of the movie, survives a skiing fall from a skyscraper and builds a supercomputer, but that's not the point. Richard is completely superfluous here and it shows. In places, the director revels in Pryor's presence in the film so much that everything that happens seems like a benefit for the comedian - only a benefit for the comedian that is frigidly sterile and almost unfunny.

Pryor is not far behind Pamela Stevenson as Lorelei Ambrosia - only our Pamela the Beauty's humor is achieved in a more primitive way - Stevenson is simply playing the blonde fool. But you don't pay much attention to that - when in the opening shots Pamela walks in a tight red polka dot dress, you forget about everything in the world. Her breasts are bouncing so softly and wonderfully that you start to forget about everything and everything and start taking screenshots for your desktop by yourself, because it's divine.

There's also Christopher Reeve in the frame, who just can't be forgotten. With him as always - boundless masculine charm, disarming smile and red S on his chest. Well, you don't need much more - thanks to that.

Practically all the special effects in the movie are a simple montage that gives you a headache by the middle of the film. The most spectacular fight of the film is Clark Kent's fight with his evil other self - Superman who gets drunk and starts making all sorts of outrages, and who may as well be replaced by Bizarro (who is, if anything, the full antipode of Superman) - the average spectator doesn't care, but the comic fans would be glad. Everything else comes down to a fight with a supercomputer and a set of half-assed 'Lives of Wonderful Superheroes' sketches, among which there are such unpretentious moments as raising the Tower of Pisa upright, turning the vortex inside out and extinguishing a burning factory with a frozen lake.

The outcome is deplorable. Apart from Pamela Stevenson's boobs and Christopher Reeve there is nothing to see in the film (well, perhaps Margot Kidder as Lois Lane, but she is present in the frame for five minutes at most). The rest of the timeline is filled with dull nonsense and a confused Richard Pryor, the characters are only related to the original comic book (not all of them), the pasta is best eaten with tomato sauce... Not good, folks.

Info Blu-ray
Video
Codec: HEVC / H.265 (56.6 Mb/s)
Resolution: Native 4K (2160p)
HDR: HDR10
Original aspect ratio: 2.39:1

Audio
English: Dolby TrueHD with Dolby Atmos 7.1 (48kHz, 24-bit)
English: DTS-HD Master Audio 7.1 (48kHz, 24-bit)
English: DTS-HD Master Audio 2.0 (48kHz, 24-bit)
English: Dolby Digital 5.1
English: Dolby Digital 2.0
French: Dolby Digital 2.0
German: Dolby Digital 2.0
Italian: Dolby Digital 2.0
Spanish (Latino): Dolby Digital 2.0
Spanish: Dolby Digital Mono
Japanese: Dolby Digital Mono

Subtitles
English SDH, French, German, Italian, Japanese, Spanish, Dutch, Danish, Finnish, Norwegian, Korean, Swedish.
File size: 57.81 GB
4K-HD.CLUB
Download
from TakeFile
We now have
Telegram, get notified of new releases 4K movies!
Watch the movie trailer Superman III 4K 1983
Related 4K movies
Do you enjoy downloading from TakeFile?