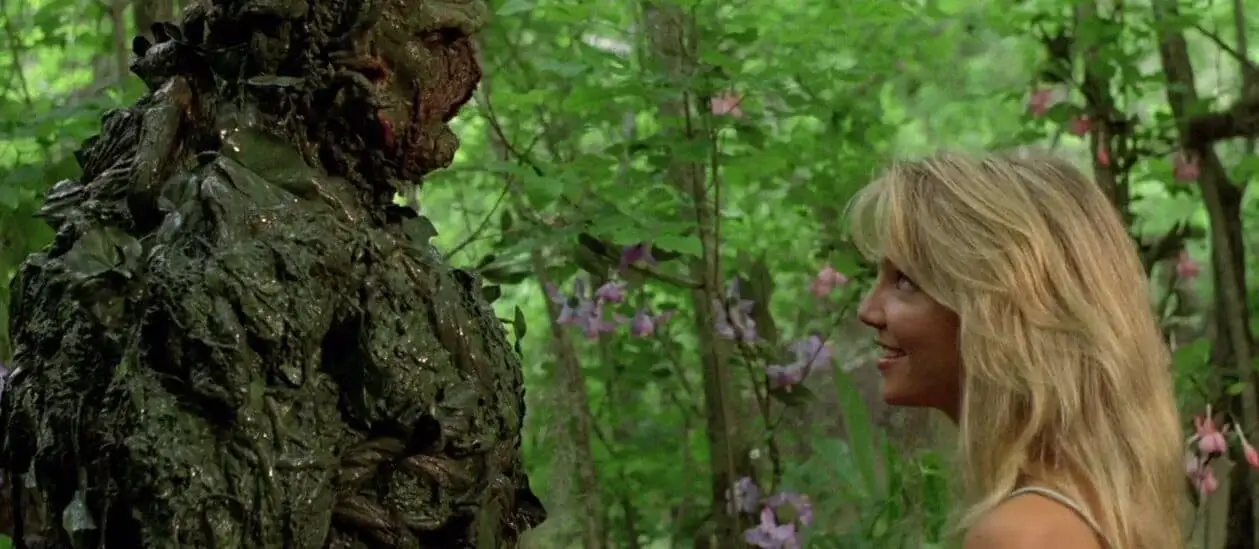 The Return of Swamp Thing 4K 1989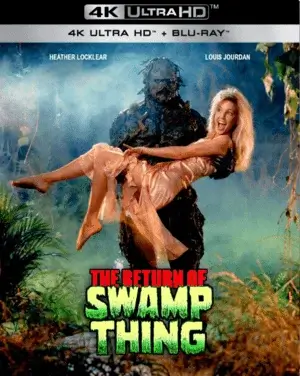 The Return of Swamp Thing 4K 1989
Cast:
Dick Durock, Heather Locklear, Louis Jourdan, Sarah Douglas, Joey Sagal, Ace Mask, Monique Gabrielle, RonReaco Lee, Daniel Emery Taylor, Ralph Pace, Timothy Birch, Alex Van, Christopher Doyle, Rex Pierson, Tony Sears, Bill Eudaly, J. Don Ferguson, Cockroach Bob.
IMDB 4.6
File Size: 50.77 GB
Film Description
The beautiful Abigail arrives at her stepfather Dr. Arcane's laboratory to learn the secret of her mother's death. Unfortunately, Arcane is bent on taking her life to create his immortality formula. Abigail's former Dr. Holland (now a swamp monster) comes to her rescue and takes her to the swamp, where they soon fall madly in love with each other. But their romance is called into question when Arcane begins hunting this strange couple with an arsenal of weapons...

4k movies reviews
Jim Winorski, director of many slapstick films of the 1990s and 2000s (some good ones, like The Wasp Woman), has made a surprisingly light and fun film. What was so lacking in the original became abundant in the sequel (for some, perhaps too much). But owing to the changed tone of the narration the plot about a certain extremely clever scientist who has turned into a green monster from the swamp became perceived in a completely different way. It suddenly began to seem cute precisely for its primitiveness, endearing in its naivety, and in the finale you can even regret that it ended so quickly. So it was in vain that critics criticized Wynorski's work (including, alas, Sergei Kudryavtsev), who greeted the first part favorably enough.

Young actress Heather Locklear, who replaced Adrienne Barbeau and plays Swamp Thing's new girlfriend, was also wrongly offended by goldsmiths who thought her acting was somehow bad. It's pointless to argue, Heather is no match for Adrienne, but still, she managed to prove herself well in the role of a naive romantic girl who finds herself involved in her devious stepfather's plans.

The most important thing is that the Swamp Thing movie finally got the childishness that the comic book is supposed to have from the start (it's a 20th century fairy tale). Wes Craven didn't get it, going the way of the average action movie like Rambo. Jim Wynorski understood it quite well.

Info Blu-ray
Video
Codec: HEVC / H.265 (78.0 Mb/s)
Resolution: Native 4K (2160p)
HDR: Dolby Vision, HDR10
Aspect ratio: 1.85:1
Original aspect ratio: 1.85:1

Audio
English: DTS-HD Master Audio 5.1 (48kHz, 24-bit)
English: DTS-HD Master Audio 2.0 (48kHz, 24-bit)
English: Dolby Digital 5.1
English: Dolby Digital 2.0

Subtitles
English SDH.
File size: 50.77 GB
4K-HD.CLUB
Download
from TakeFile
We now have
Telegram, get notified of new releases 4K movies!
Watch the movie trailer The Return of Swamp Thing 4K 1989
Related 4K movies
Do you enjoy downloading from TakeFile?