Uninvited 4K 1987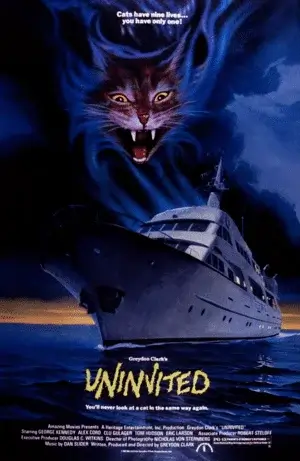 Uninvited 4K 1987
Cast:
George Kennedy, Alex Cord, Clu Gulager, Toni Hudson, Eric Larson, Clare Carey, Beau Dremann, Rob Estes, Shari Shattuck, Michael Holden, Austin Stoker, Cecile Callan, Jack Heller, Gina Schinasi, Ron Presson, Paul Martin, Trevor Clark, Greydon Clark.
IMDB 4.4
File Size: 42.23 GB
Film Description
As a result of genetic experiments in secret government laboratories a mutant cat was obtained. The geniuses of science transformed an affectionate pet into a dangerous and bloodthirsty monster. One day the monster escapes and climbs onto a small ship sailing into the high seas. The passengers and crew have no idea what a deadly ordeal fate has prepared for them, and that not everyone will return from the hellish voyage.

4k movies reviews
1988. We are, of course, already spoiled by modern movies made by famous directors, with the involvement of Hollywood stars, with quality special effects, etc., etc. Therefore, this film in 2009 seems naive, childish, simple. But at the same time, those who are still able to watch old films (get into the spirit of those times, put yourself in the shoes of a viewer of those times) will find something interesting. Or just feel nostalgic about horror movies of the past. So, briefly about the film:

1. The film fits within its 90 minutes. There are no half-hour oohs and sighs at the moon and arguments about life and love. All the moments are shown as much as you need to understand what it's all about.

2. The film was made for video, i.e. not for cinemas. It is quite understandable as it is rated PG-13.

3. about the cat. The `geniuses from science turned an affectionate pet into a dangerous and bloodthirsty monster. You'll see the cat in all its glory, that's true. But the monster the cat becomes is not. Half of it, actually. Probably to avoid seeing the assistant's hand holding the stuffed toy monster. And the monster itself isn't so bad, it's not scary. But the main thing is the idea, right?

4. There is someone to look at and something to look at. The actors are not of the `first from the back alley' variety (I'm talking about the older actors). The characters are interesting: macho self-confident and his cocky friend, a stupid, stubborn blonde and her girlfriend, a millionaire with two fakes, a yacht captain, interested in the return of the yacht and a modest biology student.

5. Have you ever seen a cat meow incessantly throughout the day, at times menacingly? And mostly when sitting alone or in her arms? And our protagonist can do it.

6. When a dangerous creature wants to attack you, do you stand there, screaming in terror and waiting for it to attack? No? Fools! Learn from the characters in the movie! Wait for it to gnaw and then fight it off!

7. If at the end of the movie, during a scary moment, they take a still picture and start zooming in on it in stages, at 3 second intervals, to get your attention, will you get scared? If so, then this movie was made just for you!

Info Blu-ray
Video
Codec: HEVC / H.265 (64.5 Mb/s)
Resolution: Upscaled 4K (2160p)
Aspect ratio: 1.85:1
Original aspect ratio: 1.85:1

Audio
English: DTS-HD Master Audio 2.0
English: Dolby Digital 2.0
German: DTS-HD Master Audio 2.0

Subtitles
English, German.




File size: 42.23 GB
Is Link Dead? Let us know and we'll replace the link.
Report
We now have
Telegram, get notified of new releases 4K movies!
Watch the movie trailer Uninvited 4K 1987
Related 4K movies
What genre of 4K movies do you prefer?