The Flash 4K 2023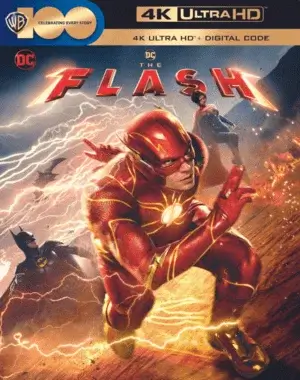 The Flash 4K 2023
Producer:
Andy Muschietti
Cast:
Ezra Miller, Michael Keaton, Sasha Calle, Michael Shannon, Ron Livingston, Maribel Verdú, Kiersey Clemons, Jeremy Irons, Antje Traue, Saoirse-Monica Jackson, Rudy Mancuso, Temuera Morrison, Sanjeev Bhaskar, Sean Rogers, Kieran Hodgson, Luke Brandon Field, Ian Loh, Karl Collins.
IMDB 6.8
File Size: 57.59 GB
Film Description
Barry Allen uses his super speed to change the past, but his attempt to save his family creates a world without superheroes.

4k movies reviews
This movie was promised by Warner Bros. producers to reboot the DC movie universe. Did that reboot happen? - More on that later.

'The Flash' was originally supposed to come out in 2018 and obviously with a different plot and different characters, but a lot has changed since then. It's finally coming out after 5 years and primarily serves as a vehicle for the DC film universe (while being the last film of a movie franchise that began with 'Man of Steel') to use it to make a reboot.

From the very beginning, the film sets a comedic tone, which is not at all surprising when you remember who the main character is in it, who in previous projects of the DC film universe has always been a comic relief (humorous character).

The first action scene causes a double impression, on the one hand it surprises with everything that is going on, what Flash is doing, though it is in his spirit, but on the other hand it makes you feel the Spanish shame. As for the demonstration of Flash's movement, I think that in 'X-Men' the scenes with Mercury were much better staged and in general looked more interesting. I would also like to note that the choreography of the running has changed, which began to give away the vibes from the series 'Flash'. In Zack Snyder's 'Justice League' everything was a few heads higher in this respect. The scene in which Barry saves the entire Justice League looks and is staged much better than any run of the scarlet speedster from this movie.

The members of the Justice League show up in a couple scenes, it's nice to see them again, but at the same time it's sad that these are the versions performed by these actors we'll likely never see again.

But after the plot kicks in, the movie introduces us to the second Barry Allen from a parallel universe, and while before his appearance I found the main Barry to be a bit of an infuriating character, against the backdrop of the second one (who is younger at that, he recently turned 18) he seems the most serious and the voice of reason.

For the first time in 31 years (since 1992's 'Batman Returns') Michael Keaton returns to his role as Batman, not to say he pulled a blanket over himself or brought anything more to the role than he did in Tim Burton's films, he just did what was required of him and that's it, but seeing him back in this character was nice, definitely.

It was interesting to see Sasha Kalle as Supergirl, I liked the actress in this image, but to be honest I expected more from the character, unfortunately her role is purely functional, although the potential was there, but it was missed.

General Zod in turn, too, we can say that the character for a check mark, he is just there to participate in the action scene and that's it (with Zod from 'Man of Steel' he is not in any comparison).

As for the antagonist, you can predict his identity in the middle of the movie, but closer to the finale, in the climactic scene, it becomes obvious. What is surprising is that in fact the main antagonist of the movie has a screen time of only 4 minutes..., even Zod will have more, and he is just a whipping boy. The final 'boss battle' as such is absent, perhaps this is a good thing, for usually comic book movies end with a superhero battling a supervillain.

Unlike fanservice from the previous projects related to the multiverse, which somehow was woven into the plot, here it is shown right in the forehead, just showing different parallel universes and characters from them. The appearance of some were still surprising and I was glad to see them at least that way, but the way it was shown..., you could have come up with something better.

All in all, a pretty tolerable plot for a comic book movie, though it had a lot more potential, like many Marvel projects whose plots were also connected to the theme of the multiverse. There are no problems with the direction, Andres Muschetti has already established himself as a good director and although 'Flash' is not his best work, but it is definitely not his worst. Some jokes and action scenes were to my liking, but the rest caused mixed impressions, as well as the whole movie. The graphics in many scenes are rather mediocre, but in terms of visuals there are some nice shots. It's not good when in 2023 a blockbuster is released with graphics quality on the level of mid 00s movies, though 'Flash' is not the only comic book movie suffering from it lately. The soundtrack is poor, not memorable at all, except for the musical themes of some of the characters. Also can not say anything good about the camerawork, some interesting techniques and angles I did not see, and how many potentially interesting in this regard could be invented with such a character as in Flash.

So has there been a reboot of the DC movie universe? There is no clear answer to this question. On the one hand yes, because after the main events of the movie we are shown Bruce Wayne played by an actor who has played this character before and it is, believe me, the one you least expect to see, but for example the other member of the Justice League is still the same, he is played by an actor who played this character in the previous projects of the DC film universe. On the other hand, it's hard to call it a reboot (if only a soft one), though it's not known until the end what else this universe differs from the previous one.

In the end, the movie caused very mixed and ambiguous impressions. It could have been much worse, but it also had the potential to be a good comic book movie. I (I'm sure like many people) went to see this movie to get some answers about the future of the movie universe, but in the end, the questions just got bigger.

Info Blu-ray
Video
Codec: HEVC / H.265 (50.9 Mb/s)
Resolution: Native 4K (2160p)
HDR: Dolby Vision, HDR10
Aspect ratio: 1.90:1
Original aspect ratio: 1.90:1

Audio
English: Dolby TrueHD with Dolby Atmos 7.1 (48kHz, 24-bit)
English: Dolby Digital 5.1
English: Dolby Digital 5.1
French: Dolby Digital 5.1
Spanish (Latino): Dolby Digital 5.1
Italian: Dolby Digital 5.1
Hindi: Dolby Digital 5.1

Subtitles
English SDH, Bulgarian, Chinese (Simplified), Chinese (Traditional), Czech, Danish, Dutch, Estonian, Finnish, French, German, Greek, Hebrew, Indonesian, Italian (SDH), Japanese, Korean, Latvian, Lithuanian, Norwegian, Portuguese, Portuguese (Brazilian), Russian, Slovenian, Spanish, Spanish (Latin American), Swedish.
File size: 57.59 GB
Is Link Dead? Let us know and we'll replace the link.
Report
We now have
Telegram, get notified of new releases 4K movies!
Watch the movie trailer The Flash 4K 2023
Related 4K movies