Dungeons & Dragons: Honor Among Thieves 4K 2023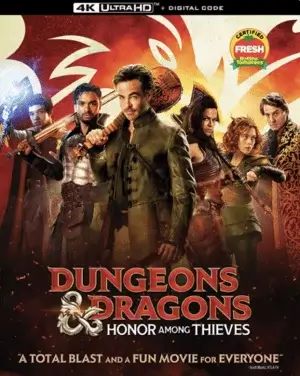 Dungeons & Dragons: Honor Among Thieves 4K 2023
Producer:
John Francis Daley, Jonathan Goldstein
Cast:
Chris Pine, Michelle Rodriguez, Regé-Jean Page, Justice Smith, Sophia Lillis, Hugh Grant, Chloe Coleman, Daisy Head, Kyle Hixon, Spencer Wilding, Will Irvine, Nicholas Blane, Bryan Larkin, Sarah Amankwah, Colin Carnegie, Georgia Landers, Sophia Nell Huntley, Clayton Grover.
IMDB 7.3
File Size: 75.75 GB
Film Description
The bard and adventurer Edgin Darvis escapes from prison together with his military friend Holga and sets out to see his daughter, who has been in the care of his former partner in crime Forge. On arrival he discovers that the latter, aided by the suspicious sorceress Sophina, has not only grown immensely rich and become governor, but has also turned his daughter against her father and in general is not against getting rid of Edgin and Holga. Having managed to fight off the executioners, the desperate pair plan a terrible revenge, and for this they will have to team up with the absent-minded wizard Simon, the nimble druid Doric and find the lost magic helmet.

4k movies reviews
In general, I am not an avid 'tabletop' (so far only in distant plans), but very familiar with computer implementations of Dungeons and Dragons - Baldur's Gate (there is an achivek for a solo passage, the bard, as the main character in the film), Baldur's Gate 2, Icewind Dale (where the action begins and ends in the movie),Icewind Dale 2, two parts of Neverwinter, a short attempt at an MMO, of course, and Planescape: Tornment and other stuff, including Robert Salvatore's first Dark Elf trilogy (they could have shown a glimpse of him or added a reference of some sort). Was really looking forward to this movie from the first trailers and couldn't wait at least one more day. Was interested in the plot and world, how they would show the classes, abilities of individual characters and other trivia to the delight of geeks like me.

Did not disappoint. At first I was surprised by the lack of motivation of 'Uncle'-villain Forge. But the fact that he's a fool and a dumb puppet is explained almost immediately, as if answering the dumb question the viewer.

The plot narrates a rather down-to-earth adventure of the bard and his fellows in misfortune (literally, there's even a separate scene listing all their fails) in search of justice for his own daughter, who, thanks to crook 'Uncle' Forge, considers him an ordinary petty thief who prefers a bag of gold behind his own belt to the family's well-being. But, the heroes in passing and almost accidentally become embroiled in a plot by the Red Wizards of Tay to turn the entire city of Neverwinter into a new army of dead men that threatens all of Faerun. This is probably a partial spoiler, but let's be honest - those who are into it, understand the approximate plot from the trailers, and those who are not into it will hardly remember Baldurs Gate, Neverwinter, Waterdrop, Underdark right after watching it and for them watching the movie will be interesting in other ways. Enjoyed the omens to Extraction (12-minute chase shot in one take, allegedly) in the escape scene of the druid and references like the portal staff (I would have thought it was an ordinary artifact, but since even the foreign geeks on Reddit did not recognize it, definitely a reference to Portal).

Speaking of other points - the humor is quality, doesn't drop the bar throughout the film. In truth, the best jokes, about interrogation of dead people and accidental disarming of the trap on the bridge were spoiled by the creators themselves, shoving them into the extended trailers as separate fragments. Like the maze scene in the arena with the elusive creature, the jelly cube, and the mimic.

Is it worth watching if you're not a fan of tabletop RPGs or RPG computer games? Yes, this was filmed more for you than for fans and geeks, but tried to please a little of those, a little of the others. So far it's neither meat nor fish, 7/10 objectively, but 10 out of 10 with a heart, especially for the cute, eye-shooting, arm-waving, redheaded tiefling druid. It would have been 12 out of 10 if Sophia Lillis hadn't had her freckles painted over by the sun. Otherwise, I hope for good grosses and that D&D in movies becomes a strong franchise, and with each new film, the viewer can be immersed deeper and deeper into the locations, facts, history, spells, and abilities of the Sword Coast world. Hopefully Honor Among Thieves will become the sort of Iron Man for Dungeons & Dragons. Screw comics, let's revive fantasy!

Info Blu-ray
Video
Codec: HEVC / H.265 (66.6 Mb/s)
Resolution: Native 4K (2160p)
HDR: Dolby Vision, HDR10
Aspect ratio: 2.39:1
Original aspect ratio: 2.39:1

Audio
English: Dolby TrueHD with Dolby Atmos 7.1 (48kHz, 24-bit)
English: DTS-HD Master Audio 7.1 (48kHz, 24-bit)
English: Dolby Digital 5.1
Spanish (Latino): Dolby Digital 5.1
Spanish: Dolby Digital 5.1
French: Dolby Digital 5.1
French (Canada): Dolby Digital 5.1
Italian: Dolby Digital 5.1
Japanese: Dolby Digital 5.1

Subtitles
English, English SDH, French, Italian, Japanese, Spanish, Czech, Danish, Dutch, Finnish, Korean, Mandarin (Simplified), Mandarin (Traditional), Norwegian, Polish, Slovak, Swedish.
File size: 75.75 GB
Is Link Dead? Let us know and we'll replace the link.
Report
We now have
Telegram, get notified of new releases 4K movies!
Watch the movie trailer Dungeons & Dragons: Honor Among Thieves 4K 2023
Related 4K movies