Citizen Toxie: The Toxic Avenger IV 4K 2000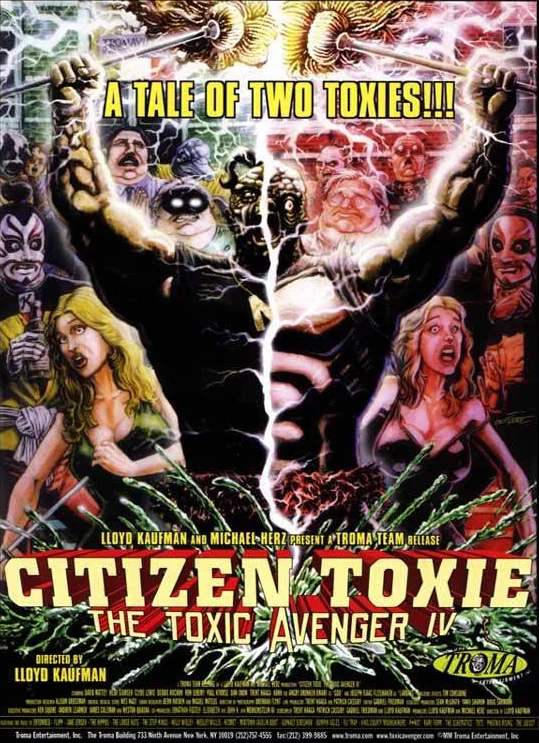 Citizen Toxie: The Toxic Avenger IV 4K 2000
Cast:
David Mattey, Clyde Lewis, Heidi Sjursen, Paul Kyrmse, Joe Fleishaker, Dan Snow, Michael Budinger, Lisa Terezakis, Barry Brisco, Debbie Rochon, Ron Jeremy, Corey Feldman, Trent Haaga, Mark Torgl, Rick Collins, Mitch Cohen, Lisa Gaye, Bill Weeden
IMDB 5.9
File Size: 55.38 GB
Film Description
"Citizen Toxie: The Toxic Avenger IV" (2000) is a wild and irreverent superhero comedy that takes the classic Toxie saga to new heights of absurdity. In the town of Tromaville, chaos ensues when the evil Diaper Mafia and the diabolical Dr. Killemoff create an alternate universe. The virtuous Toxie finds himself in this twisted parallel world, facing bizarre doppelgängers and eccentric characters. As Tromaville descends into madness, Toxie must navigate the insanity to save his beloved town. Packed with over-the-top humor, outrageous action, and social satire, this 4K presentation elevates the cult classic to a visually stunning and grotesquely delightful experience. Strap in for a rollercoaster of laughs, gore, and superhero mayhem in this iconic installment of the Troma universe.
Info Blu-ray
Video
Codec: HEVC / H.265 (71.0 Mb/s)
Resolution: Native 4K (2160p)
HDR: HDR10
Aspect ratio: 1.85:1
Original aspect ratio: 1.85:1
Audio
#English: FLAC 2.0
#English: Dolby Digital 2.0 (Commentary by Lloyd Kaufman)
#English: Dolby Digital 2.0 (Commentary by Trent Haaga)
#English: Dolby Digital 2.0 (Commentary by Gabe Friedman, Sean McGrath)
Subtitles
English (SDH)
File size: 55.38 GB
Is Link Dead? Let us know and we'll replace the link.
Report
We now have
Telegram, get notified of new releases 4K movies!
Watch the movie trailer Citizen Toxie: The Toxic Avenger IV 4K 2000
Related 4K movies
What genre of 4K movies do you prefer?