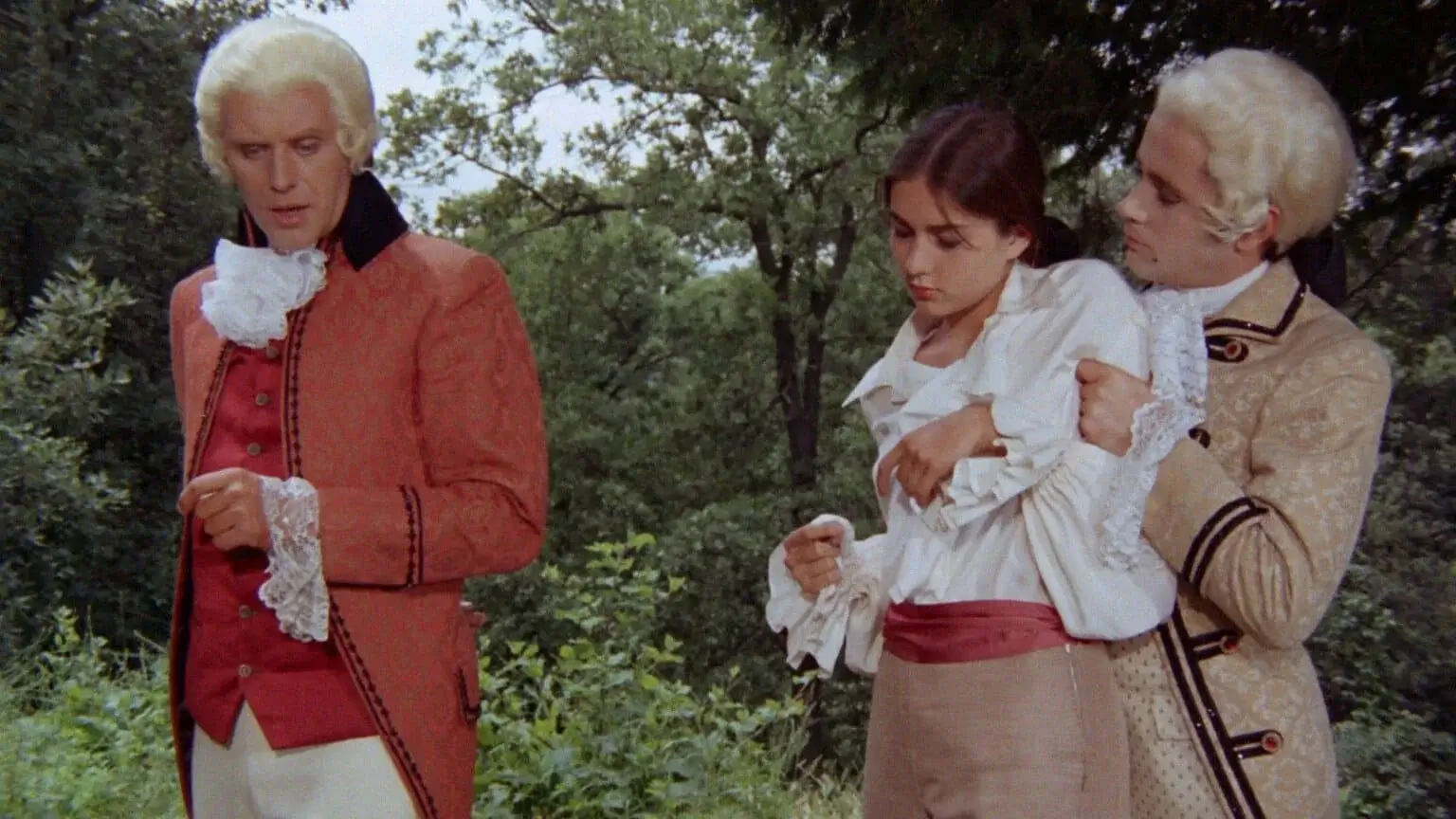 Marquis de Sade: Justine 4K 1969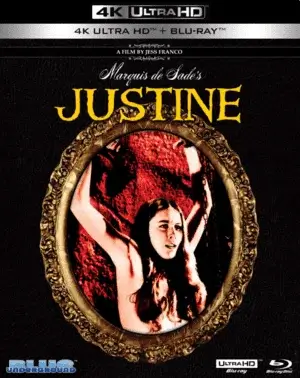 Marquis de Sade: Justine 4K 1969
Cast:
Klaus Kinski, Romina Power, Maria Rohm, Rosemary Dexter, Carmen de Lirio, Akim Tamiroff, Gustavo Re, Mercedes McCambridge, Serena Vergano, José Manuel Martín, Mike Brendel, Harald Leipnitz, Horst Frank, Angel Petit, Sylva Koscina, Howard Vernon, Jack Palance, Rosalba Neri.
IMDB 5.1
File Size: 70.67 GB
Film Description
The film tells the story of the lives of two sisters: the innocent and naive Justina and the pragmatic Juliette. After the death of their parents, the girls are thrown out of the convent where they studied, with a hundred crowns in their pocket and a blessing.

Juliette immediately goes to a prestigious brothel in Paris to start climbing the ladder of success in life, while Justine learns that the world is not perfect at all, and that with her "piety" and innocence there is essentially nothing to do, for her entire independent life turns into a series of cruel deception, humiliation, persecution and torture.

4k movies reviews
When night falls. When the colors fade. When the world goes from color to black and white. When you close your eyes. In empty rooms. When there's no one around. When you fantasize at night. As if disappearing. The rustle of curtains. The breath of drafts. In the vacuum of loneliness. When no one sees you. Knowing no one will know. What are you thinking about? You know how it usually is. It's easy to be kind. You just have to force yourself. You just have to break it. Tell yourself you're gonna love different things now. Now your black will be white. Now your yes will be no. The petals of your flame will frost. Or no? Or will the presumption of free choice be the picklock to your shackles? All the codes will match and you'll hit the jackpot, letting yourself be you. Who says the darkness of the soul is so bad? Doesn't darkness hide flaws? Doesn't darkness hide imperfections? Wraps a lace blindfold over your eyes, enhancing your other sensory receptors? Gives free rein to the imagination. So what color is your black?

They're so different. These girls who were kicked out of the convent. Two sisters. Like sugar and pepper. Like cocaine and baby powder. Like blood and cranberry juice. So polar that God and the Devil would envy such a difference. Unfiltered surrealism fades into sordid realism. Such different girls. Such different paths.

Juliette. Her heart beats to the beat of the whip. The little devil. Agreeable to anything for her happiness. She's not afraid to compromise her morals to release her endorphin. To work in a brothel. It's okay to sacrifice your human life. Especially when it's not yours. Her heart beats to the rhythm of the death moans of her formerly benevolent mistress, whom she will strangle. To the ecstatic cries of her rich patron. The minister of the king himself. To the beat of her heels as she enters sternly and stubbornly into the 'better future' that she herself had created.

Justina, who is the absolute of virtue, which hurts her eyes as if they were too bright. Who is as dizzying as too much air. Which the world does not accept, as a foreign body, an unfamiliar object. A superfluous, unnecessary part of the world's constructor. A reverse cog. An innocence and honor that evokes only squeamishness. You are too pure. To the gnashing of teeth. Too pure. Too much. You don't like that in this world. Suffer torture and humiliation. Pray, doll. But why didn't the God you served so honestly protect you? Maybe he was just jealous of your cursed purity?

De Sade's prose, despite all its pretentiousness and affectation, causing a smile rather than squeamishness from the feeling that the author's imagination has finally calcified and all his 'wild perversions' simply can only be amusing from their ridiculousness, monotony and monosyllables, was filled with an amazingly touching, naive and some absolutely defenseless, childlike expression. But there is none of that here. There is no artistic flirtation, no share of playful frivolity, no libertine morality so naive and amusing.

Jesus Franco's film, in this respect, can only be called a variation on the theme. The way of presentation in the traditional style of historical-adventurous romantic movies of the 60s, with all the appropriate props, like impeccably beautiful women and men, pompous motley clothes, lace pantaloons and tight corsets, burned-out white wigs, inappropriately abundant baroque interior elements, knocking down the pathetics and exaltation in the speeches of the characters. Where the blood on the victim looks more like strawberry syrup for Hershey's ice cream, and makes you want to lick the hero rather than sympathize ( or enjoy?) his suffering. Where even the photography is shot as if it had been brought to a climax, where the colors are so vivid that they seem fictional. It's as if someone has cranked the contrast enhancer all the way up. Where the action is so rapid and ridiculous, where there are so many inconsistencies, where the discrepancy between the picture on the screen and the realities of the time shown is so obvious that it would be the envy of Donatien François Alphonse himself, who loved confusing facts and times no less. And the creation was saved neither by the acting, nor by the wonderful Klaus Kinski, this time unusually smiling and 'light', nor even by the absence of conjuncturally 'convenient' ending, as in de Sade's original novel.

And in all this cardboard, props, cartoonish 'parade of vice' with a strawberry aftertaste, of course, there is nothing of the legendary French libertine, except the director's desire to dazzle with the screen adaptation of the 'main literary hooligan. The film asks no questions and provides no answers. There is, of course, no vulgarity, no absurdity inherent in de Sade, no provocation and black irony as in the novel. There is nothing here but static two-dimensional characters who look like emotionless dolls. Their suffering makes you feel neither pity nor pleasure. You don't choose sides. Neither good nor evil. You have no choice. But you should have. And that was the only point.

Info Blu-ray
Video
Codec: HEVC / H.265 (79.5 Mb/s)
Resolution: Native 4K (2160p)
HDR: Dolby Vision, HDR10
Aspect ratio: 1.66:1
Original aspect ratio: 1.85:1

Audio
English: DTS-HD Master Audio Mono
English: Dolby Digital Mono
English: Dolby Digital 2.0

Subtitles
English SDH, French, Spanish.
File size: 70.67 GB
4K-HD.CLUB
Download
from TakeFile
We now have
Telegram, get notified of new releases 4K movies!
Watch the movie trailer Marquis de Sade: Justine 4K 1969
Related 4K movies
Do you enjoy downloading from TakeFile?