Flashdance 4K 1983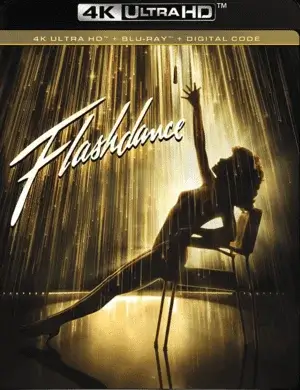 Flashdance 4K 1983
Cast:
Jennifer Beals, Michael Nouri, Lilia Skala, Sunny Johnson, Kyle T. Heffner, Lee Ving, Ron Karabatsos, Belinda Bauer, Malcolm Danare, Philip Bruns, Micole Mercurio, Lucy Lee Flippin, Don Brockett, Cynthia Rhodes, Durga McBroom, Stacey Pickren, Liz Sagal, Norman Scott.
IMDB 6.2
File Size: 56.00 GB
Film Description
In the evenings Alex dances sexy dances in a nightclub, and during the day she works in a factory and takes classes to fulfill her childhood dream of becoming a ballerina. She has a beautiful, kind and understanding patroness who was once a famous and extraordinary ballerina whose dancing skills were admired and her talent idolized. Insecure meek young and dreaming of dancing girl goes to her dream, but, fearing to fail, constantly running from viewings. But suddenly her life turns into an extraordinary fairy tale, Alex begins to be courted by a rich and handsome beau, and her dream of ballet school almost soon comes true. The story is similar to the fairy tale of Cinderella, who by the will of fate became a princess.

4k movies reviews
First of all, I would like to say that we are dealing here not just with another box-office hit, but with a film that I would call a landmark. It was the film that started the collaboration between Don Simpson and Jerry Bruckheimer, it was their first success. Although the producers didn't have much hope, the film became a super hit. And there are several reasons for that:

1) The script. Basically, a rather tired story about how you can always drastically change your life and improve it got new features in this movie. The picture is really interesting to watch, and several scenes have become classics altogether. For example, the scene of the main character's dancing debut has been parodied in many films, from 'Cassandra - Lord of Darkness' to the second part of 'Shrek'. And passing the exam in dance school in general has become a classic, very many then tried to repeat it.

2) Actors. Jennifer Beals and Michael Noory played just great, their characters are believable from the first minute to the last credits. I wish they had become Hollywood superstars, but before this movie they were unknown at all.

3) Directing. Adrian Lyne was a famous music video maker before this one, but he had no experience in movies. As we can see, his debut was a success!

4) Camera work. Excellent camera angles and dynamics of shooting do not allow you to get bored even for a minute.

5) Music. Giorgio Moroder, one of the most famous composers of the 80's did his best here, the melodies are unbelievably catchy, the song Maniac deserves a special praise, and the super hit Flashdance. What a feeling by Irene Cara is one of the best movie songs, deservedly won an Oscar.

A true classic. If 'Saturday Night Fever' was a reflection of part of the culture of the 70's, 'Flashdance' is a reflection of the 80's. Gold!

Info Blu-ray
Video
Codec: HEVC / H.265 (79.1 Mb/s)
Resolution: Native 4K (2160p)
HDR: Dolby Vision, HDR10
Aspect ratio: 1.85:1
Original aspect ratio: 1.85:1

Audio
English: DTS-HD Master Audio 5.1 (48kHz, 24-bit)
English: Dolby Digital 5.1
German: Dolby Digital 2.0
French: Dolby Digital 2.0
Japanese: Dolby Digital 2.0

Subtitles
English, English SDH, French, German, Spanish, Japanese.
File size: 56.00 GB
4K-HD.CLUB
Download
from TakeFile
We now have
Telegram, get notified of new releases 4K movies!
Watch the movie trailer Flashdance 4K 1983
Related 4K movies