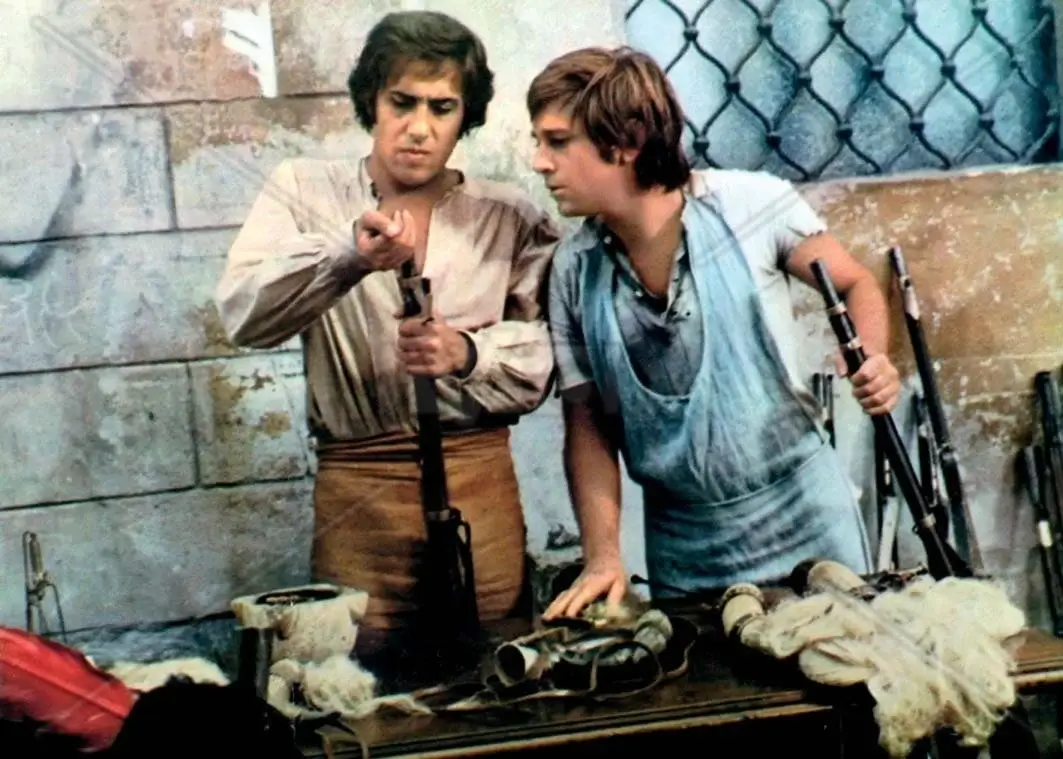 The Five Days 4K 1973 ITALIAN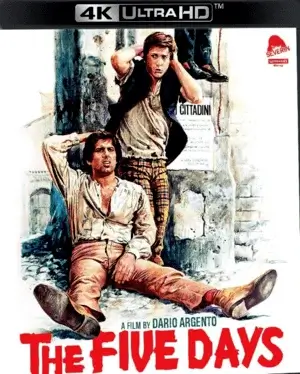 The Five Days 4K 1973 ITALIAN
Cast:
Adriano Celentano, Enzo Cerusico, Marilù Tolo, Luisa De Santis, Glauco Onorato, Carla Tatò, Sergio Graziani, Germano Altomanni, Salvatore Baccaro, Loredana Martinez, Guglielmo Bardella, Loredana Benacca, Ugo Bologna, Luca Bonicalzi, Renato Paracchi, Guerrino Crivello, Tom Felleghy, Claudio Sforzini.
IMDB 5.9
File Size: 53.88 GB
Film Description
The film is set in the 19th century (1848) during the struggle of the Italian patriotic forces against Austrian rule. An accidental shell penetrates the prison wall, which the thief and bandit Cainazzo manages to take advantage of. While he was in prison, Italy was transformed into a testing ground for political strife and battles. Understanding nothing about politics, which he doesn't care about, Cainazzo has a series of funny but often terrifying adventures with Romolo, the baker from Rome, whose bakery was destroyed by a shell.

4k movies reviews
Celentano's character, a petty thief, escapes from prison and finds himself in a national rebellion in Milan and tries to adapt to his new situation. In the city, the revolutionaries kill the Austrians and the traitors of the motherland (in their opinion) and establish their own power and order, and the number of politicians who know what and how to do for the good of the motherland is enormous and varied. The situation is typical of all revolutions, from the French Revolution to the Great October Revolution.

And Dario Argento, using the realities of 19th century Italy, mocks the political situation of the late 60's and early 70's of the 20th century.

I especially liked the scene of the hero's death with the representatives of different parties around him waiting for his last words. Finally he says something and takes his breath away. Immediately there is a furious scuffle between the parties and an interpretation of his words in favor of each party. He says he praises the pope, he calls for a king and aspires to democracy. In the heat of the skirmish, the corpse of the hero falls to the floor and everyone scatters. As a result, it turned out that he said something like: "Fuck you all.

A very sober and ironic view of all kinds of revolution. Politicians make patriotic speeches at rallies and cynically share power at banquets. Crooks and thieves pass themselves off as revolutionaries and, on the sly, steal whatever is lying around. And the common people expose themselves to the bullets. Everything is as usual. What was done, is being done. Nothing is new under the moon.

Celentano doesn't look like himself in the movie. He's kind of slow, brooding. But that's not even a bad thing. Just before viewing you need to tune in not to the eccentric comedy, but to the political satire.

You can't call this movie historical. It is impossible to understand what events are happening and you don't have to study Italian history by it at all. It is a pamphlet on Italian politics in the early 1970s. Shifts in the government, left-wing radical groups (Red Brigades), right-wing nationalists, etc., etc.

There were a lot of these supposedly historical movies made in Europe in the 60's-70's. Just off the top of my head, I'd say "Viva Maria!" directed by Louis Malle, or Compañeros directed by Sergio Carbucci.

Info Blu-ray
Video
Codec: HEVC / H.265 (61.0 Mb/s)
Resolution: Native 4K (2160p)
Aspect ratio: 2.35:1

Audio
Italian: DTS-HD Master Audio 2.0
Italian: Dolby Digital 2.0
English: Dolby Digital 2.0

Subtitles
English.
File size: 53.88 GB
Is Link Dead? Let us know and we'll replace the link.
Report
We now have
Telegram, get notified of new releases 4K movies!
Watch the movie trailer The Five Days 4K 1973 ITALIAN
Related 4K movies