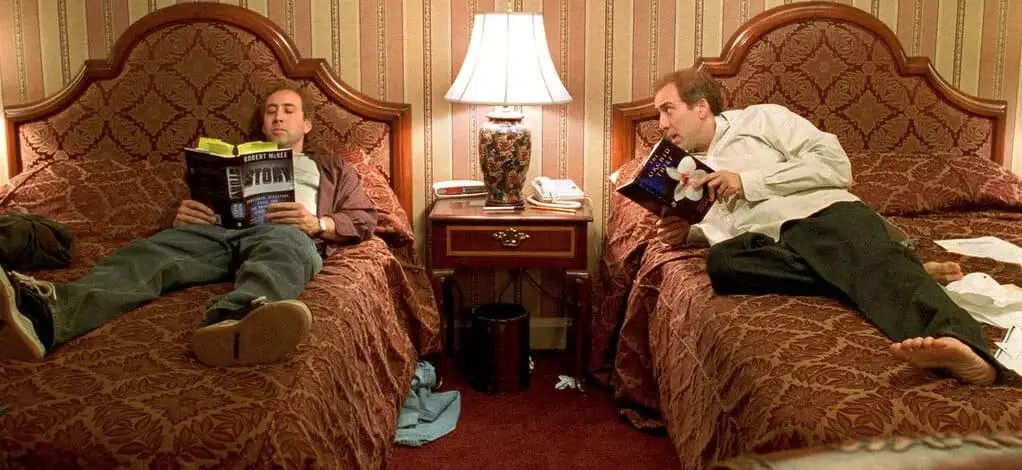 Adaptation. 4K 2002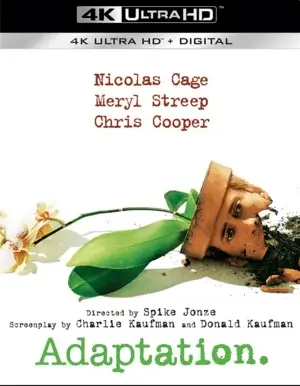 Adaptation. 4K 2002
Cast:
Nicolas Cage, Meryl Streep, Chris Cooper, Tilda Swinton, Jay Tavare, Litefoot, Roger Willie, Jim Beaver, Cara Seymour, Doug Jones, Stephen Tobolowsky, Gary Farmer, Peter Jason, Gregory Itzin, Curtis Hanson, Agnes NaDene Baddoo, Paul Fortune, Paul Jasmin.
IMDB 7.7
File Size: 69.82 GB
Film Description
Taking on the adaptation of journalist Susan Orleans' book "The Orchid Kidnapper", the famous screenwriter Charlie Kaufman finds himself in a mental and creative deadlock. Strange feelings that have seized him, prevent him from working. But once Charlie decides to describe in the script everything that happens to him. Soon the author notices that reality and fiction begin to intertwine in the most bizarre and unexpected way.

4k movies reviews
One of the most unusual films I've seen. A mystery film, a mystification film, a confession film. "One story, four lives," the slogan says, and the film, indeed, tells us this one, but multilayered and profound story.

Charlie Kaufman wrote, in fact, a story about himself. Written with irony about Hollywood, and with far more bitter irony about himself. If you want to see a colorful story about Hollywood and the lives of its inhabitants, you probably just don't. What are your associations with the phrase Hollywood screenwriter? Surely your imagination draws a beautiful car, a big house, gorgeous women, negotiations in top restaurants with the studio bosses, and now we see beautifully furnished writer's office, where he sits and easily scribbles his next order - the adaptation of the novel by a famous journalist. Can you imagine? And now it can all be safely forgotten.

Now imagine the fat and balding guy in the old shabby shirt, which was kicked out of filming a movie based on his own script with a cry: "Man, get out of the frame, otherwise you're in the way. Then he returns home, where he has been living with his idle brother for some time, pestering him with his advice and questions. He does not have a girlfriend, he has constant sexual frustration, he does not even have the courage to kiss a girl after a date or invite a pretty waitress to the exhibition. In addition, he is terribly nervous and sweats over every little thing at the meeting with representatives of the studio that is going to commission him to adapt the book. He wants to create something original and not banal, but he has no worthwhile ideas, though he only has to rework the ready work, he is tossed from extreme to extreme, he has nightmares, he is obscenely timid and indecisive, and what can I say he does not like himself. Sometimes, however, scrappy, half-brave ideas appear in his head, and then you just have to run to the dictaphone and write them down.... But it's not that, and the producers are already pressing deadlines, and there's not even a breakthrough in sight. And Kaufman and Nicolas Cage, who played him, perfectly managed to convey the problems of the creative personality of the creative process.

After the film I really admired Charlie Kaufman - I don't even remember anybody in Hollywood who told about himself in such an utterly honest and self-ironic way.

Another thing is Donald Kaufman - a simple-minded and direct (at least, that is how he seems in the beginning) brother of the main character, who, though not as successful as his brother, but with everything else he is all right. He has no problems with women or in dealing with other people. He even takes on the writing of the script - a typical and clichéd to the point of impossibility, but, oddly enough, he quickly copes with it, and still gets good reviews from the bosses and a good chance to actually screen it. But at the end of the story he so easily opens his brother's eyes to the world around him, that the latter only wonders - everything brilliant is simple, Charlie, and you were so steamed. A very likeable character - the only non-existent one among the four main characters, but so essential to her understanding. By the way, I could be wrong, but Donald Kaufman is the only non-existent real person nominated for an Oscar. Oh, those mystifying Kaufman brothers.

Meryl Streep played a very ambiguous, generally negative, but very unhappy character. You know, I always find it very interesting to see good actors in negative roles. You always start off a movie like that, you're bound to sympathize with the actor you like, and if by the end of the movie you don't like him, not in terms of his acting of course, but in terms of how you feel about his character, then that role is extraordinary. Meryl herself in one of her recent interviews complained about the lack of good scripts, which in a year collected, in her words, a maximum of three grand, and then with a kind of even nostalgia remembered "Adaptation". And she is understandable - there are very few films with such deep and sincere scripts. Of relatively recent films, only Stephen Daldry's "The Hours" comes to mind. It is a film, by the way, of the same year and with the inimitable Meryl Streep in the role, and besides, it is a competitor for "Adaptation" for the Oscar. Which, by the way, neither the first nor the second film received an Oscar, and the "dummy" went to Polanski's "The Pianist" - this was, indeed, a rich year for good scripts. As for Meryl, she plays Susan Orleans, the journalist from whose book Kaufman is writing the adaptation. She is quite successful and independent. But it is only in the depths of this unfortunate soul that one can discern all the pain that lurks so beautifully behind all the daily hustle and bustle. And, I must say, Ms. Streep's performance gives us a glimpse into her darkest recesses.

And the jewel of the film and the whole story is Chris Cooper, or rather his character named John Laroche. A man who easily plunges into the very depths of any business, and who can just as easily give up the business around which his whole life revolves at a moment's notice. But whatever he does, he gives himself completely to it. He despises convention and propriety, he lives by what he does. And if he suddenly dislikes it, he will easily forget about it. This man does what he wants to do in life, and he doesn't care what other people think of him. His character surprises, admires and even slightly envies him. You understand perfectly well that most likely such a thought in your own head will sink in a heap of routine and ordinariness and you, like the character of Streep from the movie or, say, the characters in "Lions for Lambs", will most likely stay in a well-trodden rut, than resemble John Laroche in his striving to live as his heart dictates. Sad? Hardly, it's just our life. Still, it's a little sad...

Info Blu-ray
Video
Codec: HEVC / H.265 (67.1 Mb/s)
Resolution: Native 4K (2160p)
HDR: Dolby Vision, HDR10
Aspect ratio: 1.85:1
Original aspect ratio: 1.85:1

Audio
English: Dolby TrueHD with Dolby Atmos 7.1 (48kHz, 24-bit)
English: DTS-HD Master Audio 7.1 (48kHz, 24-bit)
English: Dolby Digital 5.1
English: DTS-HD Master Audio 2.0 (48kHz, 24-bit)
French: DTS-HD Master Audio 5.1 (48kHz, 16-bit)
French: Dolby Digital 5.1
Spanish: Dolby Digital 5.1
Spanish: Dolby Digital 5.1
German: DTS-HD Master Audio 5.1 (48kHz, 16-bit)
Italian: DTS-HD Master Audio 5.1 (48kHz, 16-bit)
Polish: Dolby Digital 5.1
Portuguese: Dolby Digital 5.1

Subtitles
English, English SDH, French, German, Italian, Portuguese, Spanish, Arabic, Cantonese, Danish, Dutch, Korean, Norwegian, Polish, Swedish, Turkish.
File size: 69.82 GB
4K-HD.CLUB
Download
from TakeFile
We now have
Telegram, get notified of new releases 4K movies!
Watch the movie trailer Adaptation. 4K 2002
Related 4K movies
Do you enjoy downloading from TakeFile?