Justice League: Warworld 4K 2023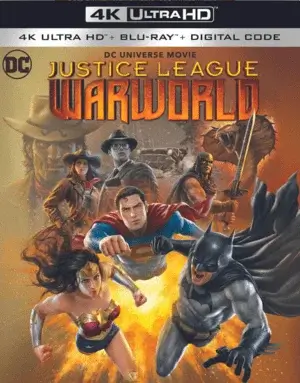 Justice League: Warworld 4K 2023
Cast:
Jensen Ackles, Ike Amadi, Troy Baker, Matt Bomer, Darren Criss, Roger Cross, Brett Dalton, Trevor Devall, John DiMaggio, Robin Atkin Downes, Frank Grillo, Stana Katic, Rachel Kimsey, David Lodge, Damian O'Hare, Teddy Sears.
IMDB 5.4
File Size: 32.59 GB
Film Description
Warworld, a place of unending brutal gladiatorial combat, Batman, Superman, Wonder Woman and others must unite to form an unbeatable resistance to lead the entire planet to freedom.

4k movies reviews
Attempts to diversify the monotony have repeatedly led the DC universe to a deplorable outcome. The recent punishing rock on Gotham is vivid proof of that.

War One. Harvey wants to hire Diana for a job, but the brutality of Harvey's gang forces her to step in and confront the gang of thugs. Seeing the heroic Diana is more familiar than ever. Dent Mercy, on the other hand, telling moralizing stories about his grandfather's watch, is certainly something new. But he behaves like an unbridled stallion, speaking pathos and nonsense. Well, that's the way it should be in all the canons of the genre.

War Two. Batman is a mercenary who's been captured. Cynical and dissatisfied. Claims that all humans are evil and that he only believes in riches. Oh, the wicked irony. A seer leads a pack of muscular heroes to the main fight of their lives. Mages, snakes, traps, all the standard stuff. And then, lo and behold. Diana has already moved from the Wild West to the epicenter of delusional fantasy.

War III. Kent's in a black and white detective story that could be titled Strangers Among Us. Kent is at a crossroads. Should he support the distinctive American way or face the truth and forget about the world of illusion. The scenery changes, but all these stories remain the same. Thanks to Lobo for another unfunny joke.

One thing all three stories have in common is that they are cliffhangers. And just as you start to get into this animated stream of consciousness, they wind down. I would characterize projects like this as stupidity elevated to the absolute. I didn't think I'd say this, but the best way to forget this misunderstanding is to replay Arkham City. So to speak, to remember how elaborate stories based on comics can be.

Info Blu-ray
Video
Codec: HEVC / H.265 (49.8 Mb/s)
Resolution: Upscaled 4K (2160p)
HDR: HDR10
Aspect ratio: 1.78:1
Original aspect ratio: 1.78:1

Audio
English: DTS-HD Master Audio 5.1 (48kHz, 24-bit)

Subtitles
English SDH, French, Spanish.
File size: 32.59 GB
Is Link Dead? Let us know and we'll replace the link.
Report
We now have
Telegram, get notified of new releases 4K movies!
Watch the movie trailer Justice League: Warworld 4K 2023
Related 4K movies