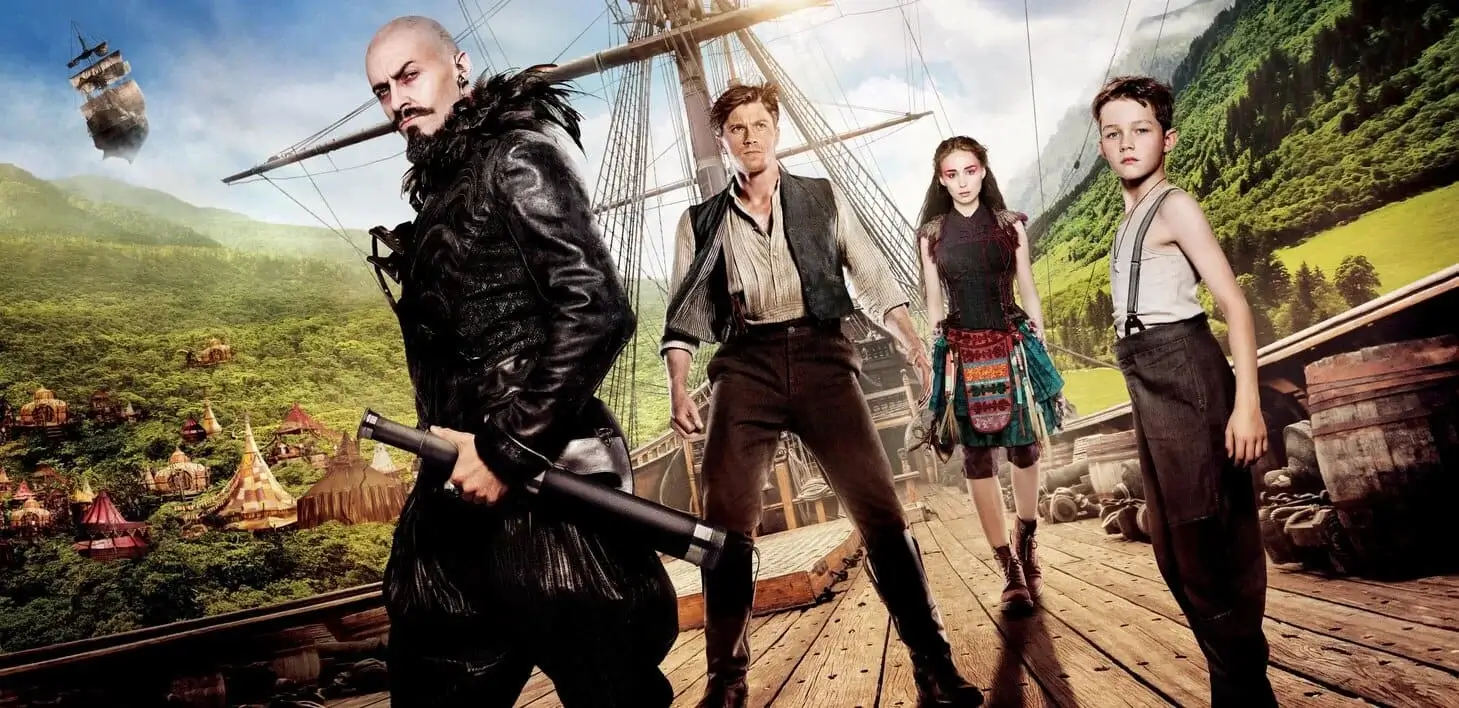 Pan 4K 2015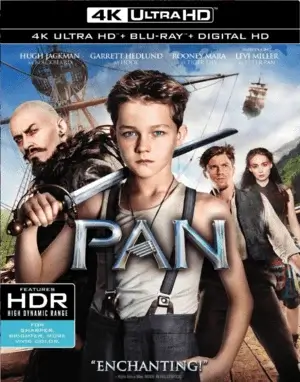 Pan 4K 2015
Cast:
Levi Miller, Hugh Jackman, Garrett Hedlund, Rooney Mara, Adeel Akhtar, Nonso Anozie, Amanda Seyfried, Kathy Burke, Lewis MacDougall, Cara Delevingne, Tae-joo Na, Jack Charles, Bronson Webb, Mike Shepherd, Brian Bovell, Kurt Egyiawan, Jimmy Vee, Paul Hunter.
IMDB 5.7
File Size: 58.35 GB
Film Description
The story of an orphan who found himself in magical Netland, where dangerous adventures awaited him. There he realized that his destiny was to become a hero who would forever be known as Peter Pan.

4k movies reviews
Nowadays fairy tales are in trend. And this is proved by the large collections of such projects as 'Snow White and the Huntsman' or 'Maleficent'. By and large, movie makers do not care about the original story of the fairy tale. Taking the main characters, they do with them whatever they want. And the audience loves it! Every year you can see several similar projects on similar themes. They can be from different studios, with different stories. But in them will always be seen - 'Alice in Wonderland'. It is with this movie began a wave of reinterpreted, classic fairy tale stories. Some of them shoot up and collect the box office, and some of them fall into oblivion. In the case of 'Pan', it was pretty sad. Although the project had prospects. And if the screenwriter did not have a weighty text in hand, then you could hope for director Joe Wright. Who had some pretty good and decent movies in his genre. However, Wright failed with the fantasy blockbuster.

A similar situation was with the movie 'Anna Karenina' which was also directed by Wright. The movie was visually beautiful, but the story suffered immensely from dry narration. It's the same with 'Pan'. Of course not everyone has read James Barrie's original works. And not everyone is to everyone's taste. However, there was clearly some philosophy and morality in them. It was cute, funny and touching in its own way. The story did not suffer from excessive action. In the case of the movie, we are faced with a completely incomprehensible mixture of everything and anything. You don't need to reread all the texts about Peter Pan to understand the whole essence of the movie. For just like in the case of 'Alice' from the classic 'Peter Pan' there are no horns and legs left here. But actually it would not distract from the movie if it was an interesting, fascinating and sweet story. However, the movie suffers from itself. At first we have a dramatic and even a bit harsh story about a boy in a cruel world, and by the end it all turns into a mindless action rattle. The movie builds up and builds up for the first half hour, and is ready to shoot, as suddenly... The gun jams. There is no plot development. The characters just move on to the 'shoot and fight' episode.

With such an unbalanced plot comes another major disadvantage - boredom. As I said, there is some tension at the beginning, but then we just go through alternating shots of the plot: 5 minutes of action, 10 minutes of talking. And at the same time, even in the scenes where the action takes place, you want to sleep. If you expect from this movie battles like 'Pirates of the Caribbean', it's better to leave the box office in time. Dialogues are rare dry and bland, and the heroes do not cause sympathy. Because of this, they are simply not interesting to watch. This is the result of the fact that even children, for whom this movie is designed, will be bored while watching.

The characters themselves in the movie are very faded. Let Hugh Jackman has a great beard, and Rooney Mara looks great in the role of a certain 'aborigine'. But this does not cancel the fact that the characters are too unsightly and do not evoke sympathy. There is not much to say about Levi Miller. The kid plays well, the problem is in the image. Peter Pan has always been a tomboy and mischievous boy. Did they show that character in the movie? No. It's just an everyday character. And you can call Miller's character anything you want and the story won't change much. The Peter here is more like Harry Potter or Frodo. Even stating that this is a prequel, you can't natively change the character of the original character and pass him off as Peter Pan. Nor can you say anything about Garrett Hedlund or Rooney Mara. Their characters are ordinary. Unremarkable and unmemorable. Even Hedlund, playing sort of Captain Hook, doesn't get into character. Who really plays his part is Hugh Jackman. His Blackbeard though is an incredibly primitive villain, but Jackman's image is gorgeous, and even blurred this boring performance at times.

The visual side of the movie is pretty average. The $150 million dollars is visible. However, its staging, as I said earlier, is incredibly contrived. In places where the viewer's mouth should be open in amazement, for some reason it makes you want to sleep. It's probably the director's fault. Wright doesn't know how to do action scenes. The sets, the costumes, the makeup, everything is great. But the special effects are clearly a problem.

Alas, but 'Pan: Journey to Netlandia' turns out to be nothing more than a bright and juicy, but unimaginably uneven and boring movie. The action is tiresome, the characters are not interesting, the viewer looks at the action with half-open eyes. Only rare scenes and Hugh Jackman give pleasure. The movie started out great, but ended with nothing. This is a clear example to Hollywood that they need to once again approach any material more responsibly. And modern interpretations of fairy tales are not the worst thing in themselves. But let the adaptation come out at least watchable. And now, we have another failure of the year in front of us.

Info Blu-ray
Video
Codec: HEVC / H.265 (55.2 Mb/s)
Resolution: Upscaled 4K (2160p)
HDR: HDR10
Aspect ratio: 2.40:1
Original aspect ratio: 2.39:1

Audio
English: Dolby Atmos Dolby TrueHD with Dolby Atmos 7.1 (48kHz, 24-bit)
English: DTS-HD Master Audio 7.1 (48kHz, 24-bit)
English: Dolby Digital 5.1
French (Canada): Dolby Digital 5.1
German: Dolby Atmos Dolby TrueHD with Dolby Atmos 7.1 (48kHz, 24-bit)
German: Dolby Digital 5.1
Spanish (Latino): Dolby Digital 5.1
Portuguese: Dolby Digital 5.1

Subtitles
English SDH, French, German SDH, Portuguese, Spanish.
File size: 58.35 GB
Is Link Dead? Let us know and we'll replace the link.
Report
We now have
Telegram, get notified of new releases 4K movies!
Watch the movie trailer Pan 4K 2015
Related 4K movies