One Piece Film: Red 4K 2022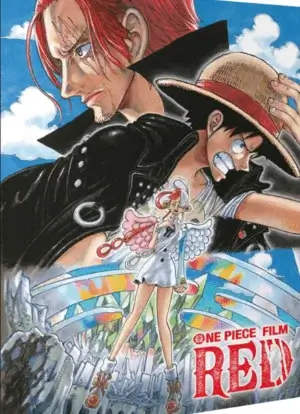 One Piece Film: Red 4K 2022
Cast:
Mayumi Tanaka, Kazuya Nakai, Akemi Okamura, Kappei Yamaguchi, Hiroaki Hirata, Ikue Ôtani, Yuriko Yamaguchi, Kazuki Yao, Chô, Katsutoshi Houki, Kaori Nazuka, Ado, Kenjirô Tsuda, Shûichi Ikeda, Chise Niitsu, Mark Allen Jr., Jennifer Alyx, AmaLee.
IMDB 6.6
File Size: 50.22 GB
Film Description
The Straw Hat Pirates meet Utu, a singer whose voice and songs have conquered the world. The girl is preparing for her first concert when it suddenly turns out that she is the daughter of Captain Shanks.

4k movies reviews
One Piece Film: Red is a fantastical welcome addition to the One Piece Film series.

What I felt lacking from the previous film entry (Stampede) is addressed here properly and I think this film also takes a lot of notes from One Piece Film: Z. I also found that this is probably the most "new-to-One Piece" accessible since Film Gold, requiring little for a new person to comprehend without requiring a huge history of the franchise.

The pacing of the film is energetic, driven by the emotional core of the film in Uta. It is incredibly refreshing to see an emotional driven and well written (female!) character run the plot of the film. Uta's unique powers combined with actual musical scores adds a layer to the film solely unique and allows the film to stand out among the others.

Luffy and company are put in reaction mode for most of the movie, which is really the only fault of the film I have. It's fine whenever Uta strongly drives the plot along, but other side characters show up either for convenience or exposition fairly frequently. The Strawhat crew get to showcase their flashy attacks, but there's only a few brief moments where they get to use their personality to shine (I'd say Usopp and Sanji in particular stand out in key moments, and it's unfortunate Jinbe doesn't have anything key for him to do in his first film appearance.)

I do however appreciate how strongly Luffy plays off Uta and establishes a foil to Luffy that isn't some random stranger he meets once. Luffy and Uta's character beliefs are played perfectly around their idolization of Shanks. It is phenomenal that Shanks & his company are given an actual visual highlight in film to showcase exactly why Shanks is an Emperor and Roger's legacy.

Lastly, the CGI effects are bright and intentionally cartoony for great effect. The use of color to set mood is vastly important. CGI used especially within the film's finale is overwhelming but thankfully not ugly or distracting from the action taking place (again unlike Stampede). The final conflict has masterful use of animation to deliver an amazing finish.

I feel a lot of the unfavorable reviews missed the point: The antagonist isn't so much the character, but rather complex and conflicting emotions driving this individual to commit to a cause without comprehending their actions. Reviewers who go in expecting a low-emotional stakes Shonen will be sorely confused. One Piece has always been held up significantly more by the emotional investments of is characters, rather than it's combat. I honestly prefer this film OVER Film Z in terms of how to make an antagonist that earns their sympathy while also still being threatening.

Info Blu-ray
Video
Codec: HEVC / H.265 (55.5 Mb/s)
Resolution: 4K (2160p)
HDR: Dolby Vision, HDR10
Original aspect ratio: 1.85:1

Audio
Japanese: Dolby TrueHD with Dolby Atmos 7.1 (48kHz, 24-bit)
Japanese: Dolby Digital Plus 7.1

Subtitles
English, Japanese.
File size: 50.22 GB
Is Link Dead? Let us know and we'll replace the link.
Report
We now have
Telegram, get notified of new releases 4K movies!
Watch the movie trailer One Piece Film: Red 4K 2022
Related 4K movies