M3GAN 4K 2022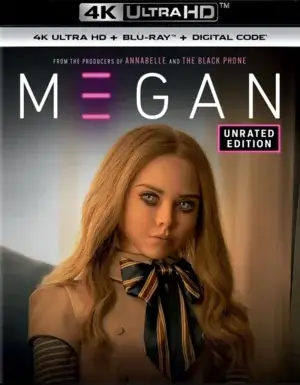 M3GAN 4K 2022
Producer:
Gerard Johnstone
Cast:
Allison Williams, Violet McGraw, Ronny Chieng, Amie Donald, Jenna Davis, Brian Jordan Alvarez, Jen Van Epps, Stephane Garneau-Monten, Lori Dungey, Amy Usherwood, Jack Cassidy, Michael Saccente, Samson Chan-Boon, Kira Josephson, Renee Lyons, Millen Baird, Chelsie Florence, Arlo Green.
IMDB 6.4
File Size: 52.76 GB
Film Description
10-year-old Cady, along with her mom and dad, gets into a car accident. Her parents are killed, and the girl is sent to live with her Aunt Gemma, an employee of a corporation that produces technological toys. Not knowing how to cope with the responsibility that suddenly fell on her, and not really wanting to spend time on her niece, Gemma introduces Cady to an experimental android doll M3gan, who has artificial intelligence. The new "girlfriend's" primary task is to protect the child from all sorts of physical and moral harm, and M3gan takes this too literally.
Info Blu-ray
Video
Codec: HEVC / H.265 (63.8 Mb/s)
Resolution: Native 4K (2160p)
HDR: HDR10
Aspect ratio: 2.39:1
Original aspect ratio: 2.39:1
Audio
English: Dolby TrueHD with Dolby Atmos 7.1 (48kHz,24-bit)
French: Dolby Digital Plus 7.1
French: Dolby Digital 5.1
German: Dolby TrueHD with Dolby Atmos 7.1 (48kHz,24-bit)
Italian: Dolby Digital Plus 7.1
Japanese: DTS 5.1
Spanish (Latino): Dolby Digital Plus 7.1
Spanish: Dolby Digital Plus 7.1
Subtitles
English SDH, German
File size: 52.76 GB
Is Link Dead? Let us know and we'll replace the link.
Report
We now have
Telegram, get notified of new releases 4K movies!
Watch the movie trailer M3GAN 4K 2022
Related 4K movies
What genre of 4K movies do you prefer?