Plane 4K 2023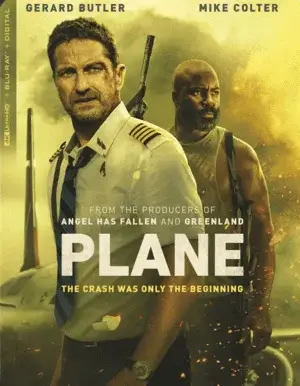 Plane 4K 2023
Producer:
Jean-François Richet
Cast:
Gerard Butler, Mike Colter, Tony Goldwyn, Yoson An, Evan Dane Taylor, Paul Ben-Victor, Daniella Pineda, Lilly Krug, Kelly Gale, Otis Winston, Angel Fabián Rivera, Fernando Chang, Modesto Lacen, Joey Slotnick, Rose Eshay, Ricky Robles Cruz, Jessica Nam, Quinn McPherson.
IMDB 6.5
File Size: 53.59 GB
Film Description
Pilot Brody Torrance successfully lands a storm-damaged plane in hostile territory. Soon it becomes clear that the survivors are threatened by local rebels who want to take the passengers hostage. Brody must protect the people until help arrives.

4k movies reviews
I liked the movie, but it could have been even better.

The script is weak, implausible, though it could easily have been made more life-like but still just as dynamic. The Filipino guerrillas are shown as caricatured villains. It takes place on an island with no cell phone service. But in the middle of the island there is a half-ruined building and it has a landline phone, it's true, without wires, but it also works without any electricity, purely by magic. And with it you can even call several times for free on the other side of the world in America. It is not otherwise that the authors of the film have discovered a new way of communication, based on previously unknown physical principles, the Schnobel Prize. And I, for example, still do not understand how the mercenaries were on the island, moreover, with a ton of different stuff and just at the desired plane. Teleport, no otherwise. And in general, the search of the plane and saving people is done not by the governmental commission, but by God knows who, cadres and managers of the airline, headed by the outsider solver. These are the grimaces of capitalism. And there is a lot more of that. And what is most offensive, all these script bloopers could easily be avoided, giving the script more realism. And what we ended up with smells hackneyed.

Scenes of the plane crash and shootings are well filmed, dynamic and interesting to watch. They are not filmed on a computer and on a green screen, many scenes are shot on location, and are pleasing to the eye. The actors are not bad, but no one is particularly memorable. And there is not enough of a love line, it is completely absent. And what about the female audience, what do they have to look at in this action movie, at Gerard Butler? So he's not even good anymore. Ah, nobody has seen the crew of the Soviet film "The Crew". They had no idea about the romantic line. The movie will lose a lot at the box office because of it.

But in spite of all that, I liked the movie. This is such a classic disaster movie crossed with an action movie. A classic male (teenage) movie, like one cool hero, not to be confused with a superhero, beats everyone.

Info Blu-ray
Video
Codec: HEVC / H.265 (60.9 Mb/s)
Resolution: Native 4K (2160p)
HDR: Dolby Vision, HDR10
Aspect ratio: 2.39:1
Original aspect ratio: 2.39:1

Audio
English: Dolby TrueHD with Dolby Atmos 7.1 (48kHz, 24-bit)
English: DTS-HD Master Audio 7.1 (48kHz, 24-bit)
English: Dolby Digital 5.1
English: Dolby Digital 2.0
French: Dolby Digital 5.1 (640 kbps)
Spanish (Latino): Dolby Digital 5.1 (640 kbps)

Subtitles
English SDH, French, Spanish.
File size: 53.59 GB
Is Link Dead? Let us know and we'll replace the link.
Report
We now have
Telegram, get notified of new releases 4K movies!
Watch the movie trailer Plane 4K 2023
Related 4K movies