The Last Of Us 4K S01 2023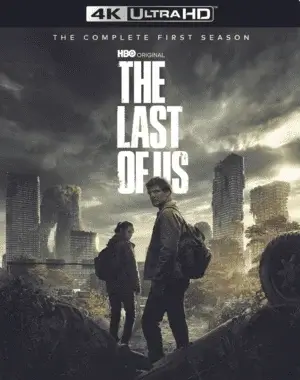 The Last Of Us 4K S01 2023
Producer:
Neil Druckmann, Craig Mazin
Cast:
Pedro Pascal, Bella Ramsey, Anna Torv, Lamar Johnson, Melanie Lynskey, Nico Parker, Merle Dandridge, Keivonn Woodard, Jeffrey Pierce, John Getz, Gabriel Luna, Samuel Hoeksema, Olivier Ross-Parent, Rutina Wesley, Storm Reid, Scott Shepherd, Ashley Johnson, Nick Offerman.
IMDB 8.8
File Size: 213.4 GB
Film Description
At the end of September 2003 there was a mass infection of people with cordyceps all over the planet. Previously parasitized only on insects, the fungus had adapted to survive in the human body, completely subjugating the host's will and changing its appearance. On the very first day, Joel, a construction worker who found himself in the epicenter of the pandemic, suffered an irreparable loss.

20 years later Joel lives in the Boston quarantine zone, which is under strict control of the Federal Agency for Disaster Management, and together with his girlfriend Tess tries to get a car battery to go in search of his brother in another state. Fate brings him together with a wounded rebel leader who promises a car and a battery if Joel and Tess will deliver the wayward 14-year-old orphan Ellie to a squad of battle buddies waiting for her outside the quarantine zone.

The Last Of Us Season 1 Series 1-9 in 4K Ultra HD

When You're Lost in the Darkness S1, Ep1
15 Jan. 2023
Twenty years after a fungal outbreak ravages the planet, survivors Joel and Tess are tasked with a mission that could change everything.

Infected S1, Ep2
22 Jan. 2023
After escaping the QZ, Joel and Tess clash over Ellie's fate while navigating the ruins of a long-abandoned Boston.

Long, Long Time S1, Ep3
29 Jan. 2023
When an unknown person approaches his compound, survivalist Bill forges an unlikely connection. Later, Joel and Ellie seek Bill's guidance.

Please Hold to My Hand S1, Ep4
5 Feb. 2023
After abandoning their truck in Kansas City, Joel and Ellie attempt to escape without drawing the attention of a vindictive rebel leader.

Endure and SurviveS1, Ep5
10 Feb. 2023
While attempting to evade the rebels, Joel and Ellie cross paths with the most wanted man in Kansas City. Kathleen continues her hunt.

Kin S1, Ep6
19 Feb. 2023
After ignoring the advice of locals, Joel and Ellie descend deeper into dangerous territory in search of the Fireflies - and Tommy.

Left Behind S1, Ep7
26 Feb. 2023
As Joel fights to survive, Ellie looks back on the night that changed everything.

When We Are in Need S1, Ep8
5 Mar. 2023
Ellie crosses paths with a vengeful group of survivors - and draws the attention of its leader. A weakened Joel faces a new threat.

Look for the Light S1, Ep9
12 Mar. 2023
A pregnant Anna places her trust in a lifelong friend. Later, Joel and Ellie near the end of their journey.

4k movies reviews
I'm a fan of the game, I'm satisfied. That would be the end of it, but there are still some things I'd like to talk about.

At the time of writing this review, only the pilot episode has been released and I was satisfied with it. Honestly, it was hard to believe that the series will appeal to the people after all the comments under almost every new news about the series. But after seeing the ratings, I was pleasantly surprised. Let's quickly run through the pros and move on to the cons, which are pretty subjective.

Pros:

1. The script itself. It sticks to the original game and expands the lore, with new added scenes. Characters are better revealed in the little time they were given in the beginning.

2. Atmosphere. It's really believable. Everything looks ruined, time-torn and gives some goosebumps.

3- The acting. Pedro Pascal is straight up my respect. His choice for the role of Joel has always pleased me because the actor knows how to act and resembles the character. Bella Ramsay in the role of Ellie also did not disappoint, although she does not look like the heroine from the game, but we'll talk about it in the minus.

4. Soundtrack. They are just as good as they were in the original game.

5. So far, the series is showing itself to be a good adaptation of the video game, which is rare these days.

Minuses:

1. Many of the actors don't look like characters from the game. This minus applies specifically to those who have played and seen the appearance of the characters in the game. Like for example Tess or Ellie, but as actors there are no claims, so I called this minus subjective. Those who are familiar with the series and did not play the game, will not notice anything. But still, as a fan of the game would like to see actors who are similar to the characters. Plus, if the official footage is to be believed, some characters have had their skin color changed. No, I'm not racist, but when a white character can be made dark-skinned and a dark-skinned white character can't, it's hard to see the very same character from the game in front of you.

In closing, I will say that I am looking forward to the next episodes. After watching the first episode, I wanted to see what happens next. Even though I know the plot of this game, I'm still curious. This is the main achievement of the whole team of creators. They managed to keep the interest of a person who is already familiar with the whole story. Recommended for viewing

Info Blu-ray
Video
Codec: HEVC / H.265 (47.8 Mb/s)
Resolution: Native 4K (2160p)
HDR: Dolby Vision, HDR10
Aspect ratio: 1.78:1
Original aspect ratio: 1.78:1

Audio
English: Dolby TrueHD with Dolby Atmos 7.1 (48kHz, 24-bit)
English: Dolby Digital 5.1

Subtitles
English SDH, French, German, Italian, Japanese, Spanish, Czech, Danish, Dutch, Finnish, Korean, Mandarin (Traditional), Norwegian, Swedish.
File size: 213.4 GB
Is Link Dead? Let us know and we'll replace the link.
Report
We now have
Telegram, get notified of new releases 4K movies!
Watch the movie trailer The Last Of Us 4K S01 2023
Related 4K movies