Triangle of Sadness 4K 2022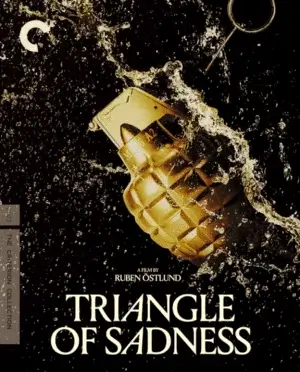 Triangle of Sadness 4K 2022
Cast:
Thobias Thorwid, Harris Dickinson, Charlbi Dean, Jiannis Moustos, Vicki Berlin, Dolly De Leon, Timoleon Gketsos, Alicia Eriksson, Woody Harrelson, Zlatko Buric, Sunnyi Melles, Carolina Gynning, Iris Berben, Amanda Walker, Oliver Ford Davies, Ralph Schicha, Henrik Dorsin, Arvin Kananian.
IMDB 7.4
File Size: 85.20 GB
Film Description
A couple of models, Karl and Yaya, go on a luxury yacht cruise in the company of rich passengers, where they meet a Russian businessman, a British arms manufacturer, and an IT genius. The ship's captain is a Marxist who is on a permanent binge. Everything goes on as usual: the guests rest, the staff work hard, the Russian businessman's wife gets weird. But soon an unexpected event will happen that will overturn the established order and force some to rethink their place and importance.

4k movies reviews
I decided to write this review to make it clear in a series of positive responses that not everyone will like the film. Having wasted-truly wasted-two and a half hours of your life, you wonder where the rating comes from. But let me just tell you what's wrong.

The movie is divided into three parts - and it's very drawn out, as if the editor didn't already want to watch the film and cut out the extras. Each part tells a different story, but as a whole it is a single storyline in which the characters are revealed - or rather not revealed in any way in the adequate sense of the word - at all. And this is the second puncture.

'Triangle of Sadness' tells a story about seemingly trivial human values - someone here gets beauty, someone gets money, and someone is in pursuit of these benefits. And that is what is repulsive - why does not a single living soul in this picture got a mind? All the characters are as stupid as possible, some from birth, some from alcohol, and some are just convenient. And in general, not a single character is well-described - they are all superficial, no one has any thoughts other than to cover basic needs, no one's motivation is clear - a scatterbrain of one-type characters, by the way, also mediocrely acted.

Of course, it did not do without the burning theme of (un)equality of people - the painting proves that if you look closely, then all men are equal. But they managed to show it only through toilet humor - the scenes are not the most flattering, in addition, they are given a decent amount of time, apparently, to show all the shades of brown.

Another misunderstanding - to call a famous artist to show off, so that then to make it into footage for the trailer and get more viewers. But do not be fooled - Woody Harrelson appears only for five minutes to recite Marx in a drunken frenzy, and then he goes off into the sunset.

To sum it all up, this film is not saved by the philosophical thought (because nothing new was said and also interestingly played), black humor (for it is of poor quality), and beautiful pictures (the camerawork is not bad, and the colors are pleasant) - but to watch it or not is a personal choice.

Info Blu-ray
Video
Codec: HEVC / H.265 (71.7 Mb/s)
Resolution: Native 4K (2160p)
HDR: HDR10+
Aspect ratio: 2.38:1
Original aspect ratio: 2.39:1

Audio
English: Dolby TrueHD with Dolby Atmos 7.1
English: DTS-HD Master Audio 7.1
English: Dolby Digital 5.1
German: DTS-HD Master Audio 5.1
German: DTS-HD Master Audio 2.0

Subtitles
English SDH, German.
File size: 85.20 GB
Is Link Dead? Let us know and we'll replace the link.
Report
We now have
Telegram, get notified of new releases 4K movies!
Watch the movie trailer Triangle of Sadness 4K 2022
Related 4K movies