Novembre 4K 2022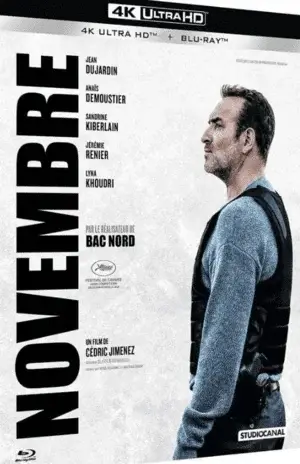 Novembre 4K 2022
Cast:
Jean Dujardin, Anaïs Demoustier, Sandrine Kiberlain, Jérémie Renier, Lyna Khoudri, Cédric Kahn, Sofian Khammes, Sami Outalbali, Stéphane Bak, Raphaël Quenard, Sarah Afchain, Sophie Cattani, Jérémy Lopez, Quentin Faure, Victoire Du Bois, Lyes Kaouah, Hugo Dillon, Darren Muselet.
IMDB 6.8
File Size: 62.60 GB
Film Description
In November 2015, Paris experienced the worst terrorist attacks in its history. Nearly 400 people became victims of carefully planned acts of violence. But the perpetrators were not going to stop there. To prevent future threats, two agents will have to conduct one of the biggest investigations in the history of the Old World and prevent criminals from striking again. Now not only France, but all of Europe is in danger.

4k movies reviews
French cinema is not known for its big budget. It tries to take talent.

This film belongs to the so-called pseudo-documentary. The atmosphere of the film is appropriate. The soundtrack is minimal, there is no makeup or fancy costumes. Everything is as close to reality as the film format allows. Watching the tape is like watching a documentary, and we just watch this crazy tension and work of the security services from the sidelines. The pace of the film is fast, a couple of frames from words to deeds. Events change very quickly. The actors keep you in suspense, you worry about them. The entire cast is very harmonious and coherent. The film's narration poses complicated questions about the work of special services. What should it be like? Where is the line between your freedom and the security of the country? And minorities? What are their rights? And if you are of a different race or faith how should you be? Muslims are key figures in the narrative. And as they say, you shouldn't put everyone under 1 comb. It's not without blemishes in the family. It's the same here. The film poses these questions to the viewer. On the other hand, it maintains its neutrality. Each person will draw his or her own conclusions. This is the strength of the pseudo-documentary. It doesn't teach morals and values, it just tells it like it is.

P.S. I feel sorry for Diesel the dog. There's a whole page devoted to him on Wikipedia.

Info Blu-ray
Video
Codec: HEVC / H.265 (80.1 Mb/s)
Resolution: 4K (2160p)
HDR: HDR10
Aspect ratio: 2.39:1

Audio
French: DTS-HD Master Audio 5.1
French: DTS-HD Master Audio 2.0
French: Dolby Digital 5.1

Subtitles
English, French.
File size: 62.60 GB
Is Link Dead? Let us know and we'll replace the link.
Report
We now have
Telegram, get notified of new releases 4K movies!
Watch the movie trailer Novembre 4K 2022
Related 4K movies