Dead for a Dollar 4K 2022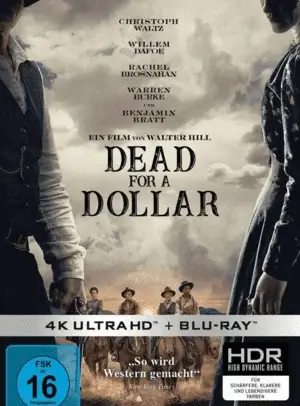 Dead for a Dollar 4K 2022
Cast:
Christoph Waltz, Willem Dafoe, Rachel Brosnahan, Warren Burke, Brandon Scott, Benjamin Bratt, Luis Chávez, Hamish Linklater, Fidel Gomez, Guy Burnet, Alfredo Quiroz, Scott Peat, Diane Villegas, J.D. Garfield, Jackamoe Buzzell, James Espinoza, Jeremiah Core, Shawn-Caulin Young.
IMDB 5.3
File Size: 46.56 GB
Film Description
A famous bounty hunter confronts his nemesis, a professional gambler and criminal whom he sent to prison years ago.

4k movies reviews
I very often say that in 2022 the demands for movies in theaters have dropped dramatically. They say it's enough to have at least one distantly familiar name to entice viewing. In To Die for a Dollar, however, there are two such names at once: Christoph Waltz and Willem Dafoe. Two blocks of filmmaking that would have been enough to entice me into the audience last year. I didn't even watch the trailer, took a ticket right away and prepared to watch with the knowledge that I was sure to enjoy something.

The plot. Joe Cribbens is a master outlaw in the Wild West, once cunningly put behind bars by bounty hunter Max Borland. But his time has come to an end and he decides to go far away to Mexico in order to spend the rest of his life at his own pleasure. At the same time, Borland is approached by a local businessman with a confidential order: he claims that his wife has been kidnapped by a deserter soldier and taken away to Mexico. Max takes the order and, together with the kidnapper's fellow soldier, sets off...

Shells and waterboarding aside, the events of this movie would fit into one page. It is as clumsy and straightforward as one could imagine. There are plenty of western-style movies, but even comedy parodies have found something to surprise. If 'Good. Bad. Evil." or "Django" is a bubbling Amazon, then 'To Die for a Dollar' is a worthwhile swamp, where once or twice a day something gurgles.

Characters and motivation. If the unnatural dialogues like 'That's Max Borland, he's a bounty hunter,' are responsible for the reveal in this movie. He's fast and dangerous, you don't want to mess with him", but the ones responsible for the motivation of the characters in this movie were not seen. And since no one is responsible, it is not necessary to do. And so it turned out: most of the actions of the faces in the frame are meaningless. Why did Borland get the idea to help Jones? What was Rachel's plan for at least a week ahead? Why did Sergeant Poe let it slip so early on? What purpose did Vargas have in mind? It's all trivia! Westerns are about shooting without meaning, aren't they? No, it isn't! If the viewer doesn't understand what the character wants, he doesn't have expectations to break down. And one doesn't really want to watch nonsense.

The villain is the villain. That's a pun. Even the screenwriters of 'Rango' and 'A Million Ways to Die in the Wild West' know how to show the viewer the power of a local czar. Creating a shadowy image of a villain in a western is an easy thing to do: one scene of ruthless murder, one scene of bribing the authorities and that's it, there is a character to confront. But here we see this antagonist being spat at by everyone. And openly to his face. How can you get the feeling that even an imaginary threat could be coming from this face? There's simply nowhere for it to come from.

Dynamics. It's a real bore. In the first act Rachel is waiting for someone, in the second act Borland and Rachel are waiting for someone, in the third act the three of them are just sitting and waiting. And in the meantime, the viewer is waiting for the damn movie to end! Give action, give dialogue. At least some meaningful content, you can't fall asleep from that.

The acting. Like I said, something I will definitely enjoy. Actors like Christoph Waltz and Willem Dafoe don't know how to play half handed. They are masters with a capital letter. Yes, there's almost nothing to play here, but they give their best in their frame. There is one problem: they set the contrast, due to which, against their backdrop, all the others very much pale. Such a difference in the caliber of the actors does not pay off, there is simply nothing to cover it. It was a pleasure, but there was also a counterbalance to it.

Info Blu-ray
Video
Codec: HEVC / H.265 (54.9 Mb/s)
Resolution: Native 4K (2160p)
HDR: HDR10
Aspect ratio: 2.35:1

Audio
German: DTS-HD Master Audio 5.1 (48kHz, 24-bit)
English: DTS-HD Master Audio 5.1 (48kHz, 24-bit)
English: Dolby Digital 5.1

Subtitles
English, English SDH, German.
File size: 46.56 GB
4K-HD.CLUB
Download
from TakeFile
We now have
Telegram, get notified of new releases 4K movies!
Watch the movie trailer Dead for a Dollar 4K 2022
Related 4K movies
Do you enjoy downloading from TakeFile?