Four Flies On Grey Velvet 4K 1971 ITALIAN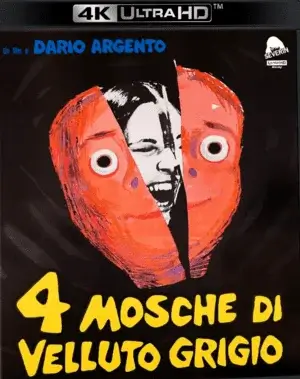 Four Flies On Grey Velvet 4K 1971 ITALIAN
Cast:
Michael Brandon, Mimsy Farmer, Jean-Pierre Marielle, Aldo Bufi Landi, Calisto Calisti, Marisa Fabbri, Oreste Lionello, Fabrizio Moroni, Corrado Olmi, Stefano Satta Flores, Laura Troschel, Francine Racette, Bud Spencer, Dante Cleri, Guerrino Crivello, Gildo Di Marco, Tom Felleghy, Leopoldo Migliori.
IMDB 6.6
File Size: 69.54 GB
Film Description
A young musician late at night in a ridiculous scuffle accidentally stabbed a strange man with his own knife.

4k movies reviews
He killed a man. He didn't mean to, it just happened. Hell, he didn't even know who the strange character with the dark glasses was who had been following him, and when he tried to find out what all this stalking was about, he jumped at him with a knife, which he himself stupidly stumbled upon!

A mysterious witness observes what is going on from the box of the old theater. Someone has seen the murder and knows what he has done. He constantly feels the gaze of others.

He is not timid, but he is afraid.
He does not understand what the mysterious masked man wants from him.
He does not assume in what sinister cunning web came, but it is well aware that can not get out of it alive. There is no hiding from the Masked Man in his own home, no locked doors to keep him out, and no one to even tell about him.... no one.
All around, one by one, people are dying. His friends. Everyone he could trust.
He knows that some mystery connects him to the masked killer, and he tries to solve a puzzle that at first glance is absurd. What connection to the bloody maniac could a simple prankster musician, who before this terrible incident... and never hurt a fly... had never hurt a fly?

One of the early films of the king of the 'giallo' genre, Dario Salvatorevich Argento. To the account of the young king already has a bloody massacre in 'The Bird with the Crystal Plumage' and a hellish hunt for the violence gene in 'The Nine-tailed Cat'. Still ahead of 'Blood-red', 'Shiver', 'Opera' and 'Trauma', which made the world famous Argento name and 'giallo', a purely Italian genre of 'yellow' detective, marked by unthinkable cruelty, the legacy of the teacher and mentor Dario, the great Mario Bava.

The young director is not looking for a specific environment, does not use frighteningly grotesque scenery, does not award his characters deliberately grim faces, does not make the screaming beauties on half a movie to run galloping on stilettos half a meter. '4 mosche... The action takes place in Dario's own environment, in Rome, his hometown.
The protagonists are the director's peers, young 'long-haired' guys in clutches, spitting on retrograde stereotypes and making Music in small private studios. The ordinary everyday life of one of these guys, musician Roberto Tobias, suddenly turns into a hellish jumble of suspicions, fears and deaths.

The incredibly natural effect of something terrible and inexplicable invading ordinary life and making the hero doubt everyone and everything, including himself, though slightly dimmed by the change of era, still makes the viewer fearfully look around, unequivocally proving in the accessible language of realistic and honest cinema that everyday life does not guarantee anyone protection from the simple and at the same time inscrutable Evil. Imagining the effect this film had on its contemporaries, I really wish I had been there.

Info Blu-ray
Video
Codec: HEVC / H.265 (91.0 Mb/s)
Resolution: Native 4K (2160p)
HDR: Dolby Vision, HDR10
Aspect ratio: 2.35:1
Original aspect ratio: 2.35:1

Audio
English: DTS-HD Master Audio 2.0 Mono (48kHz, 24-bit)
English: Dolby Digital 2.0
Italian: DTS-HD Master Audio 2.0 Mono (48kHz, 24-bit)
Italian: Dolby Digital 2.0

Subtitles
English, English SDH.
File size: 69.54 GB
4K-HD.CLUB
Download
from TakeFile
We now have
Telegram, get notified of new releases 4K movies!
Watch the movie trailer Four Flies On Grey Velvet 4K 1971 ITALIAN
Related 4K movies