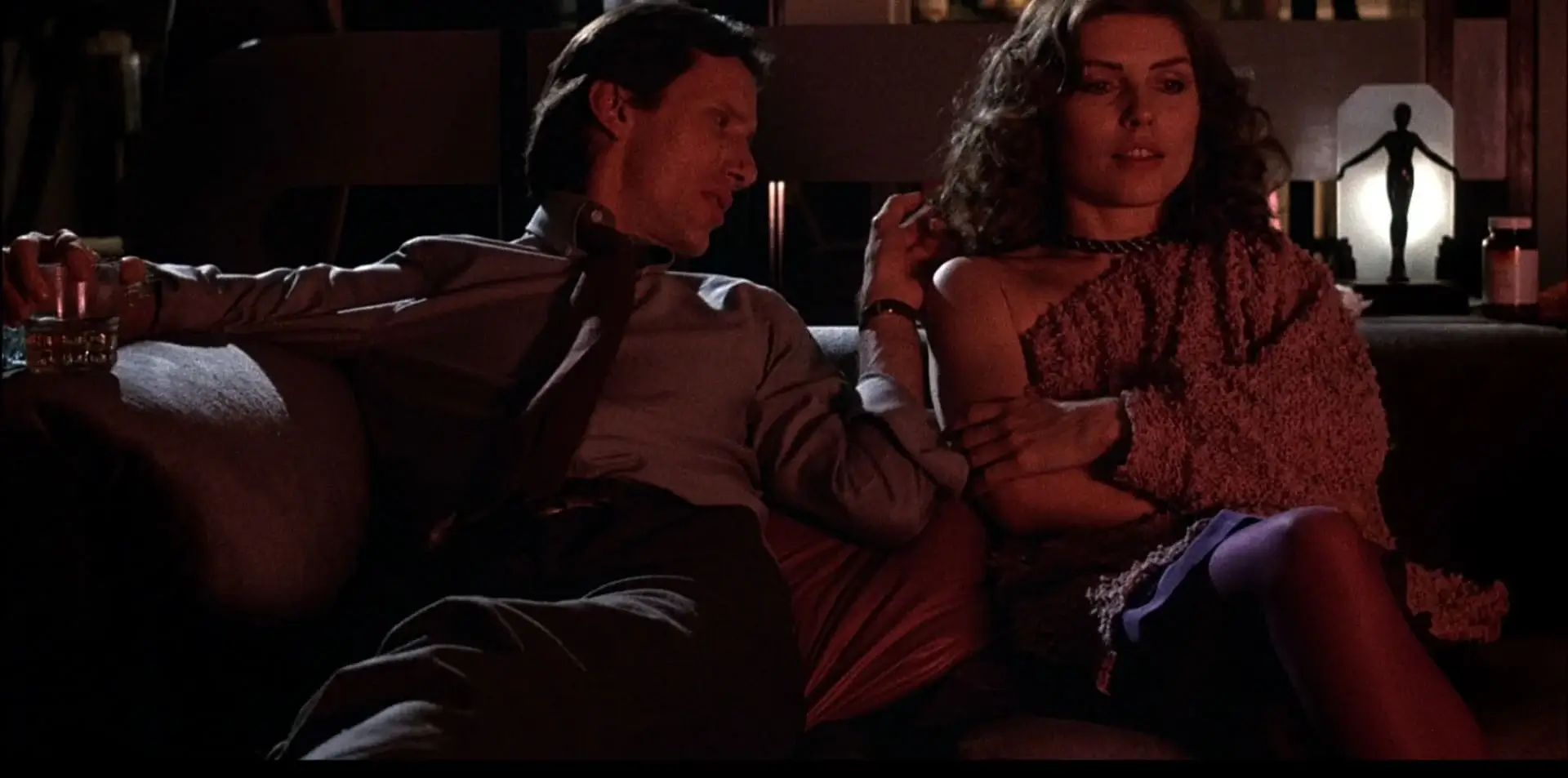 Videodrome 4K 1983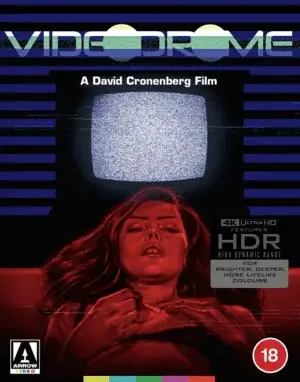 Videodrome 4K 1983
Producer:
David Cronenberg
Cast:
James Woods, Debbie Harry, Sonja Smits, Peter Dvorsky, Leslie Carlson, Jack Creley, Lynne Gorman, Julie Khaner, Reiner Schwarz, David Bolt, Lally Cadeau, Henry Gomez, Harvey Chao, David Tsubouchi, Kay Hawtrey, Sam Malkin, Bob Church, Jayne Eastwood.
IMDB 7.2
File Size: 60.19 GB
Film Description
TV producer Max Renn, looking for fresh and original porn for his cable channel, accidentally stumbles upon "Videodrome," a show about sex and murder that comes out of nowhere, the repeated viewing of which corrupts not only the psyche but also the human flesh.

4k movies reviews
This film by David Cronenberg can safely be regarded as the quintessence of his specific creativity. Here, the path traversed since "The Convulsions" (1975) has been cast in a definite and original style in which the author's preferences and predilections are clearly distinguishable, a horizon of further development can be seen, which is most interesting, mature and finished in the puzzling "Existence" (1999), quite logically became a kind of omega for the Canadian master. All subsequent works are gradually moving away from the trademark "alchemical experiments with flesh," exhaled stylistically and merged into the general flow of Hollywood film production. At any rate, they are of little value to those who want to get to know the real Cronenberg.

It is in Videodrome that the problem of subject-object distance, important to the filmmaker in the form of a bodily and object alienation that accompanies the imperceptible transition of culture from the industrial to the post-industrial state, is raised most sharply. These boundaries, ruptures, partitions, transitions, collisions, run-ups and their changes allow Cronenberg to play boldly with matter: to transform metaphors into flesh and flesh into metaphors, to merge the organic into inanimate objects, to hypertrophy body, psyche and technique into a single grotesque "new flesh. He literally (allegorically) translates human aspirations for freedom from all material constraints - from technical means to one's own body. He pushes back on the fundamental rupture of being, which consists of alienated but aspiring bodies, and depicts in detail the ugliness and pain of this torn "thirst for wholeness.

And even the increasing virtual "dematerialization" in the information society, interactive experiments, 3-D and 4-D formats, sensory and tactile enhancements are still far from the desired blurring of boundaries (a dolphin floating out of the screen is just an advertisement) and are not free from the flesh that makes up man. Technology is amenable to improvement, flesh is not. It is a weight, a burden, a prison, it holds it back, pulls it back, does not allow it to break through to the object of desire, to merge harmoniously with it. It can only achieve this through a complex, painful, painful fusion with that object ("Bound to Death" 1988). The virtual world pulls with it the bloody trail of human meat, twisted in the aporia of overcoming bodily-object alienation (a television set exploding with meat chunks).

The prehistoric machinery of the early '80s (the time of the film's making) allows for the sharpest possible edge. (This aporia is best illustrated by means of the following: clumsily constructed transistors, transformers, receivers, television sets with alarmingly convex picture tubes (not for nothing that people call them "boxes"), monstrous video-players with vagina dentata-like openings, ready to swallow the tape together with the hand, and the tape itself-a bulky plastic box with "kilometers" of film. Heavy media, stuck between the mechanical and electronic eras, are themselves an ugly fusion of these eras, a mutant difficult to handle, crying out for an end to their "bodily" suffering. Isn't that why aesthetic retro lovers prefer not VCRs and cassettes, but gramophones and records?

The creations of any transitional periods look ugly and eclectic: the American architect F. L. Wright, who always sought in his projects a harmonious interaction with nature, once emotionally exclaimed - "eclecticism is the ugliest thing that man can create!" And Cronenberg confirms this thesis in the most direct way: the forms of interaction between man and such still too inorganic, alien, and even hostile technology lead to monstrous formations, which, having crossed a certain boundary of synthesis, enter into a process of general decay and ultimately come to complete self-destruction. This is the anti-utopia of the "new flesh," the corporeal realization of transgression, interactivity and intersubjectivity: any teleportation of the body leads to terrible consequences, otherwise it is impossible.

Another leitmotif that is important to Cronenberg in this and many of his other films is the psychological one. For him, the psyche can be a driving energy, a crawling thin "body" that, injured as it advances, begins to build mass and pop up as a growth on the original body, erupting as an abscess, a tumor, a boil, or even a mutant (The Poultry Woman 1979). Bodily trauma can cause extraordinary psychic anxiety-visioning that will receive concrete fleshly form in the future ("The Dead Zone" 1983). In this respect, Videodrome is a film about initiation, initiation into the mysteries of psychic transformations, entry into a world where everything is predisposed to carnal embodiment and carnal transformation. The hero advances through the dromos of the video to where illusion and reality, psyche and flesh, fantasies and their realizations mix, and from all this a hybrid of a "new body" is synthesized, capable of digesting and reproducing objects, of continuing itself in objects, which in turn are capable of incarnating and continuing themselves in the human body. In all this there is an unspeakable violence that can only be caused by violence--a snuff that has entered directly into the hero's head and begun to affect his flesh through the psyche.

Everything that happens in this world has bodily consequences. Rock and body cancer rule here. Cronenberg, as a Benedictine monk, in the spirit of medieval clerical ekphrasis, uses the vulnerability of the flesh as a graphic image to illustrate the spiritual decay of the individual. He is an artist, and therefore he draws. Some have accused him of twisting the plot by the end of the film, moving away from all logic and emphasizing special effects. I think he not only "twisted" but "twisted" the plot, did the same thing to it as he did to human flesh. Look for the logic in that. But one also can't disagree with the fact - though no one openly says so - that Cronenberg often departs from the original ideas and messages and gets carried away with the anatomical details, foregrounding the hideous spectacle of bodily deviation ("The Fly" 1986). Certainly there is some voluptuousness in this, but only a fraction. Once, as you watch, you feel like medieval spectators--you'll get a feel for the very dogma of the film. Contemplate the images and don't try to construct the logic of the plot, and don't read the synopsis for this troubled and pivotal film in any way.

Info Blu-ray
Video
Codec: HEVC / H.265 (95.0 Mb/s)
Resolution: Native 4K (2160p)
HDR: Dolby Vision, HDR10
Aspect ratio: 1.85:1
Original aspect ratio: 1.85:1

Audio
English: DTS-HD Master Audio 2.0 Mono (48kHz, 24-bit)
English: Dolby Digital 2.0
English: DTS 2.0

Subtitles
English SDH.




File size: 60.19 GB
Is Link Dead? Let us know and we'll replace the link.
Report
We now have
Telegram, get notified of new releases 4K movies!
Watch the movie trailer Videodrome 4K 1983
Related 4K movies
What genre of 4K movies do you prefer?