Kill Her Goats 4K 2023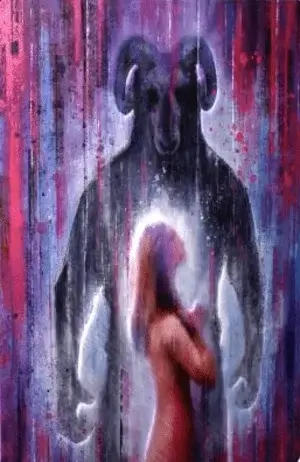 Film Description
Audra's graduation present is a dream home, but it soon turns into a real nightmare when uninvited guests arrive at her graduation party and not very delicately let it be known that they do not approve of the new homeowner.
4k movies reviews
"Everytime we come here, someone has to get topless."
Truly, this one had me at the idea of Kane Hodder butchering more beauties in bikinis, but this slasher is a bit more than just his performance as Goatface. Let's see, there's the beautiful location (on Cape Cod in Massachusetts)., an interesting storyline (which begins in the 1620s), a nice setting for the kills to roll out on, great comedic moments, and lots of big-busted (and usually naked) women being chased by goat-themed killers.
"For fans of grindhouse spills and thrills, Kill Her Goats is GOAT-astic"
For fans of grindhouse spills and thrills, Kill Her Goats is GOAT-astic. It truly has it all, including a spooky she-shed full of dolls.
Being an "accurate" depiction of the horrifying events which happened after The Tupp Cape Cod cottage was purchased, Kill Her Goats begins with a proud display of sex and violence as a couple in a tent are mercilessly gutted by a random chainsaw attack. Turns out, it is not so random but we will get to that later.
Written, directed, and shot by Steve Wolsh (of Muck fame), Kill Her Goats is stacked with beautiful actresses who don't mind letting it all hang out as a new owner in the long rumored to be haunted Tupp cottage moves in and settles into her graduation present from her parents. But first, GIRLS NIGHT!
So when Audra (Arielle Raycene) calls her best friends - Ellie Gonsalves as Missy Becks and Monica Sims as Reese -to join her for a weekend of spilling wine, extra long showers, and horror movies galore, they ditch the beach and come running. Audra's father bought this house for her and Audra isn't going to let her ex-boyfriend Devon (Skyler Seymour) ruin her graduation gift.
The long vacant house, which is located in West Craven, is known by the locals as cursed by the original owners, the Tupp Family. The family is a strikingly haunted one as all of the members either went crazy or were murdered. Some even disappeared. But now it is Audra's place to call home and she makes her intentions perfectly clear as this slasher is full of surprises.Kill Her Goats (2023) - SteelBook / Limited Edition - 4K Ultra HD
Obviously, things don't go as planned, thanks to the predator which is stalking around the grounds. Full of practical effects and nice kills, Kill Her Goats is a whole lot of dumb fun as a killer named Goatface arrives on the scene to lick feet and slay some nubile young women. Hell, we even get a twist at the end which makes for some marvelously spot-on Final Girl moments as this title proudly plays around with the formula giving us some unexpected moments on the way to its finale.
Kill Her Goats is an independent movie which doesn't hide its intentions to party on with its bad self on this gruesome night of flesh and blood. Most of the shots are on the voyeuristic side of the slasher tale because the women spend most of their time naked or in their underwear and Wolsh exploits that to the nth degree. There's even a long, wandering scene in a graveyard as the girls dare to bare it all.
Yet, when the goats arrive on the scene to lick and eat live out their best fantasies as a human in house, so too does Goatface with his double-bladed hedge clippers. Suddenly, the chaos and carnage is on! But, hold on, there's a glorious twist at the end which makes everything come together in a spooktacular fashion. This is why I recommend Kill Her Goats.
Combine a unique story with the gruesome twosome of Hodder's weapon makes for some seriously crazy kills. The film also features Dani Mathers as Audra's estranged sister Haley Bucklebee, and Amberleigh West as Devon's (Seymour) new girlfriend, Autumn. It's truly a throwback slasher film with all practical horror FX, and creature effects by Ben Bornstein (Resurrection, Nanny).
Kill Her Goats is now available on 4K, Blu-ray and DVD.
Info Blu-ray
Video
Codec: HEVC / H.265 (80.2 Mb/s)
Resolution: Native 4K (2160p)
Original aspect ratio: 2.39:1
Audio
English: Dolby Digital 5.1 (640 kbps)
Subtitles
English, English SDH.
File size: 56.06 GB
Is Link Dead? Let us know and we'll replace the link.
Report
We now have
Telegram, get notified of new releases 4K movies!
Watch the movie trailer Kill Her Goats 4K 2023
Related 4K movies
What genre of 4K movies do you prefer?