Hell Fest 4K 2018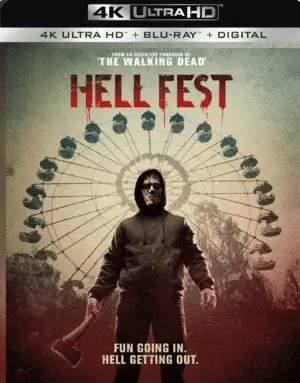 Hell Fest 4K 2018
Producer:
Gregory Plotkin
Cast:
Cynthea Mercado, Stephen Conroy, Amy Forsyth, Reign Edwards, Bex Taylor-Klaus, Christian James, Matt Mercurio, Roby Attal, George Howard Adams, Courtney Dietz, Markus Silbiger, Michael Tourek, Tony Todd, Aaron Gillespie, Cecil Elmore Jr., Elle Graham, Bobby Akers, John Jacob Anderson.
IMDB 5.5
File Size: 47.99 GB
Film Description
Three girlfriends meet on the eve of Halloween and, together with their boyfriends, decide to celebrate the holiday by going to Hellfest, a popular festival whose main goal is to scare the visitors half to death. But for the masked serial killer, Hellfest is more than just a horror carnival; it's a playground for deadly games. This time he decides to stalk Natalie, and now the lives of the girl and her friends are in great danger.

4k movies reviews
Now few people are interested in what lay at the beginning of the Halloween celebration and what meaning is actually carried by dressing people up in all sorts of evil spirits. These questions interested the public only in the distant past, when the fear of the unknown and various superstitions directly influenced people's actions, habits and desires. In today's world Halloween bears frank signs of a carefree carnival, at which everyone can reincarnate in anyone, to the maximum extent possible to loosen up and spend a magical mystical night in a state of complete euphoria. And, of course, the greatest delight of the night leading up to All Saints' Day is received by Americans, who know perfectly well what parties until morning and absolute entertainment without any restrictive signs. Every, even the smallest town in the United States at the very end of October turns into a kind of residence of the Underworld, with werewolves, vampires, zombies and other evil creatures roaming the streets in search of candy or hot drinks. During this wonderful time of the year we usually watch thematic horror movies, which are regularly released and give their viewers unforgettable emotions, enriching the already saturated bouquet of emotions with fresh bloody impressions. Probably nobody would argue with the fact, that the most famous picture, describing the nightmares of the holiday, is the cult film "Halloween" by John Carpenter. But this is only a small fraction of what appears on the big and small screens in October. It's the date that the talented editor Gregory Plotkin, who has worked on several installments of the Paranormal franchise, decided to prepare for and gave us an introduction to "Halloweenfest," another work that is all about Halloween and clearly demonstrates that the mystical night carries not only entertainment, but also deadly danger that most celebrants do not even think about. And when you consider that Halloween really does spur morally unstable individuals to terrifying acts under the mask of some monster, "Halloweenfest" thus turns from unassuming entertainment into a kind of intriguing warning that tells us that you should think carefully about your safety during mass festivities on All Saints' Eve.

So, the plot of the film introduces us to Natalie (Amy Forsythe), who reunites with her friends Brooke (Raine Edwards) and Taylor (Becks Taylor-Claus) shortly before Halloween to put her existing grievances behind her and have a good time while she can. After learning that a Halloween festival has opened somewhere nearby, the girls decided that it wouldn't be out of place to go there and have some fun, since the glory of such a colorful event has been going around the country for a long time. And even Natalie who is not the most amenable to all sorts of adventures has nothing against such an unexpected entertainment, and the guys also decided to go to it, and without whom there is no place anyway. Upon arrival, the heroes were amazed at the scale of the festival and realized that they did not come here in vain. Dressed guests scurrying around, menacing in appearance but kind inside the actors now and then support the appropriate mood, and the scenery around the perimeter of the park do not just look authentic, but really exciting, as if they came into our world from some fairy tale. And since the whole "Hellfest" is not so easy to walk around, as it may seem, the young people do not hesitate to start exploring the coveted goal, against which all troubles pale into insignificance, and clarifications can wait. However, the holiday for Natalie and the company is soon darkened by the presence of a real maniac (Stephen Conroy) who has obviously come here in order to enjoy a bloody feast and he does not miss a single opportunity to make fun of his victims. And it is not easy to stop him, because the park's employees and guests pay no attention to the masked man, who may turn out to be just another passionate fan of harmless Halloween pranks.

Nothing truly original is to be expected in "Halloweenfest", of course, as the creators took the simple concept of Carpenter's "Halloween" as a basis, spicing it up with unrestrained fun, interesting sets and a lot more crowds running around the shooting locations. But while there's nothing here to the core that's astounding, Gregory Plotkin's film maintains a tense atmosphere throughout the entire running time and tries to keep our attention so easily. Of course, the images of the main characters do not stand out in any way and for the most part are walking genre stereotypes, but you don't expect any dramatic revelations from Hellfest. The creators set a goal to make an unassuming, but at the same time fascinating and entertaining holiday slasher, during the viewing of which the viewer should not get bored. And the finished result shows that the plans justified in full, and that is why you have to put limits to your critical ardor and enjoy a decent Halloween slaughter which does not aim to flood the film set with rivers of blood, but only entertains, disturbs and sometimes scares with its atmosphere. Watching the actions of a maniac gradually approaching Natalie and his friends, there is little point in wondering why he is doing this and whether the young people deserve such an unhappy fate. Of course, there are some explanations for what is happening in the narrative, but they are not particularly necessary, because we are in a grand amusement park, where a maniac is on the loose. In such a situation, everything else is no longer of paramount importance. Racing from one location to another, the heroes, and with them the audience, are amazed by the imagination of the organizers of the festival, and a lot of all kinds of decorations, which seem to have been collected in one place from the whole city. And if it weren't for the sheer darkness seen in the eyes of a mad maniac, Hellfest might well be the place you don't want to get out of at all. But the movie has its genre priorities and it has to get even with the number of victims stipulated by the script, that is why we should not forget, that it is not an entertaining movie, but a slasher, even if not as bloody as the majority of its contemporary genre counterparts.

For those in the know, Gregory Plotkin has a special surprise in the form of Tony Todd, known for his role as Candyman in the iconic horror film of the same name as well as the Destination series of films. Of course, Todd's appearance on screen won't be particularly long, but he gives the story the necessary boost of liveliness and prepares us for the fact that there will be many times less harmless entertainment in subsequent scenes, and death itself will come for its obligatory tribute. So it's worth tuning in right away for horror, which isn't as scary as it is quite entertaining.

In summary, I would like to say that Hellfest is far from being the scariest, but it is a moderately entertaining and interesting slasher that fuels the audience's interest in the holiday, while also warning of danger.

Info Blu-ray
Video
Codec: HEVC / H.265 (70.9 Mb/s)
Resolution: Upscaled 4K (2160p)
HDR: Dolby Vision, HDR10
Aspect ratio: 1.85:1
Original aspect ratio: 1.85:1

Audio
English: DTS-HD Master Audio 7.1 (48kHz, 24-bit)

Subtitles
English, English SDH, Spanish (Latin American).
File size: 47.99 GB
4K-HD.CLUB
Download
from TakeFile
We now have
Telegram, get notified of new releases 4K movies!
Watch the movie trailer Hell Fest 4K 2018
Related 4K movies