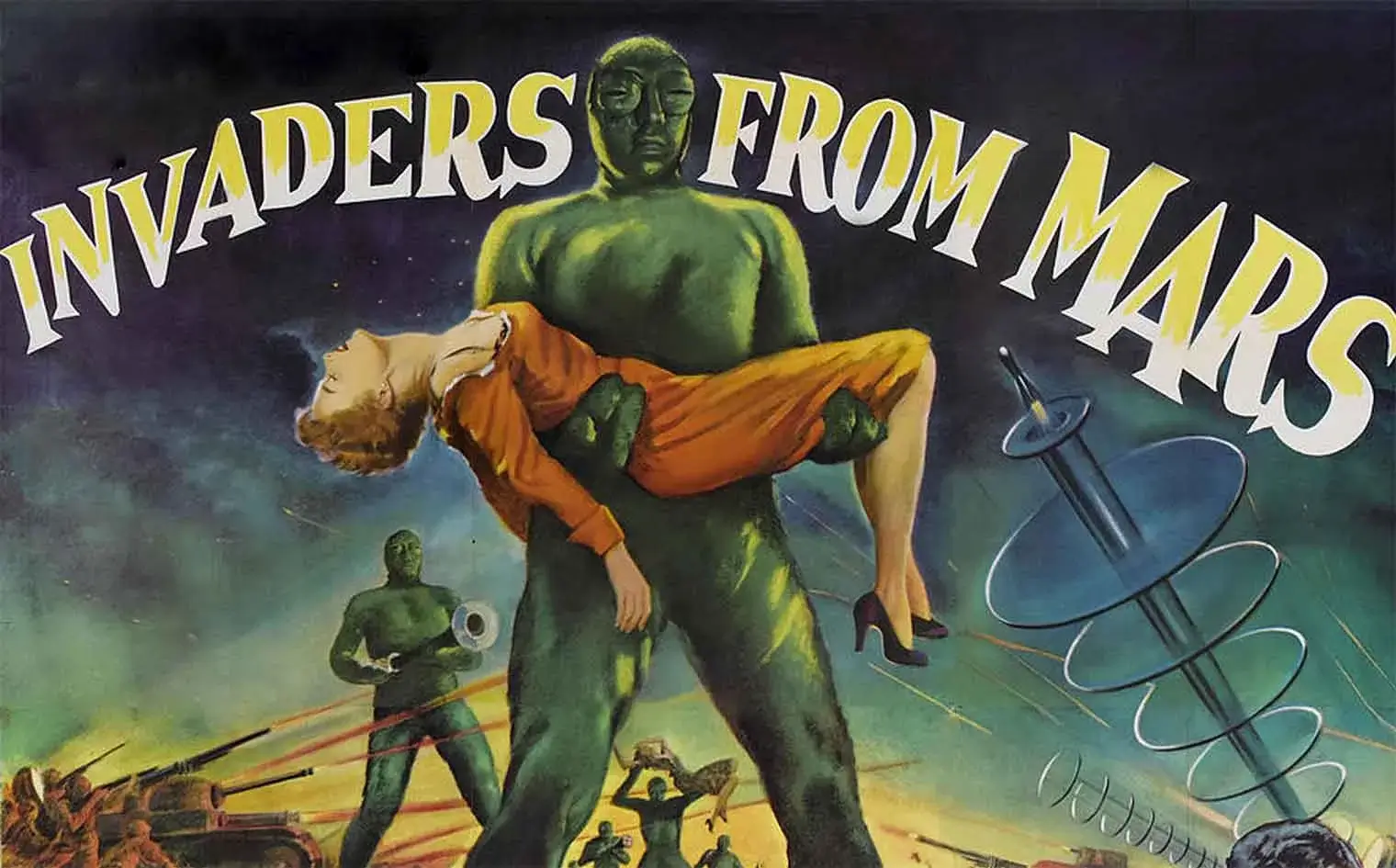 Invaders from Mars 4K 1953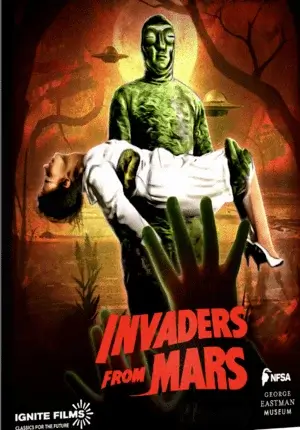 Invaders from Mars 4K 1953
Producer:
William Cameron Menzies
Cast:
Helena Carter, Arthur Franz, Jimmy Hunt, Leif Erickson, Hillary Brooke, Morris Ankrum, Max Wagner, William Phipps, Milburn Stone, Janine Perreau, Fay Baker, Barbara Billingsley, Peter Brocco, Charles Cane, Tommy Cottonaro, Richard Deacon, Pete Dunn, John Eldredge.
IMDB 6.3
File Size: 47.31 GB
Film Description
Waking up one night, little David notices a spaceship landing outside his window. In the morning, his father and then the rest of the town begin to behave very strangely. The frightened boy turns to Dr. Blake for help, the only one who is willing to believe him...

4k movies reviews
A little boy named David loves astronomy and has a small telescope at home. And then one night he wakes up to a severe thunderstorm and sees through the telescope that a real flying saucer, a spaceship from a distant planet, is landing behind a nearby hill. David's father, a famous scientist, goes off to see what happened there, only to return in the morning and in some strange state. Instead of a cheerful, loving, caring parent, David gets a sullen and irritable subject who wants only one thing - to take his entire family to that very field where the flying saucer supposedly landed.

The movie 'Invaders from Mars' belongs to the category of low-budget sci-fi movies, which in the 50s of the twentieth century in the United States was released in large quantities. Practically nobody knows the actors, ill-understood script, cheap tricks - all that is present in this motion picture to the full extent. And, for example, the scenes with military equipment, which surrounds the ship landing place and shoots at the aliens, seem to be taken from some other film, most likely a documentary or a popular-science film.

However, it is not all that bad. There are positive moments in the movie as well. For example, there is a headstrong Martian with tentacles instead of arms (but only one Martian). There are his servants, 'synthetic humans' (mutants), who look like healthy monkeys, especially when they run funny through the underground corridors. There's the beautiful girl who is brutally grabbed by a horrible mutant and then dragged to the operating table, where the evil Martian wants to put a time bomb in the girl's brain. And finally, there are the people, the ordinary citizens of a small American town, but with 'stone' impenetrable faces who have fallen under the influence of Martian telepathy.

All of this also looks like cinematic stamps at times, but overall the film looks good and well worthy of at least one viewing. And fans of sci-fi from the 30s and 50s should definitely enjoy the film.

Info Blu-ray
Video
Codec: HEVC / H.265 (81.7 Mb/s)
Resolution: Native 4K (2160p)
HDR: HDR10
Aspect ratio: 1.37:1
Original aspect ratio: 1.37:1

Audio
English: DTS-HD Master Audio 2.0 Mono (48kHz, 24-bit)
English: Dolby Digital 2.0
Spanish: DTS-HD Master Audio 2.0 Mono

Subtitles
English SDH, French, German, Italian, Japanese, Korean.
File size: 47.31 GB
4K-HD.CLUB
Download
from TakeFile
We now have
Telegram, get notified of new releases 4K movies!
Watch the movie trailer Invaders from Mars 4K 1953
Related 4K movies