The Black Gestapo 4K 1975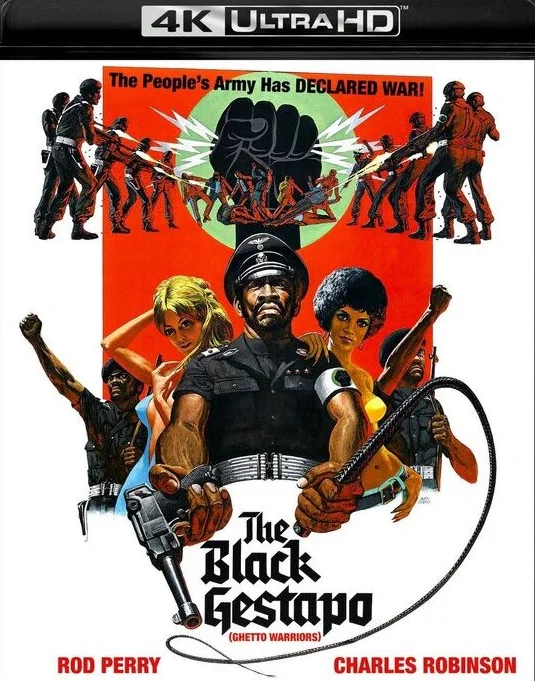 The Black Gestapo 4K 1975
Cast:
Rod Perry, Charles Robinson, Phil Hoover, Edward Cross, Angela Brent, Wes Bishop, Lee Frost, Donna Young, Charles Howerton, Rai Tasco, David Bryant, J. Christopher Sullivan, Susan Randolph, Colin Male, Gene Russell, Uschi Digard, Chuck Wells, I. William Quinn.
IMDB 4.7
File Size: 55.77 GB
Film Description
"The Black Gestapo" (1975) is a provocative film that mixes exploitation and action, unraveling themes of race relations and political intrigue. The action is set in a black neighborhood where the community is protected by militants from "The Black Gestapo," a self-proclaimed African-American organization dedicated to fighting racial wrongs.
The film raises issues of social justice and black rights, but through its use of stereotypes and caricatures, it can evoke counter-evidence. Director Lee Frost creates an atmosphere of tension and protest, but does not avoid criticism for the way he presents difficult topics.
Mixing action films with political satire, "The Black Gestapo" offers the viewer reflections on racial and social aspects specific to its time. However, it should be kept in mind that the movie may have provoked controversial reactions because of its approach to discussing difficult and sensitive topics.
Info Blu-ray
Video
Codec: HEVC / H.265 (88.0 Mb/s)
Resolution: Native 4K (2160p)
HDR: HDR10
Original aspect ratio: 1.85:1
Audio
#English: FLAC 2.0
Subtitles
English
File size: 55.77 GB
Is Link Dead? Let us know and we'll replace the link.
Report
We now have
Telegram, get notified of new releases 4K movies!
Watch the movie trailer The Black Gestapo 4K 1975
Related 4K movies
What genre of 4K movies do you prefer?