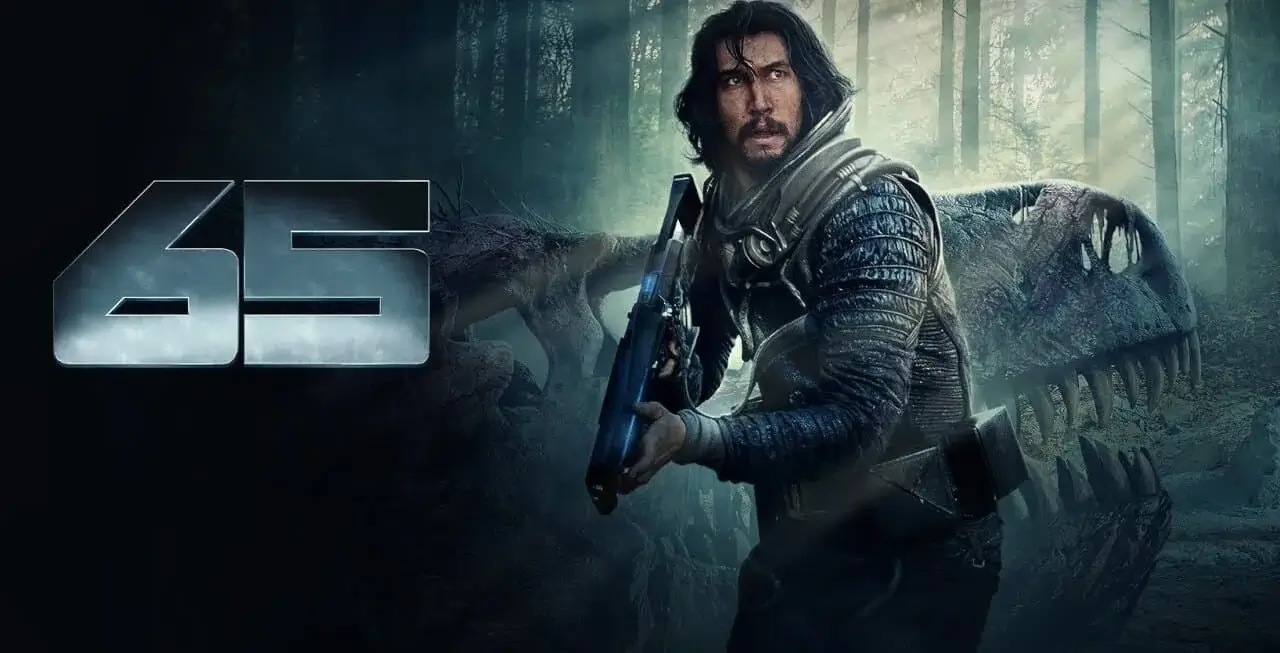 65 4K 2023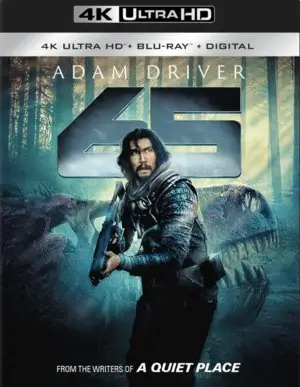 65 4K 2023
Producer:
Scott Beck, Bryan Woods
Cast:
Adam Driver, Ariana Greenblatt, Chloe Coleman, Nika King, Brian Dare.
IMDB 5.4
File Size: 51.62 GB
Film Description
To earn money to cure his daughter, family man Mills, from the planet Somaris, takes on a two-year reconnaissance mission. Along the way, his ship enters an uncharted asteroid belt and crashes, falling apart on an unknown planet. Mills discovers the only survivor of the cryostasis passengers, 12-year-old Koa, and also discovers that the terrain is in mortal danger - after all, they were on Earth 65 million years ago. But there is still a chance for rescue, and to do so, Mills and Coa need to get to a rescue ship that is stranded on top of a mountain.

4k movies reviews
The trailers promised a fast-paced, shipwrecked spaceship set in an ancient land teeming with inhospitable inhabitants. And suddenly, that's exactly what we see on screen for 93 minutes. + 1 point

No 'narration', no flirtation with messianism, no other excesses we didn't ask for but which abound in modern filmmaking. +1 point

The sci-fi setting at first glance performs the classic 'wrap' function of explaining the presence of advanced gadgets, a miracle stick-shooter and a sky chariot, but the detail is woven quite harmoniously into the narrative. That's why you start to believe in this world. I'll explain why.

They really prepared for this expedition, selected a team with survival skills, gathered the right equipment, provided reliable 'for once' communications, provided emergency rescue protocols and systems. +1 point

This did not ignore the quite realistic technical difficulties: broken translator - have to explain in gestures and drawings, even with the creature of his own species, because the girl is from another province. Increased the power of the shooter - quickly ran out of charge, now run from the locals in the swamps. For all the advancement of the rescue bot, it can't magically levitate upside down. +1 point.

Life goes on as usual on the planet, everyone wants to eat each other, in principle, it hasn't changed much since then. The variety of local flora and fauna is not striking, but it is shown well. The alpha predators go where and when they want. Those who are smaller, they gather in small organized criminal groups. Those who are more cunning hide in secluded nooks and crannies, waiting for hapless by-passers.

In general, quite a tense picture of the struggle for survival. +1 point.

The characters are quite lively, they move the plot along, though it's a simple corridor ride from point A to point B, but that's not a character problem, it's the framework of the genre. The characters have a valid motivation and act according to their internal logic. Driver embodied on-screen embroiderer living for the sake of others, the brave girl wants to go home, so she keeps up. Yes we have seen this kind of thing on screen many times Logan, Last of Ace, Dog and Arya, Mandalorec, Terminator and many other examples, but in this case the actors coped with their work, they have formed a balanced duo. +1 point

Taken together we get a world and events? that are fun to watch. I want more of everything. More about this ancient civilization that explored the stars. More details about their world, their society, their triangular writing. More about the technology, the scanning of space, the wonder-shooter? that perhaps every boy dreamed of as a child. More about the interesting homage to the Neanderthals through the cave writing and the casting of Adam Driver in the lead role with his massive angular physiognomy. +1 point

Of course, the film has sins that will keep it from earning the love of audiences and the affection of critics. First and foremost, it's secondary; modern audiences are shamelessly overpopulated, we can't be surprised by decent graphics, large-scale special effects, and brisk action sequences. Where a few years ago you can count on the Wow-effect, now at best case of approvingly 'snicker', but more often and even take it with a 'cocker face. This is neither good nor bad, this is reality, which does not make the film worse.

The film was not a commercial success and that is not the fault of the actors, the audience or even the creators.

I believe the marketers are to blame.

They tried to position a sci-fi adventure film for the whole family as an average summer blockbuster, which it objectively falls short of due to the chamberiness of its story. Therefore, the creators had to sacrifice the depth of the world in the direction of entertainment, balancing on the verge of rating PG13. As a result, we see what we see. A classic example of a story with a great idea and under-performing implementation.

However, if you abstract away from these twists and turns, the film is a pleasure to watch. It is interesting.

Info Blu-ray
Video
Codec: HEVC / H.265 (64.3 Mb/s)
Resolution: Native 4K (2160p)
HDR: Dolby Vision, HDR10
Aspect ratio: 2.39:1
Original aspect ratio: 2.39:1

Audio
English: Dolby TrueHD with Dolby Atmos 7.1 (48kHz, 24-bit)
English: DTS-HD Master Audio 7.1 (48kHz, 24-bit)
English: Dolby Digital 5.1
French (Canada): DTS-HD Master Audio 5.1
Portuguese: Dolby Digital 5.1
Thai: Dolby Digital 5.1
Spanish (Latino): DTS-HD Master Audio 5.1

Subtitles
English, English SDH, French, Portuguese, Spanish, Korean, Mandarin (Simplified), Mandarin (Traditional), Thai.
File size: 51.62 GB
Is Link Dead? Let us know and we'll replace the link.
Report
We now have
Telegram, get notified of new releases 4K movies!
Watch the movie trailer 65 4K 2023
Related 4K movies