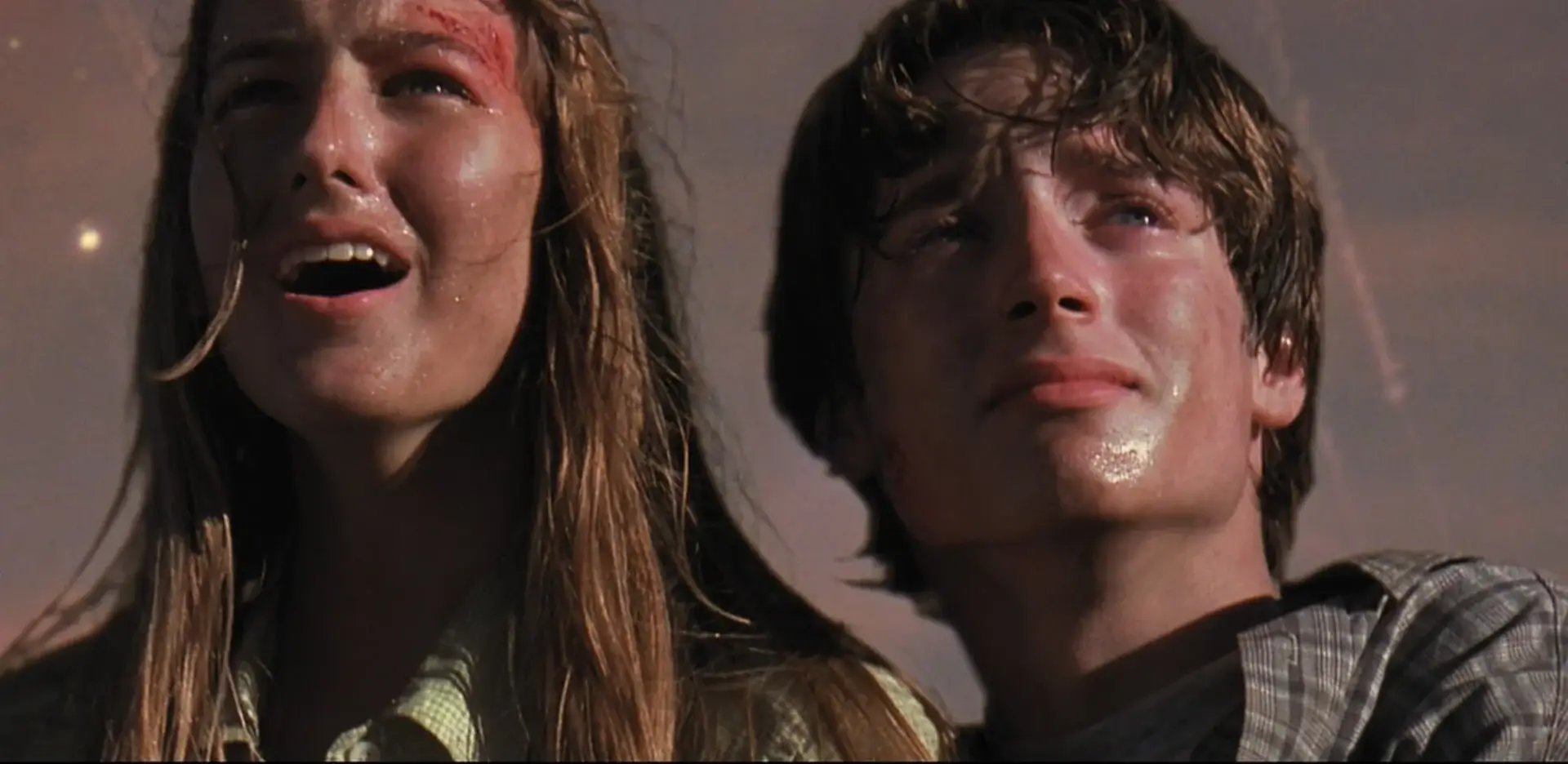 Deep Impact 4K 1998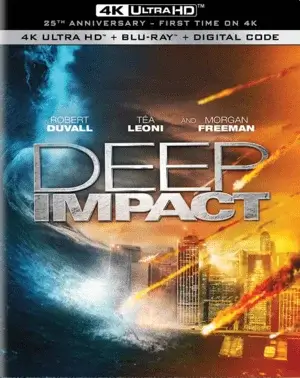 Deep Impact 4K 1998
Cast:
Robert Duvall, Téa Leoni, Elijah Wood, Morgan Freeman, Vanessa Redgrave, Maximilian Schell, James Cromwell, Ron Eldard, Jon Favreau, Laura Innes, Mary McCormack, Richard Schiff, Leelee Sobieski, Blair Underwood, Dougray Scott, Gary Werntz, Bruce Weitz, Betsy Brantley.
IMDB 6.2
File Size: 57.76 GB
Film Description
Earth faces an imminent collision with a comet that will lead to the death of all life. The President of the United States informs the world that a year remains before the "collision with the abyss". The "Messiah" ship is sent to the comet to blow up the comet. But the explosion splits the comet in two. Nothing can save humanity. How will people behave?

4k movies reviews
The smaller brother of 'Armageddon', claiming sensuality and a realistic portrayal of the experiences and actions of characters whose familiar world is on the brink of death, is only a pathetic shadow of what was intended.

Sensuality is a collection of cheap sentiments, the actions of the characters are blatantly illogical and unreasonable, and the world depicted has nothing to do with the world outside your window. The girl, who has a chance to escape, prefers to stay with her parents and die, who, in turn, only sluggishly try to dissuade her from doing so. A normal parent would force a stupid child onto a bus to save her life, but not the characters in this film! A journalist who decides with senseless heroism to die beside her lustful father, who has abandoned her mother for a young girl. The laying of atomic charges and a ballistic strike failed to stop the comet, but the ramming of the bomb-packed spaceship was suddenly some kind of 'Death Star'. An astronaut kicking a drill down in zero gravity, Elijah Wood escaping a tsunami on a motorcycle, and more.

This world is unreal. The director decides to incorporate a year's worth of action into the two-hour film, as well as several unrelated stories. What does this result in?

The lack of a coherent rhythm, a coherent revelation of the characters, who remain at the level of billets, manikins, a huge number of conventions. The director doesn't show us the ballistic punch, 'It didn't work,'" the president waves his hands, "all right," the audience responds. 'It was a beautiful day,' says the father to his daughter, showing her pictures from that very day that will affect her fate in this movie, but not seeing fit to show them to the viewer, 'All right,' the viewer replies, taking him at his word. The only characters whose sacrifice really turns out to be heroic are the pilots of the ship, whose drama was not fully revealed because of the meaningless and faded stories of the 'earthly' heroes. But that's okay, that's probably why they made 'Armageddon'.

They spent 75 million on the movie, half as much as they did on 'Armageddon', but what did they spend it on, dare I ask? On worthless actors? If the main characters are still trying to make something worthwhile out of this theater of the absurd, the supporting characters are simply ridiculous. Look at the faces, poses and behavior of the heroes relatives of the astronauts, seeing those for the last time!!! Brrr. Did they spend all that money on special effects? They spent twice as much on 'Armageddon', but it looks TEN times more spectacular, even though they made the movies in the same year.

Info Blu-ray
Video
Codec: HEVC / H.265 (58.1 Mb/s)
Resolution: Native 4K (2160p)
HDR: Dolby Vision, HDR10
Aspect ratio: 2.35:1
Original aspect ratio: 2.39:1

Audio
English: Dolby TrueHD 5.1 (48kHz, 24-bit)
English: DTS-HD Master Audio 5.1
English: Dolby Digital 5.1
French: Dolby Digital 5.1
Spanish (Latino): Dolby Digital 5.1
German: Dolby Digital 5.1
Japanese: Dolby Digital 5.1

Subtitles
English, English SDH, French, Spanish, German, Japanese.
File size: 57.76 GB
4K-HD.CLUB
Download
from TakeFile
We now have
Telegram, get notified of new releases 4K movies!
Watch the movie trailer Deep Impact 4K 1998
Related 4K movies