The Last Emperor 4K 1987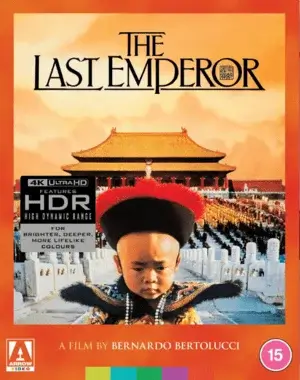 The Last Emperor 4K 1987
Producer:
Bernardo Bertolucci
Cast:
John Lone, Joan Chen, Peter O'Toole, Ruocheng Ying, Victor Wong, Dennis Dun, Ryuichi Sakamoto, Maggie Han, Ric Young, Vivian Wu, Cary-Hiroyuki Tagawa, Jade Go, Fumihiko Ikeda, Richard Vuu, Tsou Tijger, Tao Wu, Guang Fan, Henry Kyi.
IMDB 7.7
File Size: 81.49 GB
Film Description
In 1908, the Qing Empire. Three-year-old Pu Yi becomes emperor of the Celestial Empire. The child emperor is treated as a deity. He can do everything except leave the palace. The winds of change that shake the world beyond its walls do not reach the Forbidden City. But the life of China's last emperor is part of the great history of the 20th century.

4k movies reviews
Imagine an ideal state with a monarchical regime. People wear the emperor and his name on their arms, see him on holidays and hear about him every day, people worship him, go out into the streets to celebrate his birthday, all under (conventionally) blue flags.

Now imagine an ideal communist regime state with a cult of personality. A society dressed as one wears its leader as a cult of personality on its arms, sees his portrait every day and hears about him every minute, people worship him, go out into the streets to celebrate his birthday and Labor Day, all under (conventionally) red flags.

Is there much difference in the views of mere mortals in society about these two regimes? Not very much. And so China has gone through this for a short time, changing its views, formed thousands of years, though it did not come to an ideal world, not before or after the revolution and the overthrow of the emperor.

About this emperor Pu Yi, and once in the 80s of last century made his film "The Last Emperor" by the Italian film director and poet Bernardo Bertolucci, a film that won nine Oscars, including for best film and director, agree impressive.

The film tells the story of the life of the last Chinese emperor, how he, not having yet learned to tie his own shoelaces, was proclaimed emperor, how, not having yet learned to tie his own shoelaces, he was overthrown, accused of war crimes and arrested.

The director's narration of the film was above all praise, the beginning: prison - prisoner #831 - restroom - slashed veins - reflection in the mirror. And, without saying the key phrase: "they say that before death all life passes", the hero's eyes flash over the key episodes of his life, and later they bring him back to the present, to his cell, where there are those who always help him tie his shoelaces, to the interrogation room, where he must tell about his past before the investigator, and to the past again, where there is life or no life left.

His Majesty's childhood was difficult, torn from his mother, he is sent to a city closed to outsiders, where the young emperor must rule without leaving the confines of the city. Strangely, however, the monarch sees little or hears nothing of his people, and growing up fast, there immediately appears a Scottish mentor for His Majesty, played by Peter O'Toole, who is never superfluous, especially in a historical film. He becomes the Emperor's best friend, perhaps even his only friend, and all around are women and eunuchs who only want to steal from the Emperor's storehouse.

And life behind the wall, meanwhile, is raging, revolutions, new leadership in a new state, the Emperor remains the head of an almost non-existent state (hello Michal Sergeyevich), but as you know, people who came to power from "nowhere" quickly become victims of their position, and have already filled their pockets themselves must flee, and here as not convenient, and international conflicts, and the Emperor is not a little.

But even as an adult, he remains a puppet in the hands of others; if at first he was ruled by an army of eunuchs, now it is the turn of the Japanese Empire, becoming at the helm of the same state - Manchukuo, in northeast China, which lasted 13 years, under the actual leadership of Japan and was liberated from it only thanks to our Red Army.

Despite the fact that various military conflicts constantly take place nearby, there are none in the film, for the entire two and a half hours, a couple of shots and some chronicle, it is a good find, I can't imagine how Bertolucci resisted the temptation to show the horrors of revolution and war, could have turned out very effectively.

The scenes with the main character are excellent, the actor plays very naturally, on his face all the pain of power, the blinding of that power, the lack of hatred for the revolutionaries, the gratitude of other people. The man, accustomed since childhood to command, has learned over the years to be grateful, maybe it was not easy for him, after all, his life was hard, he had the happiness of doom of power and misery of deprivation of it, and later and freedom.

And yet, having lost his freedom, he was freer than when he ruled an entire state.

A very good film, despite the sluggish fluidity and the long running time the film should have appealed to those who like the drama of a single personality. And then there's the beautiful Chinese music not to mention the setting, in a very beautiful Chinese style. The movie is mesmerizing, but you get very tired when watching it, and by the end it's a shame that it's all gone.

Info Blu-ray
Video
Codec: HEVC / H.265 (67.2 Mb/s)
Resolution: Native 4K (2160p)
HDR: Dolby Vision, HDR10
Aspect ratio: 2.39:1
Original aspect ratio: 2.39:1

Audio
English: DTS-HD Master Audio 5.1 (48kHz, 24-bit)
English: DTS-HD Master Audio 2.0 (48kHz, 24-bit)
English: Dolby Digital 5.1

Subtitles
English, English SDH.
File size: 81.49 GB
4K-HD.CLUB
Download
from TakeFile
We now have
Telegram, get notified of new releases 4K movies!
Watch the movie trailer The Last Emperor 4K 1987
Related 4K movies
Do you enjoy downloading from TakeFile?